Dear Band Members,

We are very happy to introduce you to the 35th weekly newsletter of Whispering Pines/Clinton Indian Band!

With this newsletter, we aim to keep all our Band members informed about the latest happenings, events, and news within the community. We are distributing this newsletter by email, so please encourage everyone to get their email address into manager@wpcib.com, so they can be added to the list.

Weekly Updates - October 13, 2017
Steven Tresierra: Message to the Band

The Whispering Pines Clinton Indian Band is on the verge of and exciting and prosperous future. Previous councils and this council are working with industry and the service sector to create agreements and business opportunities that will benefit the Whispering Pines community over the long-term.

Each First Nation has an array of challenges it must face but there are also unique advantages that each First Nation has in terms of location, population and the natural resources contained within its traditional territory. Above all, the greatest resource that all First Nations have, including the WPCIB, is its people.

For too long, the life and reality of the WPCIB (and other First Nations) has been dictated by what limited program funding the federal government is willing to allocate us year by year. Our vision, hopes and goals were set by this short-term horizon, along with our people's future. For most First Nations, this meant that more of its membership relied on social transfer payments and band employment rather than being employed in the broader economy and starting small businesses. Many things are changing for First Nations across Canada, western Canada and here at WPCIB.

The number of businesses owned by individual community members is on the rise. Private ownership of business by community members is one of the true success stories of the past fifteen years in western Canada. Businesses owned by individual entrepreneurs tend to have a good success rate, as the business is run as a business and is isolated from band politics, that have too often collapsed community owned and run businesses.

With that said, many lessons are being learned from past failure of community or band owned businesses. There is a growing awareness of the need to launch and grow businesses, that are at arm's length from the band administration, through apolitical economic development corporations. More and more, such corporations are being established and are managing to survive, be profitable and compete in the business world. An individual First Nation may set up an economic development corporation to pursue its own business interests. Of great interest, is the trend where we are seeing more than one First Nation or a tribal group creating a development corporation to pursue collective business interests. It can be a powerful vehicle that attracts the interest of industry.

What does the future hold for WPCIB? What businesses can the WPCIB help incubate, help grow and spin off to be owned by individual community members? What businesses would best succeed under the economic development corporation model? What might our future look like years down the road, if we take the steps now to breathe life into business development and community entrepreneurship?

In this newsletter, we focus on two Indigenous nation success stories. While their circumstances are different than our own, the scope of what they achieved needs to be looked at and learned from.

We present some information on the highly successful Alaska Slope Corporation – a company that was set up following the settlement of Alaska's equivalent of land claims. Today, they are often listed in Forbes Top 500 companies. In short, nothing in Alaska happens or moves without the Iñupiaq and their companies knowing about it and or being involved in it.

The second model for us to look at consider is from the Osyoos Indian Band. Under the leadership and the "tough-love" approach of Chief Clarence Louie and an economically driven council, the Osyoos Indian Band has been turned around from typical community in the interior of BC to a recognized business leader in the region and in BC.

Chief Steve Tresierra
Arctic Slope Regional Corp.

Arctic Slope Regional Corp., based in Barrow, is the most financially successful of the Alaska Native corporations, based mainly on earnings through industrial support work by its oil and gas subsidiary, Arctic Slope Energy, and in recent years by a share of oil royalties from the Alpine oil field on the North Slope, where ASRC shares ownership of mineral rights with the State of Alaska. The corporation owns about 5 million acres of land on the North Slope, mostly in the southern "foothills" area of the slope.

Like other Alaska Native corporations ASRC is active in government contracting and was ranked the 113th top provider of contract services to the federal government in 2013, according to a Bloomberg Government survey. ASRC earned $530.2 million in revenues from government contracts in 2013, Bloomberg said.

The corporation was also ranked No. 15 among top contractors to the National Aeronautic and Space Administration, with $200.4 million in revenues from NASA.

ASRC does not release its financial results to the public but has stated that 2012 revenues were $2.6 billion. A study by the U.S. General Accounting Office, an arm of Congress, found that in 2010 ASRC earned $2.33 billion in revenues and $164.4 million in net income, and paid $73.66 million that year in dividends to its 11,090 shareholders. ASRC says it distributes 40 percent of its earnings in dividends and since its formation has distributed $543 million.

ASRC's oil and gas revenues will grow further after the CD-5 oil project begins production in late 2015. CD-5, now under construction by ConocoPhillips, will produce about 16,000 barrels per day at peak. ASRC is the sole royalty owner. The corporation pays 70 percent of net revenues to other Native regional and village corporations under terms of the 1971 Alaska Native Claims Settlement Act.

ASRC is more broadly engaged in oil and gas with a direct working interest ownership in the small Badami oil field east of Prudhoe Bay, which is producing. The corporation was also part of an exploration consortium led by Doyon Ltd., the Interior regional corporation, formed to explore for oil and gas in the Nenana Basin west of Fairbanks.

Arctic Slope Energy has long been known for its oil field construction and technical support work on the North Slope. The corporation owns an oilfield fabrication plant in Anchorage where process modules are built for a variety of companies.

ASRC's mission is to actively manage our businesses, our lands and resources, our investments, and our relationships to enhance Iñupiaq cultural and economic freedom - with continuity, responsibility, and integrity.

Arctic Slope Regional Corporation (ASRC) was established pursuant to the Alaska Native Claims Settlement Act of 1971. Incorporated in 1972, ASRC has its corporate headquarters in Barrow, Alaska with administrative and subsidiary offices located in Anchorage and throughout the United States. The past 43 years has been a time of growth and diversification for ASRC. Although Arctic Slope Regional Corporation had humble beginnings, and there was a time the company's leaders worked for no pay, it is now the largest Alaskan-owned company – with approximately 12,000 employees across Alaska and the Lower 48. It has been the largest locally-owned and operated business in Alaska for the past 22 years.

ASRC is a private, for-profit corporation that is owned by and represents the business interests of its 13,000 Iñupiat Eskimo shareholders in the villages of Point Hope, Point Lay, Wainwright, Atqasuk, Barrow, Nuiqsut, Kaktovik, and Anaktuvuk Pass. Some of the corporation's shareholders live outside of the region in Alaska, with a small number residing in the Lower 48.

ASRC owns title to nearly five million acres of land on Alaska's North Slope which contain a high potential for oil, gas, coal and base metal sulfides. Additionally, ASRC owns subsurface rights to certain lands, and has surface rights to other lands. ASRC, as a steward of the land, continuously strives to balance management of cultural resources with management of natural resources.

Consistent with the goals of ANCSA, ASRC's earnings are employed for the benefit of its shareholders. Each year, a significant amount of Arctic Slope Regional Corporation's earnings – approximately 40 percent – are distributed directly to its shareholders through dividends and other benefits. The remainder is reinvested in the company to ensure sustainable economic growth for current and future generations of Iñupiat. ASRC is proud of the dividend distributions to its shareholders. Since inception, ASRC has distributed more than $915 million in dividends to shareholders. ASRC shareholders have benefited from employment, education and training opportunities. Since 2000 ASRC has distributed more than $90 million to support a wide range of socio-economic opportunities. In 2014, ASRC employed 3,834 Alaskans.

From 2005-2009, ASRC donated nearly $15 million to nonprofit, charitable causes. ASRC also makes investments in its Native community through two nonprofit organizations, the Arctic Slope Community Foundation and the Arctic Education Foundation.

ASRC is poised for the next era of growth with continued dedication to provide maximum benefit to the ASRC shareholders.

ASRC and its family of companies operate six diverse lines of business: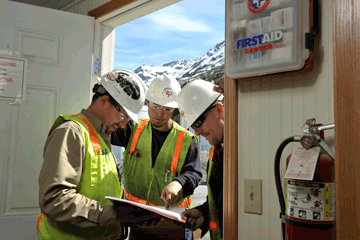 Energy Support Services
ASRC Energy Services, LLC
Little Red Services, Inc.
Petroleum Refining and Marketing
Government Services
ASRC Federal Holding Company
Construction
ASRC Construction Holding Company, LLC
Industrial Services
Petrochem
Restoration Services, Inc.
Resource Development

Through deliberate investments, positive operating developments and our continued focus on cost control and efficiency, each of our business segments continue to grow.

ASRC's other operations include three strategically owned businesses focused on supporting economic development on the North Slope.

Financial and Lending Service
Alaska Growth Capital, BIDCO
Local Services
Tourism
Alaska Growth Capital BIDCO is a recognized leader in economic development finance, providing small-business loans and investments in economically underserved areas of Alaska. Alaska's only BIDCO, Alaska Growth Capital, offers consulting services that range from strategy and planning for entrepreneurs to investment banking, and supports ASRC's strategy for economic development in our region.

Barrow-based companies Eskimos, Inc. and Tundra Tours, Inc. are two of ASRC's first business ventures. Eskimos, Inc. serves as a fuel and parts distributor to remote locations throughout the North Slope. Tundra Tours, Inc. owns the Top of the World Hotel located in Barrow, Alaska. Both companies provide local services and employment opportunities to ASRC shareholders and residents on the North Slope.

Key Facts at a Glance
Arctic Slope Regional Corporation is the largest locally owned and operated business in Alaska, with approximately 12,000 employees on its payroll, including nearly 4,000 in Alaska. Revenues reached $2.5 billion in 2015, up from $2.5 billion in 2013.
ASRC is owned by approximately 13,000 Iñupiat Eskimo shareholders who live primarily in eight villages on Alaska's North Slope, above the Arctic Circle. This is one of the most isolated and challenging environments in the United States.
In 1990, ASRC became the first of only four Alaska Native corporations to enroll shareholders born after 1971. Today, nearly 70 percent of ASRC shareholders were born after 1971.
Seventy-five percent of ASRC's senior executives are Iñupiat, including the company's president and chief executive officer.
ASRC distributed $44.1 million in wages to its shareholders in 2014.
Since 2005, ASRC has distributed an average of $16 million each year in benefits to its shareholders in the form of educational scholarships and community support funding, as well as training and development. Since 2010, ASRC has contributed nearly $8.3 million to the Arctic Education Foundation.
Since inception, ASRC has distributed more than $915 million in dividends to shareholders.
In 2015, ASRC reached a historic milestone in revenue sharing. For the first time since incorporation, ASRC has distributed in excess of $1,000,000,000 to the other Alaska Native regional corporations as part of its 7(i) obligation. A provision inside the Alaska Native Claims Settlement Act of 1971 requires the original 12 land-based Alaska Native regional corporations to share 70% of their revenue from resource development on their ANCSA-conveyed lands.
Our Heritage And Our Shareholders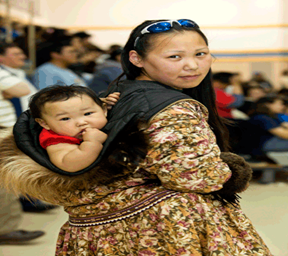 The history of the people of Alaska's North Slope reaches back thousands of years, and serves as the foundation upon which ASRC will continue to build in order to benefit future generations. As a company owned and operated by Iñupiaq, ASRC relies on the teachings of the region's ancestors and lives by the values passed on through countless generations. Iñupiaq values guide ASRC in actively managing its businesses, lands, resources and business relationships. Arctic Slope Corporation's core values are the cornerstone of its success as a community partner and as a company.

Iñupiaq know hard work at a cultural level. In our faces you can see the strength, determination and a spark of inventiveness that flows from the very roots of the Iñupiaq culture. ASRC combines this with disciplined business practices to deliver high levels of performance and returns. The vast majority of ASRC's shareholders call Alaska's North Slope home, where generations of Iñupiat have raised their families. Others live outside of the region, with a smaller number residing in the lower-48. Many shareholders engage in subsistence lifestyles, and urban Iñupiat often return to their village to partake in seasonal hunting and whaling traditions. About 40% of our shareholder base is under the age of 18. Creating higher educational opportunities for this group is a top priority.

The corporation supports scholarship programs through the Arctic Education Foundation, and has joined in partnership with Ilisaġvik College to strengthen job skill sets for residents of the North Slope. Internship opportunities are also available at ASRC to shareholders enrolled in higher education programs. In addition to formal education, the cross-generational transmission of values to the region's younger generation is vital to the community. ASRC supports cultural, youth and community events that promote that heritage, and provides opportunities for youth to engage with their elders. Handing down Iñupiat traditions and values to the next generation is at the bedrock of ASRC's success, as the corporation relies on the wisdom of the region's elders to build a cadre of future leaders.

ASRC continually tracks shareholder hiring and advancement goals enterprise-wide, overseeing shareholder hiring, training and career advancement, and maintains a dynamic shareholder database to help coordinate community placement programs with employers outside of ASRC. The corporation provides advice and support to shareholders during the hiring and advancement process and works in close coordination with corporate and subsidiary HR organizations to advance skill sets, safety and overall employee quality throughout the company.

Source: Arctic Slope Re

Osoyoos Indian Band: How a B.C. Native Band Went from Poverty to Prosperity

Jake MacDonald
Special to The Globe and Mail

The first thing that strikes you about the Osoyoos Indian Band is the postcard setting of its reserve. Deep in British Columbia's southern Okanagan, it's surrounded by weathered mountains and mirrored lakes. This is the hottest and driest part of Canada, a northern extension of the Sonoran Desert, where rattlesnakes inhabit sagebrush canyons and noonday summer temperatures can hit 38 C.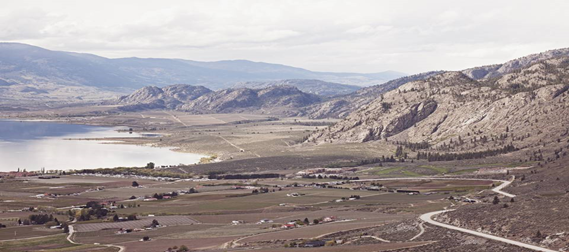 The Osoyoos Indian Reserve, in British Columbia's southern Okanagan, spans some 32,000 acres.
The second striking thing about the Osoyoos Indian Band is that it's not poor. In fact, it's arguably the most prosperous First Nation in Canada, with virtually no unemployment among the band's 520 members. Job-seekers from elsewhere flock in to work at the band's businesses, which last year saw $26 million in revenue and $2.5 million in net profits. Meanwhile, the reserve's impressive school teaches native heritage and the Okanagan language.

The third singular thing about the Osoyoos Indian Band is its hard-ass leader, Chief Clarence Louie. If you ask for an appointment, he sets the tone right off the top. "Be here at 9 o'clock sharp," he texts. "No Indian time."

The remark is typical. The curt, outspoken chief has been known to scold other aboriginal leaders who drift into meetings a few minutes late with coffee cups in hand. Louie doesn't have time for diplomacy or political niceties. He makes it clear to everyone he meets that he expects them to either lead, follow or get out of the way.

How did the Osoyoos band become so prosperous while hundreds of other Canadian First Nations wallow in despair? Is there a way to franchise Louie's model and export it to other reserves? These are urgent questions. After decades of social engineering, ineffective self-government and billions of dollars of federal spending, everyday life in remote First Nations continues to be deplorable. And judging by demographic trends, conditions are likely to go from bad to worse—unless someone like Clarence Louie has a better idea.

Critics of Louie's success often say that he's merely lucky—the band owns a fabulous piece of real estate. As you drive 20 kilometres down the narrow winding highway from Oliver to Osoyoos, just about everything you see out the driver's side is Indian land: Of the band's 32,000 acres, a good third of it is rich valley bottom bristling with vineyards. But not very long ago, the Osoyoos reserve was plagued with the same problems of poverty, crime and family violence common to other First Nations across Canada.

Joe McGinnis remembers it well. An Osoyoos elder, he's a quiet, composed man with a baseball cap tugged down low, a wispy beard and the demeanour of a mountain ascetic. He's one of the few remaining speakers of Okanagan.

He grew up in the 1950s, in a community wracked with booze and violence. "There was nothing to do," he says. "There were no jobs, no band office, no local government, no school. There was an Indian agent up in Vernon who would show up once a month to hand out welfare cheques. That was about it."

McGinnis was shipped to residential school in a livestock truck at the age of 5 and only saw his parents in the summer. "It was very lonely to be taken away from your family at such a young age," he says. "It takes many years to get over something like that." At the age of 15, he ran away from school. "There was lots of work in the orchards of the Okanagan but the people here wouldn't hire Indians, so I crossed the line into the States and rode the rails and picked fruit across Washington and Oregon."

The nurturing of native culture on the Osoyoos reserve includes school trips to collect wild food.
Louie was younger than McGinnis, so he managed to miss residential school. But his sister, Mona, says he had a difficult childhood anyway. "The reserve was a rough place in those days. There were no jobs and the main recreation was drinking and fighting. Clarence was a small kid and we both got picked on a lot, especially on the school bus. I just dreaded getting on that bus."

At the age of 19, Louie attended what is now First Nations University in Regina, then went on to log two years in native studies at the University of Lethbridge. At the age of 23, emboldened by the Red Power movement of the 1970s, he ran successfully for chief.

"It's the same story all over Canada," Louie says, sitting in his office beneath portraits of his heroes Muhammad Ali and Nelson Mandela. "They gave the best land to the European newcomers and stuck the Indians back in the bush and gave them bread and water and a Bible.

"As I grew up and studied our history, I became convinced that the remedy to most of our problems was economic development. We needed to close the circle and reclaim the power that we had before white people came along."

When the Hudson's Bay Co. first started doing business in the Pacific Northwest in the 1800s, the Okanagan nation (of which the Osoyoos are part) encompassed most of south central British Columbia and sprawled far down into Washington. According to the journals of early explorers, the Osoyoos were a well-respected, peaceful and prosperous people. Then came the gold-rush era of the mid-1800s, when thousands of prospectors and drovers with large herds of cattle traipsed north into Indian territory, provoking bloody fights with Okanagan warriors. In 1877, the Canadian government persuaded the Osoyoos to move onto the reserve where they reside today—a small portion of their original territory.

When Louie became chief in 1984, the land wasn't being used to generate much in the way of jobs or wealth. The band was operating a campground and a vineyard but both were sloppily managed and in debt. Apart from government transfer payments, the only other income came from nickel-and-dime lease arrangements with non-native farmers and small businesses.

Louie's first efforts at developing band-owned enterprises made little headway—in part because he had no business background and in part because, by federal law, First Nations cannot mortgage their own land. No collateral means no start-up financing from banks.

Louie lost his bid for re-election in 1989. When he was re-elected in 1991, he was determined not to repeat his rookie mistakes. "The band was insolvent and under third-party management," he says. "We recognized that we needed outside help."

He took advantage of a federal/provincial program called Industrial Adjustment Services, designed to help communities gain the skills required to run successful businesses. With the help of an experienced IAS "white guy" named Dave Sutherland, Louie introduced strict financial controls and accountability measures, some of which were unpopular with band members accustomed to the casual rules of earlier business ventures. "Mismanagement and general incompetence are big problems on the Canadian rez," he says. "We wanted to let people know those days were over."

The community launched a vision quest that sought to involve all the band members in a long-term development plan. The search arrived at an ambitious goal—total economic self-sufficiency by 2005. It seemed like a pipe dream—only a few band members were employed, and the rest of the labour.. pool were lacking in basic education, job skills and work ethic. "Outside experts like Sutherland helped us to get people trained," Louie says. "Some of our people needed a pat on the back and some needed a kick in the butt. A hundred years of enforced dependency had broken our tradition of hard work and independence."

Louie can be a tough SOB to work for. He doesn't believe in the concept of 'downtime', Chris Scott.

Louie and his band councillors usually get most of the credit for turning his community around, but it's unlikely they could have done it without partnerships with the outside business community. One of Louie's key team members was another "white guy" named Chris Scott, who offered to help the band build a clean, streamlined corporate structure based on proven practices and personal accountability. Scott, who had built a successful fruit company in the Okanagan, didn't need the work; he was motivated by a desire to help.

He wasn't exactly greeted with open arms. "Some of the people on the reserve were understandably mistrusting of white men in neckties, and others were just opposed to any change of any kind. I'm a stubborn and fairly thick-skinned guy, but I was really unprepared for the hostility that greeted my arrival. I was criticized and threatened on a regular basis. One big guy had to be restrained from punching me out. Another guy walked into my office, laid a big bowie knife on my desk and said, 'Give me one reason why I shouldn't use this on you right now.'"

Scott says the main thing that kept him going was his belief in Louie and his long-term plan. "He can be a tough SOB to work for. He doesn't believe in the concept of 'downtime.' He demands the impossible from his inner circle and rarely gives praise for someone's extra effort or a job well done. He's always focused on work, 24/7, and he expects everyone to go as hard as he does. But his heart is in the right place and I was convinced that we could make it work."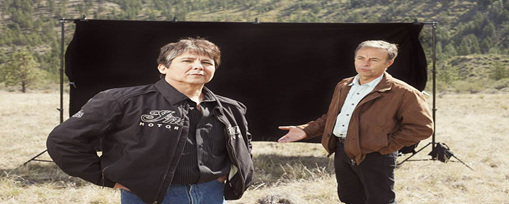 Chief Clarence Louie (left), with adviser Chris Scott (right).
Ronny McGinnis, who has been married to Joe McGinnis for 33 years, recalls that when Louie and Scott negotiated a pipeline lease deal, there was tremendous pressure to parcel out the resulting income in per-capita payments to band members. "People wanted to buy new cars and whatever with the money and we were determined to reinvest it for the future of the community," McGinnis says. "Well, I thought we wouldn't live to see the end of the week. We were accused of stealing the money and everything else. But we had this new policy of transparency, so we could say to everyone, 'Come and see the books.' People were really mad, but when they saw the eventual benefits, they became believers."

Meanwhile, Louie was busily educating himself on the workings of the outside economy. ("I think he's read just about every business book ever published," Scott says.) In 1995 the Osoyoos Indian Band bought out the lease on the Cherry Grove Golf Course and took over its management. Embarking on an aggressive expansion, it invested $2 million of band funds in the project, and renamed it the Nk'Mip Canyon Desert Golf Course, gambling that a world-class 18-hole course would draw traffic to the band's other businesses, such as a neighbouring trailer park and condos. The band also asserted control over the taxation of non-native companies leasing land on the reserve—taxes formerly scooped by the province. It was a small initiative, but it added $750,000 in annual revenue.

In 1998 the band opened a gas station and convenience store—a modest venture but in keeping with Louie's focus on creating long-term jobs for band members. His belief that "the economic horse pulls the social cart" broke with the tradition on many First Nations reserves of relying on the leasing of land to outside companies, creating rent income that Louie dismisses as "rocking-chair money." He wanted not just income for his members but what he calls "a reason to get out of bed in the morning." But the inability to get mortgage financing hampered those ambitions.

On a national level, the controversial issue of band members using reserve land as collateral is gathering support from both ends of the political spectrum. It's a favourite idea of Stephen Harper's political godfather Tom Flanagan, and of native leaders like Manny Jules, who leads the First Nations Tax Commission, which is lobbying Ottawa to allow First Nations to take full ownership of their land and use it as collateral if they choose to do so.

With no access to bank financing, Louie, despite his inclinations, was obliged to lease more band acreage to outside businesses like winemaker Vincor International. That worked out well: The long-term security of the lease revenues persuaded banks to lend the band money. Never one to overlook a business angle, Louie also eventually parlayed the landlord relationship with Vincor into a joint venture, Nk'Mip Cellars and vineyard. (Nk'Mip means "valley bottom.")

Business may be humming on Louie's reserve but the band doesn't seem to be spending the money on office buildings. A bumpy side road in Oliver leads to band headquarters—a modest place with the ambience of a construction-site office, complete with squads of efficient-looking white guys huddled over laptops and engineering drawings. Gym-trim and youthful-looking at 53, Louie tends to be a touch imperious with visitors, especially if any of his band councillors are watching. Staffers warn that it's not a good idea to suggest "going for lunch" because Louie regards going for lunch as a baffling waste of time.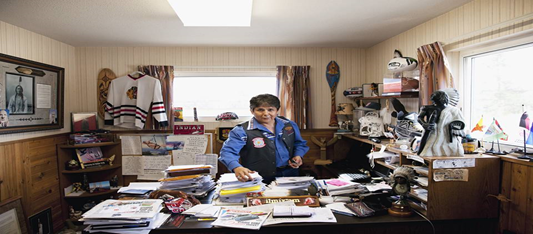 Louie is a serious sports fan and his small, cluttered office is plastered with crests, posters and memorabilia of teams like the Chicago Blackhawks and the Washington Redskins. "I like teams with Indian names," he chuckles. His interest in sports and teamwork is also expressed in his approach to business and personal achievement. He's emphatic that working co-operatively with the larger Canadian society is the best way forward for native communities, and he says he's not hesitant to partner up with outside experts if they have superior credentials. "Some coaches are always talking about the process," he says. "I'm more interested in the results. I want to see the numbers. I don't care what colour someone's skin is. If they can help us reach our goals, I want them on our team."

People talk about running native businesses the Indian way, but there is only one way to do business and that is the business way.
Clarence Louie

In 1998, Louie and his council, at the urging of Scott, ratcheted the band's professionalism by establishing the Osoyoos Indian Band Development Corp. Scott was named chief operating officer. Previously, the band's businesses had reported directly to council. Now the band moved the corporation into a separate building to symbolize its independence from the ongoing fiscal demands of the reserve's various payrolls and social agencies. As Louie puts it, "People talk about running native businesses the Indian way, but there is only one way to do business and that is the business way."

The OIBDC hired a team of seasoned non-native business professionals to act as advisers, and the corporation began both expanding the businesses it already had and acquiring others. The roster includes golf courses, vineyards, a campground and RV park, and a gravel and concrete business. On a high ridge overlooking Osoyoos Lake, the OIBDC built the sprawling, elegant, desert-style Nk'Mip Resort. The accommodations portion of the year-round $100-million complex is co-owned and managed by an outside firm (Calgary-based Bellstar Hotels & Resorts). The resort features outdoor pools and a spa, a gourmet dining room and a golf course with a sweeping view of the valley.


Of the band's 32,000 acres, a good third is rich valley bottom bristling with vineyards.
In keeping with Louie's insistence that all of OIBDC's new businesses promote the culture of his people, the Okanagan language is employed as much as possible, even on traffic signs. Hikers on the resort's trails come across a tule-mat teepee, a pit house, a sweat lodge, and signs describing the terrain, wildlife and history of the Okanagan people. Another attraction is Nk'Mip Cellars, the OIBDC majority-owned partnership that has received many prizes for its wines. In 2012, Wine Access magazine named Nk'Mip Cellars the best winery in B.C. and the second-best in Canada. The winery is 49% owned by Constellation Brands Inc., the world's leading wine producer. (Constellation took over the band's original partner, Vincor, in 2006.)

"The creation of the OIBDC and the band's good working relationship with outside investors helped to launch and manage all these businesses," says Scott. "Separate bookkeeping helped the band see where its revenues were coming from and where its expenditures were going. That not only made it easier to keep track of the money but it dramatically increased accountability and transparency, and allowed us to evaluate each business as a stand-alone entity."

All the businesses have been turned into limited-liability partnerships to minimize tax and liability risks, and each was required to obtain its own line of credit. "We didn't want them running to the band every time they got in a cash-flow pinch," says Louie. "Each business manager is expected to show profits and steady growth, and if they don't produce results, they're out the door, just like in the NHL."

Louie regularly travels across the country, giving speeches and hawking his miracle cure of jobs and economic development to politicians, CEOs and other native leaders. He has enough of a profile in Western Canadian business and political circles that, like a Bono or Adele, he gets by with just one name, as in, "Do you know this guy Clarence?" Unlike other celebrities, he handles his own phone calls and appointments. He doesn't hesitate to call journalists late at night and invite them to the Osoyoos Reserve so they can see the economic transformation for themselves.

Although that transformation is strongly identified with Louie personally, there is no obvious cult of Clarence adulation on the reserve. "I'm one of Clarence's biggest critics," his sister Mona says. "I think he's too focused on business. But I've never doubted his idealistic motives. He's really driven by the desire to help his people."

Ronny McGinnis was first elected a councillor back in 1984, in the same vote that first made Louie chief. "He and I don't agree about a lot of things. He's bossy and stubborn. He's too gung-ho on economic development and not enough about spiritual development, but his heart is in the right place. One of our boys was getting in trouble with the law, and Clarence would come around just when he needed support, take him to hockey games, take him up to the Fraser River to catch salmon for the community. He's like an uncle to all kinds of young people."

Nathan McGinnis testifies to Louie's one-on-one help himself. Nathan says he "acted like an idiot" when he was a teenager and almost ended up in jail. The fishing trips with Louie came with a message, he says: Straighten up. "I looked up to Clarence as a role model and it made a big impression that he cared enough to spend time with me."

With Louie's support, McGinnis went into a difficult millwright apprenticeship program. At the age of 35, he says he now "definitely has his life figured out," with two kids of his own and a good job with Constellation as a millwright.
That's a theme one hears repeatedly at Osoyoos, and it goes some way to explaining why Louie commands respect.

Leona Baptiste, HR director for the band's businesses, is among the young people at the reserve mentored by Louie.
Leona Baptiste says she might have ended up "a complete loser" if it hadn't been for Louie's intervention. Like many teenagers everywhere, she ran wild and partied all night.

"Clarence knows every kid in the community. He's always watching what's going on. One day he said to me, 'You're better than this.' He told me to come to Prince Rupert, where he was giving a speech to some other native leaders.

"It was pretty cool. I had no idea that Clarence was a widely respected leader. To me, he was just Clarence. But when I watched him speak in front of all these people, it really made me curious. I said to him, 'Wow, how did you get to be you?'"

At Louie's urging, Baptiste went back to school and interned at the OIBDC. "Chris Scott was unbelievable with me," she says. "He didn't have the extra time to teach a kid the basics, but he still mentored me and was quite stern when I deserved it. I'm so lucky they brought me in. I don't know where I would have ended up otherwise."

Baptiste now has her work cut out for her as the OIBDC's HR director, riding herd on up to 600 employees.

Louie insists that young people need to be busy and active or they get in trouble. Unsurprisingly, the sports fanatic is keen on getting young people involved in athletics; the walls of the reserve school's gym are appointed with slogans like "Being on Time Shows You Care!" and "Bring Back Our First Nations Working Culture!"

Most nights of the week, Louie can be found in the gym's weight room, working out on the resistance machines and advising kids on diet and physical fitness. "It's all about having a purpose in life," he says. "I think people have it backwards when they emphasize social development over economic development. If you get people working, most of the social problems in a community fade away."

The B.C. government is building a 378-cell, $193-million provincial prison on land leased from the reserve.

The latest (and biggest) project the OIBDC has attempted is a new $193-million, 378-cell provincial prison, which the B.C. government is building with the band on land leased from the reserve. Chris Scott served as the lead negotiator for the project, which Osoyoos won over a number of competitors. Construction began this spring, and it's expected that many of the well-paid construction jobs will go to band members.

This project could be where the invincible Chief Louie finally sees his reputation dented. Louie's campaign to host a provincial jail on Indian land raised eyebrows in native leadership circles across Canada, and some suggested that he'd gone too far in working with white society.

After all, there's a long and troubled history between aboriginal people and the justice system in Canada, in which jails are seen as a symbol of white oppression. Aboriginals make up about 23% of the prison population across Canada—far more than their 4% share of the general population—and many native leaders say the disparity is driven by racism, police harassment and other systemic injustices. (As one Osoyoos councillor suggests, "It's because white people can afford better lawyers.") Cops, prosecutors and others working on the front lines of the law beg to differ, pointing out that aboriginal people commit more than their share of crimes and can't blame racism when they find themselves in a courtroom.

In 1999, the Supreme Court of Canada instructed judges to look at alternatives to imprisonment for aboriginal offenders. In 2001, the federal government adopted this "supply-side" solution and vowed in its Throne Speech to reduce the number of aboriginal people in the criminal justice system until the percentages were in line with Canadian demographics. According to Correctional Service of Canada statistics, aboriginal offenders now tend to receive lighter sentences than non-aboriginal offenders for crimes of equal gravity, and a myriad of in-house cultural programs, from sweat lodges to native handicraft classes, are designed to make the prison experience more rehabilitative than punitive.

But even with softer sentencing, the percentage of aboriginal offenders keeps rising. According to a report by Ottawa's Office of the Correctional Investigator, there has been a 43.5% increase in the federal aboriginal inmate population since 2006. The new prison in Oliver is not designed strictly for aboriginal inmates, but Louie says it's safe to assume that it will have the usual demographics. He doesn't believe the prevailing approach to cultural accommodation will make any difference in the long run. "If I have to go to one more jailhouse sweat lodge, I'm going to puke," he says. "It's not about spiritual wholeness; it's about the economy. Inmates need to learn carpentry and plumbing and other skills that will help them make a living when they get out."

Ronny McGinnis and Louie's sister Mona both roll their eyes when Louie gets onto this subject. "He's too macho," declares McGinnis. "I know the prison scene, and I've always worked with people in trouble. I've visited enough jails to know that the average offender is not a bad person. They're usually scared and lost. They don't know who they are, and they need help and spiritual guidance before they are ready to get employment training. You need to heal people before you can expect them to hold a job."


We're a horse culture, and we'd like to get the inmates working with horses. I think it would be good for them to be outside, learning to deal with these beautiful animals that depend on them every day for food and exercise.
Louie shrugs off their criticisms. "They're a little more touchy-feely than I am, but I partly agree with them, and we've been talking with BC Corrections about running some of our own cultural stuff inside the prison. I'm big on programs that teach responsibility, like taking care of livestock. We're a horse culture, and we'd like to get the inmates working with horses. I think it would be good for them to be outside, learning to deal with these beautiful animals that depend on them every day for food and exercise." (The idea is not written into the plan for the prison, but BC Corrections spokesperson Cindy Rose confirms that her department "welcomes Chief Louie's ideas and we look forward to working with the band.")

The prison will create about 240 full-time jobs, and Louie expects that some of the positions will be filled by his band members. He says he's well aware that some people think a prison is a bad choice for a First Nations community, but he argues that aboriginal people should be involved in all levels of the justice system—as prison staff, judges, lawyers, police and all the rest. "We need our band members working in that prison as role models. The jail is going to produce full-time jobs, with good benefits and indexed pensions, and I'd rather see my people on the outside of the bars than the inside."

Assume for a moment that the prison experiment works out and is added to the Osoyoos band's string of successes. But so what? One of the most common dismissals of the Clarence Louie experiment is that it has no relevance for urban natives, whose situation is very different.

By the same token, it's obvious that most reserves are less naturally endowed than Osoyoos. No one is going to build a resort at Pikangikum or Shamattawa, where sexual assault, suicide and substance abuse define everyday life. But Louie says that every reserve has its own unique potential, and with accelerating development in the North, many First Nations are well-positioned to partner up with outside companies. "You have to exploit whatever potential there is in the area. If you are on the coast, it's trees and fish. If you are up north, it's mining and forestry. For us, it's agriculture and tourism. You let your natural resources tell you what business you're in."

The jail isn't even built yet, but Louie is already planning another project—a plush club and racetrack for car enthusiasts. The Okanagan region has no shortage of retired millionaires with sports cars tucked in their garages, and the proposed Area 27 Motorsports Club will give silver-haired boys a place where they can give their high-performance roadsters some exercise without worrying about a radar trap around the corner. The vice-president of the club, none other than racing legend Jacques Villeneuve, will design the asphalt circuit.

Louie, a car and motorcycle enthusiast himself, says he can't wait to hear the announcer say, "Ladies and gentlemen, start your engines."
Whispering Pines Clinton Indian Band: Project Memorandum

To: WPCIB Elders and Community Members
Tracy James: Project Lead, BC Environmental Assessment Office
Reviewing Office: Canadian Environmental Assessment Agency
Chris Wild: Project Manager, KGHM Ajax Mining Inc.

CC: Stk'emlupsemc te Secwépemc Nation (SSN)

From: Chief Tresierra and Council: WPCIB

Date: October 10, 2017

1.0 Background and Document Purpose

This document sets out the views, issues and concerns of the Whispering Pines Clinton Indian Band (WPCIB) in respect to the proposed Ajax Mine Project (the Project).

As you are aware, planning and assessment activities related to this mine have been ongoing since February 2011, when KAM / KGHM submitted its Project Description. In September 2015, KAM submitted its Project Application and Environmental Assessment.

Following this, the Project has been undergoing a joint review by the BC Environmental Assessment Office (BCEAO) and the Canadian Environmental Assessment Agency (CEAA). Following October 10, 2017, the Project will then be referred to appropriate ministers of the Crown, who will make their decision in respect to the Project. The BCEAO and CEAA is recommending approval of the Project with certain conditions that they believe will address the main predicted effects of the mine.

Of note and in parallel, the Stk'emlupsemc te Secwépemc Nation (SSN) established their own parallel review process that commenced in July 2015 with the SNN forming its own community review panel and issuing its decision in respect to the Project. The SNN has decided that the Project should not be approved and it has informed all parties that it withholds its consent.

Of importance, the SNN, comprised of the Tk'emlúps te Secwépemc and Skeetchestn Indian Band, one of the seven historic "Divisions" of Secwepemc Nation, have filed an application with the courts seeking, among other things, declaration of Aboriginal Title and Rights to the Project Area and the area known by the as Secwépemc as "Pipsell". The review process and final decision reached by our relatives has been taken into account by the WPCIB and it has guided the views, issues and concerns that the WPCIB have put forward in this document.

It should be noted that at an early stage in the review, the Government of BC took the position that while the WPCIB may exercise Aboriginal rights in the Project area, its historical and cultural connection or strength of claim to the area was not strong.

Given this strength of claim assessment, the Government of BC decided that a lower level of consultation with the WPCIB would suffice and satisfy the duty to consult vis a vis WPCIB's rights. As in other consultation scenarios, the BC Government takes the view that the WPCIB (due to its asserted agreement with federal government to be removed to its current location), moved itself out of its traditional territory and cannot make a case to Aboriginal Title in the Project area as there is little or no evidence between historical and current occupation. The WPCIB objected to this view and asserted that a deeper form consultation and accommodation would be required.

The WPCIB must always take into account the relative benefits and risks associated with any given project or decision that will impact the collective rights, title and interests of our community and nation. We have reached out to KGHM and have been provided some detail on how the company would propose to work with our people and work to benefit our people. We have reviewed a draft of a proposed agreement proposed by the company and have provided it with due consideration. We respect and wish to acknowledge the company for its effort in this regard.

With very limited resources, we have done our best to inform ourselves of both sides of the equation and ask the following basic but important questions:
If the mine is built and operated, what would be the risk to our people's health, safety and well-being?
If the mine is built and operated, what would be the impact to our Indigenous Rights and Title?
If the mine is built and operated, how would it impact our relatives and neighbors?
If the mine is built and operated, how would it positively impact the community through training, jobs, employment, contracts and new revenues?
Based on a review of available information and the views and findings of our relatives – the Tk'emlúps te Secwépemc and Skeetchestn Indian Band, the Whispering Pines Clinton Indian Band is of the view, that the Project should not be approved, constructed and operated as proposed.

This memorandum summarizes the unresolved issues, concerns and interests of the WPCIB. We therefore request all Crown decision makers to take these views into account and not issue approval to Project, and commit to a process that applies the principles of the deepest level of consultation, accommodation, reconciliation and that ultimately seeks and respects the right of the Indigenous People to issue or withhold consent.

The WPCIB is a pragmatic nation and community. We seek to engage in the modern economy. We seek to be free and independent and not have to rely on government programs and subsidies. We recognize that sustainable development should be pursued for the good and development of all. We are actively pursuing and supporting infrastructure projects with minimal impacts that will result in economic growth and opportunities for our people and all citizens of southern interior and British Columbia. With that said, not all project are good ones, not all projects are the right ones and not all projects are proposed in the right places.

While the WPCIB was not seen as needing to be consulted at any depth by the BCEAO, the WPCIB is prepared to constructively re-engage in further deliberations and engagement in relation to the Project.

2.0 Project Summary

KGHM Ajax Mining Inc. (KAM) has applied for an EA Certificate to develop, operate, and decommission an open-pit copper and gold mine and ore processing facility. The Ajax footprint would be approximately 1,700 hectares (ha) and the mine would operate for an estimated 23 years at a mining rate of 65,000 tonnes of ore per day. The proposed mine site is located within the Thompson Nicola Regional District, adjacent to the southern boundary of the City of Kamloops (population 90,000)

The Ajax mine would be located within the traditional territories of the Whispering Pines Clinton Indian Band, the Tk'emlúps te Secwépemc (Tk'emlúps Indian Band) and Skeetchestn Indian Band, who were jointly represented by Stk'emlupsemc te Secwépemc Nation (SSN). The Project would also be located in the asserted traditional territories of Ashcroft Indian Band and, Lower Nicola Indian Band.

Ajax would include the following key Project components and activities:
Development of an approximately 300 ha open pit, with a maximum depth of approximately 577 meters (m);
Installation of a dam and dewatering of the northeast arm of Jacko Lake to allow for open pit development;
Construction and operation of an on-site ore processing plant that would produce copper and gold concentrates;
Construction and operation of a 685 ha tailings storage facility that would store thickened tailings, process water, and contact runoff water from mine facilities in an area bounded by natural topography and four embankments (dams);
Four mine rock storage facilities, as well as topsoil and overburden stockpiles;
Water management facilities, including collection ponds to reclaim and recycle water, engineered dams on Jacko Lake to provide flood control, and a 2.7 km diversion of Peterson Creek around the south edge of the open pit;
Construction of access roads, and upgrades to existing transportation infrastructure including upgrades to the Inks Lake Road interchange at Highway 5 (Coquihalla Highway);
Construction of a 9 km, 230 kilovolt powerline from the BC Hydro transmission line through Knut ford to supply power for the mine;
Installation of a 5.3 km natural gas pipeline from Knutsford (connecting with a FortisBC pipeline) to provide heating and back-up electricity generation for the mine;
Offsite explosives manufacturing and storage located approximately 4 km northwest of the Ajax mine site;
Restoration of an existing water intake in Kamloops Lake and construction of a new 16 km water supply line to supply freshwater to the Project; and
A concentrate storage and shipping area.
The life of the Project is divided into four phases: 2.5 years of construction, up to 23 years of operations, 5 years of decommissioning and closure, and 5 or more years of post-closure monitoring. Decommissioning of some project facilities and progressive reclamation would be undertaken during operation. Reclamation would continue through decommissioning and closure. Post-closure monitoring would be determined as required by regulatory government agencies, particularly the Ministry of Energy, Mines and Petroleum Resources.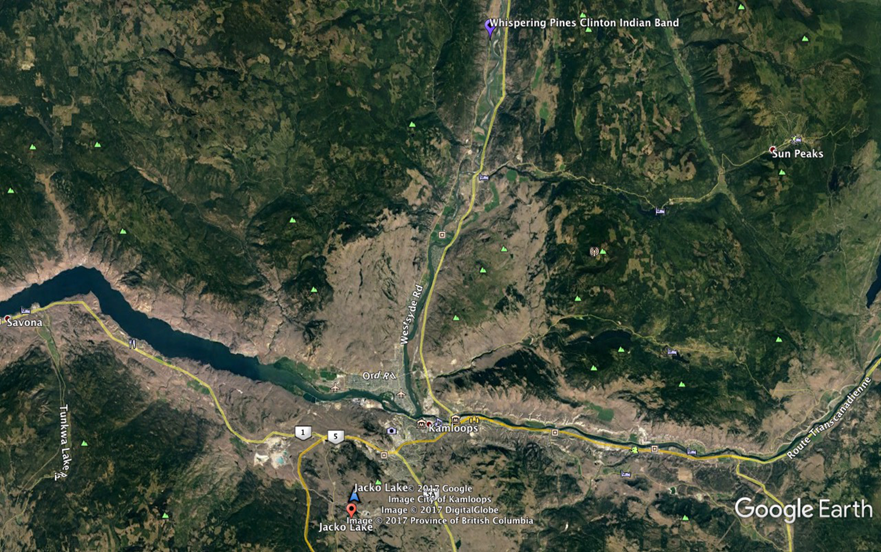 Relative Location of Jacko Lake to Whispering Pines Clinton Indian Band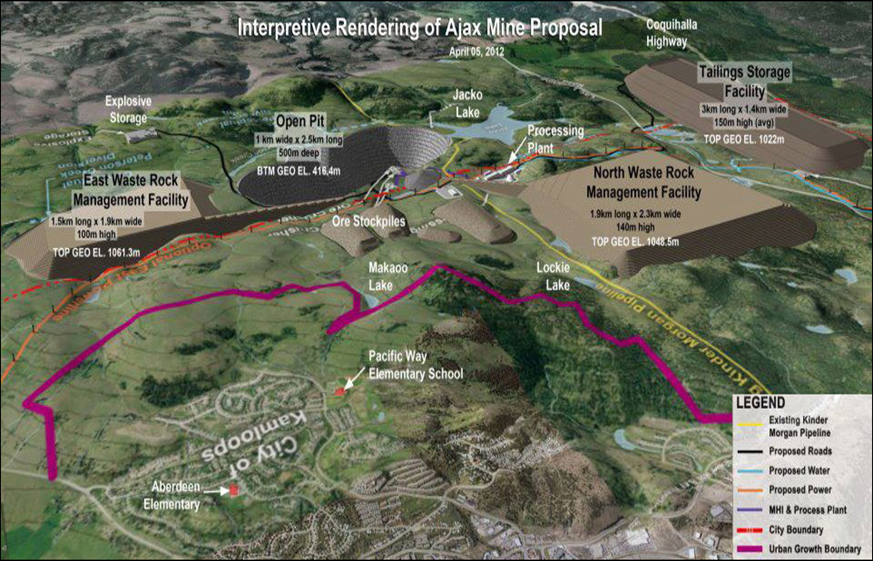 3.0 Occupancy of Traditional Territory by WPCIB

The exclusion of the WPCIB from being meaningfully involved in the consultation and environmental review process stems from the Government of BC's views of the nature and extent of the WPCIB's Aboriginal Title. The Government of BC's views are set out in two reports entitled:
Aboriginal Research Division, Legal Services Branch, Ministry of Justice. Secwepemc Nation: A Brief Ethno historic Overview of the Eastern Divisions. Confidential. August 2012.
Aboriginal Research Division, Legal Services Branch, Ministry of Attorney General. Whispering Pines/Clinton Indian Band: Review of Historical and Ethnographical Sources. Confidential. June 2014.
The sum of these two reports conclude that WPCIB does not have a strong historical and cultural connection to the Project area. Following a review of these reports, the WPCIB obtained the assistance of Dr. Kenneth G. Brealey of the Department of Geography University of the Fraser Valley. He was tasked with undertaking an analysis and response to the Government of BC Reports. His report entitled the" Historical Geography of the Whispering Pines/Clinton Indian Band" was tabled with the BCEAO in December 2014.

By way of background, Dr. Ken Brealey currently serves as the Associate Dean of Faculty of the College of Arts at UFV, effective May 2014. He joined the UFV Geography department in 2002, serving as department head from 2007 to 2011. He attained his PhD in human geography at UBC and went on to teach at Kwantlen, SFU, UBC, UNBC and Western Washington. He teaches the historical, cultural, and/or regional geographies of British Columbia, Canada, and North America, and the geographies of Indigenous peoples at global, regional, and local scales. Dr. Brealey has conducted historical, geographic, and cartographic research for a range of First Nations, including Xeni Gwet'in First Nation, Hwlitsum First Nation, the Okanagan Indian Band, the Snuneymuxw First Nation, Nlakapamux Nation Tribal Council; Ktunaxa Nation Council, Esquimalt First Nation, and for the Cowichan Tribes on both the lower Fraser River delta and on southeastern Vancouver and the Gulf Islands. He has published in, amongst other journals, Western Geography, Canadian Geographer, and BC Studies.

In respect to the Government of BC's views on the nature and extent of WPCIB Aboriginal Title related to the Project area and areas in the vicinity of the Project, Dr. Brealey respectfully found these views to be unsubstantiated and based on faulty assumptions. Relevant excepts from his report are set out below:

"In essence, the EAO is stating not only that Secwepemc 'divisions' or 'bands' are the sociopolitical entities in which Aboriginal rights and title are invested, but that the only Secwepemc 'division' or 'band' that could reasonably demonstrate title, rights or continuity with land use and occupancy regimes at contact, or the date of sovereignty assertion - and by extension the only contemporary First Nations that could assert title, rights or interests in the proposed project area - are those associated with the historic Kamloops 'division' or the present day Kamloops or Skeetchestn Indian Bands".

"the EAO response is flawed because while it does source what I would agree are the most authoritativeethno historic accounts – those of Franz Bo- as, George Dawson and James Teat21 – it does so far too selectively, and without consideration of the context in which those accounts were tendered."

"Put alternately, the EAO response does not hermeneutically interpret these records in the context of other ethnological and/or anthropological primary records, or relevant secondary accounts, and it makes no allowance for the disruptions and dislocations caused by contact, colonization and the establishment of a reserve system.22 More importantly, it does not incorporate the early contact record, and ignores completely Secwepemc oral history and the Secwepemc ethnographic landscape as the Secwepemc themselves have understood it – and this latter even though both of these were acknowledged in the ethnographic reports it does cite".

"that while the area of the proposed project was indeed in the area assigned by Ja- mes Teit to the Kamloops division of the Secwepemc, and the Clinton Band be- longed to the Fraser River division, the 'division itself' was an 'ethnogeographic convenience' that had little purchase in the quotidian, seasonal or even generational land use and occupancy regimes of the WPCIB and the Secwépemc, either at contact or the date of sovereignty assertion;"

"that even if the WPCIB only started using the area of the proposed mine in the 19- 70s – a claim I disagree with - and that has 'moved twice' since first contact, it is only because of the effects of contact, colonization, reserves and the development of a third-party resource economy, and not because of any voluntary move from, or abandonment of its traditional haunts by either the WPCIB or any it's ancestral families;"

"it is simply incorrect to state that Aboriginal rights or interests are held at any other level than 'the national' – because they are - or that there was no 'overarching governmental authority' at the 'national level' – because the oral historical record shows that there was;"

"the differences between 'divisions' on either geographical or dialectical grounds have been overstated; and that at both contact and the date of sovereignty assertion the 'control' of local Secwepemc hunting, trapping, gathering or fishing territories was a matter of 'stewardship' based on the principle of 'national inclusivity', and not of exclusive or proprietary 'ownership';"

"the extant primary, secondary and oral historical records do, in fact, confirm that the ancestors of the WPCIB were using, moving regularly through, and on a regular basis occupying, particular sites or tracts of land in the area of the proposed mine site at contact and at the date of sovereignty assertion".

"In sum, I conclude that by virtue of its being an integral part of the Secwepemc nation, the WPCIB has always enjoyed demonstrable rights or interests in the area of the proposed mine site. I do accept that where the WPCIB or its ancestral families may have lived, or carried out the majority of their quotidian, seasonal or generational activities, at any point along the historical timeline, might have bearing on the 'level' or 'intensity' of the exercise of such rights – which in any case is true of every Secwepemc band or ancestral group save one23 - neither geography nor location negates the fact that these rights in fact existed at the national level."

"What this analysis confirms is that WPCIB and Secwepemc title, rights and interests are one and the same. The oral histories reiterate (or, more properly, anticipate) that same statement of national unity that is advanced in the 1910 Memorial and by the informants interviewed by Brow in the 1960s, and by Ignace in the 1990s.369 Put alternately, they show that even in the absence of (periods of) direct use and occupancy for material purposes, WPCIB rights and interests applied throughout the Secwepemc national territory at contact and as of the 1846 Oregon Treaty. They are entirely consistent, moreover, with the archaeological, early contact and ethnohistoric records that collectively show W- PCIB land use and occupancy regimes to have been geographically wide ranging for economic, social, and ceremonial purposes. Nothing that has happened since then – including the move to Whispering Pines - compromises this basic reality."

(Source: Historical Geography of the Whispering Pines/Clinton Indian Band: Dr. Kenneth Brealey, December 18, 2014)

In summation then, WPCIB is part of the Secwepemc Nation. Its rights, title and interests are one and the same with the Secwepemc Nation. The WPCIB collective use and occupancy of the area is part of an ongoing pattern that dates back to the time of contact and to date of the 1846 Oregon Treaty. The Project is proposed to be constructed and operated on lands subject to indivisible Secwepemc Title and the mine will impact and infringe that Title and related interests should it proceed. All Secwepemc title holders will be impacted. It is due to this reason, that the WPCIB asserted that the Crown was under a positive duty to undertake deep consultation, accommodation and seek reconciliation with the WPCIB while seeking the consent of Secwepemc people as asserted by the SSN.

4.0 Secwepemc Oral History Related to the Project Area

The WPCIB notes that the proponent understands the significance of the Project area and areas in the vicinity of the Project to the Secwépemc People.

"Through the course of consultation and engagement related to the Project, a number of important geographic regions have been identified. The Jacko Lake area, also known as Pipsell, is considered an important cultural landscape and place with spiritual and cultural value for the Stk'emlupsemc te Secwépemc Nation (SSN)."

"The oral history surrounding this area is said to be connected to the epistemological underpinning for Secwepemcstsq'ey (which means indigenous law) that explains the reciprocal and mutually accountable relationships between human beings and the environment (e.g., fish, birds, animals, the atmosphere and the water cycle). This relationship is illustrated in a story called The Trout Children, part of the oral tradition of this area. The story explains the relations between humans and the trout people who are said to live in and under the lake. It explains how water-beings (xqelmecwetkwe) active underneath the lake are also connected to Kamloops Lake, Adams Lake, Shuswap Lake and the North Thompson River. The story is also connected to rituals and ceremonies by way of a song called Chickadee (tsqiqse7) which is also connected to Pípsell."

"The story was also connected to a Prayer Tree (which no longer exists) at the entrance to the Peterson Creek/Jacko Lake area in what is now known as Knutsford. The tree, since destroyed by development of a road decades ago, served as a medium for human communication with the sky (atmosphere) world. It was important to communicate and show respect for the land and creatures in this area. The SSN identify this area as having spiritual, cultural and ceremonial values through oral traditions, an offering tree, spiritual connections and prayers with water beings. Some cultural and ceremonial uses still occur today; however, the Secwepemc people including the SSN have been largely alienated from these lands from various agricultural and industrial activities since the 1860s.Another prayer tree is said to exist in the vicinity of Jacko Lake."

(KAM Environmental Impact Statement Summary: December, 2015, Pg. 8 and 9)

4.0 Exercise of Aboriginal Rights in the Project Area and Areas in the Vicinity of the Project by the WPCIB Members

As the WPCIB has informed the proponent and the Crown on prior occasions, the WPCIB people hold and exercise a wide array of Aboriginal rights in relation to the Project area and areas in vicinity of the Project. Examples of these rights include (but are not limited to) the Aboriginal right to:
hunt for large and small mammals
hunt for migratory and non-migratory birds
fish for anadromous and non – anadromous fish species
maintain a relationship with fish and wildlife species and manage and protect these for the benefit of current and future generations
harvest food plants
harvest medicinal plants
harvest earth materials
harvest timber for domestic and trading purposes
gather, store and manage potable water sources
conduct in trade with other Indigenous people
use, maintain and construct trails and travel routes
use, maintain and construct cabins, settlements and physical communities
construct, operate and manage fish management structures such as weirs
maintain a relationship with cultural sites, places and areas and manage and protect these for the benefit of current and future generations
maintain and develop forms of governance and set criteria and objectives for landscapes within Secwépemc territory
conduct and transmit ceremonies and cultural practices free from disturbance
put lands to domestic, commercial and industrial uses provided that these do not impair the nature and integrity of land and impact aboriginal title itself
Other
Fish Species Currently Harvested and of Cultural Importance to WPCIB Members

WPCIB members have and continue to actively fish for, catch, consume and trade the following fish species for a range of sustenance, cultural, spiritual, livelihood and socio-cultural purposes:
Trout
Dolly Varden
Steelhead
Chinook Salmon
Coho Salmon
Other
Wildlife Species Currently Harvested and of Cultural Importance to WPCIB Members

WPCIB members have and continue to actively to hunt for, kill, consume and trade the following wildlife species for a range of sustenance, cultural, spiritual, livelihood and socio-cultural purposes:
Moose
White Tailed Deer
Mule Deer
Black Bear
Snowshoe Hare
Badger
Beaver
Marten
Squirrel
Ducks
Geese
Sharp-Tailed Grouse
Ruffed Grouse
Sandhill Crane
Other Species of Cultural Importance and Interest to WPCIB

There are other species of importance to WPCIB members. The following species have cultural, spiritual and ecological importance and the WPCIB have an interest in relation to them:
Coyote
Heron
Eagle
Peregrine Falcon
Burrowing Owl
Short Eared Owl
Great Owl
Plant Species of Cultural Importance and Interest to WPCIB

The WPCIB has reviewed and confirmed that the following list of plant species are utilized and are of cultural, spiritual and socio-cultural importance and interest:
arrowleaf balsamroot shoots bitter root
black swamp gooseberry
black or wila lichen blueberry and huckleberry
chocolate lily bulbs wild celery roots cottonwood cambium
false Solomon's seal greens & berries
fireweed shoots
hemp dogbane fibres
Indian paintbrush flowers & stems kinnikinnick berries
Labrador tea leaves
lodgepole pine cambium & seeds mariposa lily bulbs
Oregon grape berries
choke cherry fruits
prickly pear cactus fruit
red-osier dogwood berries Saskatoon berry
soopolallie
spring beauty bulbs
thimbleberry
thistle roots
tiger lily bulbs
whitebark pine seeds
wild onion bulbs
wild raspberry
prickly rose fruits
wild strawberry berries Yellow avalanche lily roots yellowbell bulbs
Waterbodies in Project Area Fished by WPCIB Members

Some of the lakes and rivers fished by WPCIB members include:
Jacko Lake
Kamloops Lake
Thompson River
North Thomspon River
The general area in which fishing occurs for anadromous and non-anadromous fishing species is demarcated on the following map: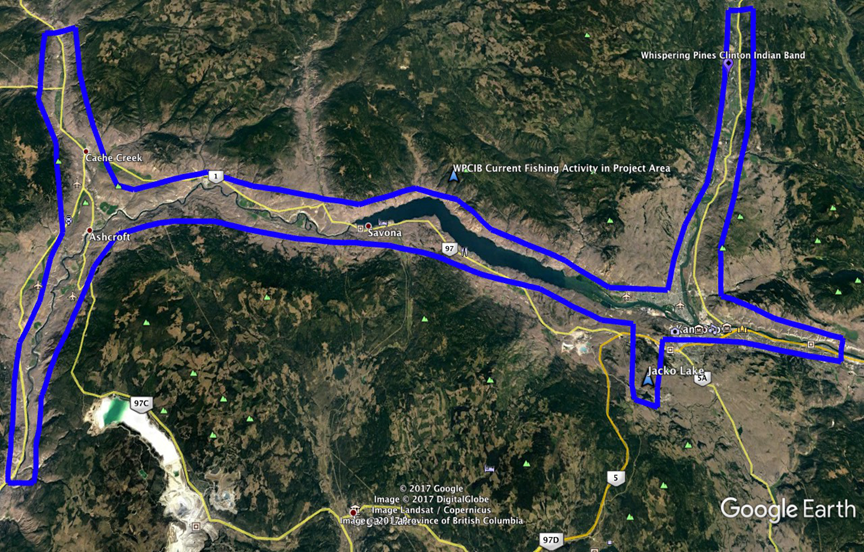 WPCIB Fishing Activity in Project Area and Areas in the Vicinity of the Project
5.0 Issues, Concerns and Interests of the WPCIB

The WPCIB respectfully presents the following issues, concerns and interests in relation to the proposed Project and its impending approval:

Assessment Process Relied Upon

Given the Government of BC's stance in respect to the degree of interconnection between the Project area and the WPCIB and its rights, the Government of BC undertook a suppressed level of consultation that was more akin to information sharing. This precluded the WPCIB from being involved in meaningful consultation, meaningful involvement within the strategic phases of consultation and the environmental assessment stage where important decisions were being made.

Related to this matter is that of capacity. While funding was available to the WPCIB, the level of funding available through CEAA, BCEAO and the proponent would have been insufficient to support the technical and financial needs of a WPCIB. The consultation and especially the environmental assessment process is a highly technical and demanding regulatory process. Even the SSN, that did have access to a greater level of resourcing, was pressed to keep pace and involved in all of the key stages of the review.

The WPCIB is aware of the shortcomings identified with the existing environmental assessment process. While the joint review was underway for Ajax, the Government of Canada's own expert panel identified the many failings in the current EA process. Among the many deficiencies identified by the expert panel, is the conduct of a consultation and assessment process that assesses environmental and socio-economic effects. It does so rather than addressing the impacts and specifically, impacts on Aboriginal people, their rights and title.

The review undertaken for Ajax followed suit and thus what the Crown now has in its hand is an evaluation of potential environmental and socio-economic effects which stands as a proxy for a full and forthright assessment of impacts on the rights and interests of the WPCIB, and other Indigenous people. The work undertaken by the proponent and reviewing agencies should not be discounted but its limitations need to be acknowledged, rectified and now addressed through Crown action.

Inappropriate Baseline

A key issue that undermines the current review process and the environmental assessment review of Ajax was that of an inappropriate baseline. The effects assessment is predicated upon and calibrated to consider the ecological baseline is it exists today. When the effects assessment is then run out for all valued ecological components, it's a foregone conclusion that few or no significant adverse effects will be found to exist. The consultation process and the environmental assessment process fails as it failed to take into account, "the aboriginal perspective" and to account for the true nature of Ajax mine and its impacts that will be experienced by the Secwépemc Nations and people.

Failure to Appropriately Assess Cumulative Impacts on Indigenous Rights

The WPCIB has reviewed KGHM's cumulative effects assessment and the BCEAO and CEAA's consideration of this matter via the project report. The cumulative effects assessment is correct, in that is was generally carried out in accordance with CEAA and BCEAO guidance. With that said, what has been undertaken cannot be held as a full or correct assessment the cumulative impacts of the mine, its operations in conjunction with past, present and reasonably foreseeable projects and human induced stressors on the rights and health and well-being of the Secwepemc people.

First, the effects assessment methodology employed only takes into account and carries through those effects that can't be adequately addressed through the application of template avoidance and mitigation measures. Only those effects considered as having significance or being significant are then carried through into the cumulative effects assessment.

Secondly, the baseline for the effects assessment again is calibrated to the present day and only considers projects and activities that are within known planning horizon or on regulatory books. The significant adverse effects noted above are then essentially paired with the knowns. The result at the back end of this process, is a skewed view of the world that concludes "everything is fine" as the project worsen the situation. WPCIB rights, uses of the land, ability to occupy the land and its overall relationship with the hosting landscape will be impacted and any claim to the contrary flies in the face of reality and the common law, even as it exists today. The Ajax cumulative effects assessment fails to address the cumulative impacts as experienced and that will be lived by the WPCIB people.

Pending Litigation

The SNN have taken court action in respect to the lands that will host the Project. This is an issue of pending litigation and the SNN, as well as all Secwepemc people's rights and title may be harmed if project goes forward prior to trial. Seeking a declaration of Aboriginal Title is not an inconsequential action and should not be seen as a frivolous matter. A Project decision should not be arrived until regulators understand the outcome of the court proceedings, have supplementary and directly relevant information and analysis from the courts to take into consideration.

Over Reliance on Plans and Strategies to be Developed in the Future

There are far too many instances in the proponent's EA where it proposes to address difficult matters and problems though the development of committees, management plans and strategies to be developed down the road, if and when the mine receives approval. Like the SSN and other concerned citizens, the WPCIB is of the view that the central purpose of environmental assessment is to understand what those uncertainties are and seek to address those before irrevocable decisions and actions are taken.

Regulators have justified some of their strategic views and findings on the acceptability of the Project given the loose string of proposed processes, multi-party committees and adaptive management conditions that will magically fix everything… later. Where uncertainty exists, more time should be taken to understand the consequences and ramifications of key issues such as the mine development plan, water and geo-chemistry, water quality management, fish and fish habitat protection. The proposed monitoring committee for Jacko Lake is but one example of this approach. Simply developing now, then asking questions later does not seem like a prudent management choice by the proponent or government. Such an approach creates an unacceptable risk to the health and well-being of Secwépemc people and their neighbors who will live near the mine and the impact area.

The Overall Importance of Pipsell to the Secwepemc Nation

The SNN and its technical team have done an excellent job at describing "Pipsell" as an area of critical spiritual and cultural importance. It is irreplaceable. A mine in this location is simply at odds with nature of the place, the history of the place, the cultural importance of the place and its unique nature within the landscape and region.

It is also clear that the courts will find that the SNN hold title to all or portions of the mine site and adjacent lands. The only possible method that would even come close to preserving a portion of the land and avoid an infringement would be to consider an alternate and lower impact under-ground mining method. While the proponent may have rejected this in its alternatives assessment (being considered uneconomic), it seems to the WPCIB that a thorough consideration of this alternative is called for, if Crown decision makers are seeking some way of reconciling the conflicting interests at hand. We do not recommend this as an option, however, its consideration is mandated by the common law, which takes precedence over statute and regulatory guidance on these matters issued by BCEA and CEAA.

Loss of the Hunting Blind

The WPCIB believe that the SNN should be regarded as an authority when it comes to matters of Secwépemc cultural heritage. No else possesses the background or the competency as they do on these matters. The identified hunting blind appears to be a unique and significant feature and would be lost through the development of the open pit mine. Further, loss of this site as well as the overall impact to Pipsell would impact the Secwepemc in being able to convey this heritage site, the hosting area and transmit the knowledge that goes with it, to future Secwépemc generations. Removing it or placing it in some form of interpretative center should not be considered as any form of reasonable mitigation.

Air Quality and Fugitive Dust Emissions

The WPCIB remains concerned about the potential for dust and dust conveying metals to settle out in local water bodies, fish habitat in Peterson Creek and neighborhoods that would be in close proximity and downwind of the mine site and haul roads. From a land and resource use standpoint, the settling of dust and dust with metals on the grassland habitat and botanicals relied upon by Secwepemc people is of great concern and we see few options to avoid or mitigate the worst of this impact.

Impacts to Wildlife and Wildlife Habitat

Based on available information, few WPCIB members appear to directly access and utilize the Project footprint and mine development plan area for hunting purposes. Based on anecdotal reports of community hunters, it seems that over the past thirty years they have had to move to other areas that are less disturbed to find successfully hunt and hunt preferred wildlife species. The areas adjacent to the City of Kamloops and the mine site have been impacted through habitat loss, conversion of Crown land to fee simple land, injurious affection, auditory disturbance, over-hunting and human presence.

Thus, the mine may not adversely impact the WPCIB right to hunt in the Project area. However, this view discounts the many aggregated impacts that have acted cumulatively to impact wildlife, wildlife habitat and deny our hunters and children the ability to actively use this area. In saying this, it's important to point out that we do not speak for other First Nations in respect to this matter nor can our views and information be used as proxy to address issues and impacts they have brought forward. It is clear from a review of SNN materials, that the hunting that occurs in Pipsell and their overall relationship to the animal world and the nature of the place will be severely impacted.

Impact to Fish, Fish Habitat and Aboriginal Right to Fish

The WPCIB has significant concerns on how the Project will impact area fish populations, fish habitat and our collective Aboriginal right to fish. Fish habitat will be lost with the creation of the pit that will impact a northern portion of Jacko Lake. The pit will be massive and deep and there is significant reason to believe that the pit will alter ground water levels and may result in the drawing down and or draining of Jacko Lake.
Peterson Creek and its fish populations and habitat will also be impacted by the mine development area, changes in sediment load and increased water temperature. We are also concerned about the impact of altered water quality, mine effluent and the potential for altered water chemistry with leaching of metals and other compounds from the tailing pond and any potential interaction with waste rock.

We are a fishing people and we have historically and continue to rely on area fish stocks from the Fraser River, Kamloops Lake and the south and north Thompson Rivers. Our children are growing up with the reality of diminishing returns and river closures thus all fish bearing bodies of water (whether they be stocked or otherwise) increase in importance. Some of our community members to report that they fish in Jacko Lake and in the Thompson River upstream and downstream of the City of Kamloops. The loss of the ability to fish at Jacko Lake for our members needs to be understood through this lense.

Water Quality

Again, as an underfunded First Nation, we have to review and take into account other parties materials and views. This is the best that we could under the circumstances.

We were interested and highly concerned about the findings of Dr. Gilles Wendling, as highlighted in an August 2017 letter from the Environmental Law Centre of the University of Victoria: Letter dated August 14, 2017 to K. McNamara – Drinking Water Officer of the Kamloops Public Health Unit.

Aquifers downstream from the proposed mine site are used as sources of drinking water. He states:

"GW Solutions has identified that aquifers linked to Peterson Creek and Davidson Creek are used as sources of drinking water by residents."

"Peterson Creek and Davidson Creek aquifers are located downstream of mining activities proposed by KAM. Potential contaminants emanating from the components of the project may travel both with surface water and the groundwater."

The Peterson Creek drinking water aquifer has high vulnerability to contamination. The Wendling report states:

"The Peterson Creek Aquifer is rated by BC MoE as low development, high vulnerability and moderate productivity (Class IIIA). Its high vulnerability results from its proximity to the ground surface and its lack of confinement. Being immediately downgradient of the Ajax mine, it will be the first aquifer impacted by the discharge of poor quality effluents originating from the mine, should they occur."

A substantial number of people draw their drinking water from those aquifers. The Wendling report states:

"There are two community wells; one serving Knutsford Knoll development and the other serving the Kamloops RV Campground. Both wells are close to each other and they are located approximately 4 m from Peterson Creek."

"The Knutsford Knoll well supplies 41 modular homes/households and the Kamloops RV well supplies 100 fully occupied RV campsites and tent camping spots, nine mobile homes, one mosque and one private property (Schimpf property). Furthermore, there are seven individual homes with wells completed in the Peterson Creek aquifer, further up creek toward the mine." (KAPA, pers. communication).

The proposed Ajax mine operation would create many potential sources of water contamination. Citing the "Review of Predicted Water Contamination" done by Kevin Morin, Ph.D and P. Geo.Dr. Wendling states:

According to Dr. Morin (March 2016), the potential sources of water contamination are the components of the Ajax site. These components include:

a) waste rock disposal dumps called "mine rock stockpile facilities";

b) the low-grade ore and medium grade ore stockpiles that will not be processed before the end of the operation and may, in effect, become additional waste rock disposal dumps;

c) the tailings disposal facility called the "tailings storage facility" or
TSF;

d) the waste rock embankments of the TSF, which will contain a significant percentage of the total waste rock and thus represent additional waste rock disposal dumps;

e) the open pit, which will fill with water after mining;

f) the overburden stockpile and overburden spread across the proposed site during construction and operation; and

g) several other components that will contain mined material or receive water from the mine site, including roads and ponds.

Thus, there are many potential contaminant sources within the footprint of the proposed Ajax mine site.

The Wendling Report describes potential Contaminant Pathways, pathways that mine contaminants could follow to reach receptors such as humans:

"The contamination from the mine components would travel along pathways to reach receptors. The two groups of pathways at the proposed Ajax site that would allow contaminated water to migrate downstream are surface water and groundwater. Receptors [including humans] would have to be connected to sources through pathways carrying contamination from mine components to create adverse impacts, harm, or damage".

Inadequate Assessment of Contaminant Pathways and Drinking Water Impacts. Unfortunately, to assess human health impacts, the proponent KGHM Ajax Mining Inc. (KAM) simply did a preliminary assessment of potential plume migration pathways and resulting contaminant concentrations in residential well. Thus, KAM did studies to identify potential source of contamination and probable pathways, and projected anticipated concentrations of toxic elements reaching one drinking water source nearest KAM's proposed facilities. However, Dr. Wendling identifies numerous inadequacies in this key KAM assessment of drinking water risks. Dr. Wendling states:

"GW Solutions has identified the following weaknesses in the KAM assessment of the risks of negative impacts to drinking water sources:

KAM has focused its study on the assessmentof potentially negative impact on the nearest receptor from the closest potential source of contamination (the PCDP). KAM has not considered the cumulative effect of potential contaminants released by all the components of the proposed operation (i.e., waste-rock storage facilities, tailings storage facility, open pit, etc.). KAM has not quantified how the cumulative
impact may affect the quality of the groundwater flowing through the bedrock aquifer, and through both the Peterson Creek and the Davidson Creek aquifers, which are both used as a source of drinking water."

"The particle tracking simulation only considers advective transport (transport with the mean velocity of groundwater flow). Other transport phenomena such as dispersion, or the spreading of a plume that occurs due to mixing have not been considered; however, such models of contaminant transport could still bring water containing contaminants to RES 2 from the EMRSF and EMRSF pond, both located directly north of the PCDP."

"KAM only considered seepage from PCDP to groundwater as a contamination pathway. KAM did not consider direct contaminated runoff from EMRSF toward Peterson Creek and groundwater surface water interaction at the vicinity of Peterson Creek. Based on the water balance studies by KAM, Peterson Creek is the receptor of the runoff and shallow groundwater (interflow) downstream of the EMRSF, as indicated by KAM water balance flow charts presented in Figure 8 (premising) and Figure 9 (during operation)"

"KAM did not use the historical geochemical data during operation at the earlier Ajax mining operation for its assessment. It would be very important to assess whether the data indicates a degradation of the water quality downstream of the mine, due to the historical mining activities."

"KAM did not consider the seasonal fluctuation of the concentration of targeted parameters. KAM considered the average annual concentration. As an example, dissolved copper in the seep from waste rock (WR) had an average value of 0.02 mg/L, but reached a maximum of 0.0637 mg/L (3 times higher than average). Higher concentrations during certain times of the year may result in certain parameters exceeding the drinking water guidelines."

"It is important to note that the drinking water quality guidelines are based on total metals (dissolved plus suspended, except for aluminum and iron). However, KAM's application (Appendices 3A and 3 B) only considers and reports dissolved concentrations, which by definition will be equal or less than the total concentrations. Therefore, their assumption of the risk of exceeding the drinking water guidelines may be underestimated."

"KAM's particle tracking model is based on KAM's assessment of the
groundwater flow in the study area. GW Solutions has observed that the hydrogeological knowledge of the mine site is limited; therefore, the reliability of the results provided by the particle tracking model is limited by the quality of the hydrogeological model used by KAM."

In sum, the proposed Ajax project will create a risk to water quality downhill from the project but there has been no adequate assessment of that substantial risk to drinking water. The Wending report details the consequence of this situation:

"KAM has completed studies to identify potential sources of contamination, the probable pathways, and has projected anticipated concentrations of toxic elements reaching the drinking water source nearest to its proposed facilities. However, should KAM's assumptions and modeled results misrepresent how the water quality will be affected by the proposed operations (as presented above), there is a risk of negative impact to the drinking water quality and a resulting health hazard."

"In particular, the quality of the groundwater in the Peterson Creek Aquifer will likely deteriorate due to seepage from the EMRSF pond and PCDP, and the cumulative effect of the other components of the projects (i.e., waste rock storage facilities, tailings storage facility, open pit, etc.)."

"In sum, the proposed Ajax project will create a risk to water quality downhill from the project but there has been no adequate assessment of that substantial risk to drinking water."

The Wendling report concludes:

"..this risk of contamination of the Peterson Creek Aquifer is not consistent with protecting stream health and aquatic environments... The risk of creating a contaminant groundwater plume resulting from the proposed mining activities will not "ensure that water stays healthy and secure for future generations of British Columbians"...

"This intentional release of potential contaminants into both the Peterson Creek and the Davidson Creek Aquifers fails to meet the objectives of British Columbia legislation"

(SOURCE: Environmental Law Centre of the University of Victoria: Letter dated August 14, 2017 to K. McNamara – Drinking Water Officer, Kamloops Public Health Unit)

5.0 Potential Failure of Dam Structures and Impoundment Works

The WPCIB has witnessed the failure of the Mt. Polley tailings dam in recent times. This occurred despite all the measures and conditions placed on the mine by a former BCEAO Director and subsequent permitting, monitoring and allowances by the provincial mining regulator.

The WPCIB wishes to have faith and be able to place trust in regulators and proponents, but Mt. Polley and other situations have shown that a higher level of diligence is required for Indigenous people and all citizen's safety, health and well-being. We find in our review of materials and the public record that the mine plan, as proposed, gives rise to certain risks that could arise through accidents and malfunctions. The WPCIB is concerned about the potential risks and whether sufficient consideration has been directed at the following matters:
The small distance between the pit edge and Jacko Lake and the "high" risk associated with the failure of the pit wall which would cause Jacko Lake to drain into the pit.
The pit creating a drain effect, where Jacko Lake would not be able to hold ground water and ground water leaking into the pit
Potential contamination from Peterson Creek, running through the mine development area, migrating into the underlying aquifer
Contamination from the waste rock site, contaminating the underlying and down gradient aquifer area
Failure of one or more of the proposed impoundments, ponds and works
Prior to approval, the WPCIB respectfully requests that the Crown defer decision making until a full and independent peer review is undertaken that fully accounts for and quantifies these risks. Not only do these risks potentially place our territory, resources and people's health at risk, but they also represent a potentially underfunded liability that would stretch the resources of the proponent's insurers, potentially leaving a massive liability in the hands of the BC and Canadian taxpayer. Again, we have seen that occur one to many times. This concern is valid.

6.0 Closing

This memorandum only identifies some of the potential impacts that the WPCIB has been able to consider to date. We put these forward to the Crown to ensure that it better understands the nature of our rights, issues and concerns in relation to the Project, Project area and areas in the vicinity of the Project.

We respectfully put forward the view, that we have not been meaningfully consulted and highlight the fact that there were flaws in the proponent's EIS, the review process which may prove fatal to the government's decision.

Again, we reiterate our support for the SNN communities who have put in considerable effort and work to make a case and argument of why the Ajax mine should not go forward. Their views are shared by many of our New Neighbors. We are concerned about their views and fears of what will happen should the mine go forward.

At this time, we are of the view that the mine should not proceed as proposed and that we are committed to work in good faith with Crown agencies, the proponent and First Nations to re-look and deliberate these matters in a process that is meaningful and that squarely addresses the matter of Secwépemc Rights and Title and our people's health, safety and well-being.

I thank you for your attention and consideration in these matters.

Chief Tresierra
Whispering Pines Clinton Indian Band ​