Dear Band Members,

We are very happy to introduce you to the 32nd weekly newsletter of Whispering Pines/Clinton Indian Band!

With this newsletter, we aim to keep all our Band members informed about the latest happenings, events, and news within the community. We are distributing this newsletter by email, so please encourage everyone to get their email address into manager@wpcib.com, so they can be added to the list.

Weekly Updates - September 15, 2017
Taking a Moment to Understand How We Got Here and Where We Can Go Together

This morning, I'm sitting at my table having a cup of tea. I'm writing as Steve. Just plain Steve who is a community member and one of the Pellt'iq't People. I'm doing this because as people, we sometimes tend to immediately make up our mind or tune someone out before they even start speaking just because who they are. I've done this in my life just the same as others do. I'm hoping by dropping the "Chief" label for now, we might be able to listen, hear and speak to one another for a time.

If we look south of the border right now in the United States, we see the world's most powerful nation and its political system in turmoil and a standstill. The US Government can't seem to pass laws and get things done because each side of the political divide can't hear one another. Each side – republican and democrat are shouting each other down and not willing to hear the ideas, wishes and goals of the other. The election of Donald Trump as President is really about that this. At the end of the day – one group of people felt that they weren't heard, forgotten and left of out of the political process.

I use this example, as it's important to us, in our part of the world as well. In the United States, if you actually peel away the layers of politics and the history of conflict between the two main parties – the people arguing the loudest generally want the same things – peace, respect and shared prosperity to take care of their families and hope in a better future for all. The division and problem comes in because each side has different ideas about how to get there – what is the best path to use to get there? Over time, this discussion is made all the more difficult to tackle as one side sees the other side as "evil" or "up to know good", "just out for themselves" or that "they don't represent our values and outlook".

So, the most powerful nation in the history of the world has this problem. So, it should be no surprise that Indigenous People and nations with Canada and B.C. also have the same problems.

Our people have had to contend with a great loss, hardship and injustice. In the course of 125 years, our people were seen by a colonial government as primitive, backward people who had to be removed from the land so that governments and industry could prosper and grow. Members of our families and nations were taken away and sent to residential schools and adopted. We were removed from our traditional territories and denied access to our resources and ability to earn a livelihood from our lands. Our legal right to do anything about it was taken from us. Our traditional forms of government were swept aside and a foreign, unlawful and unworkable system of government – the Indian Act was imposed on upon us. In the course of three generations, we were turned from an independent and healthy nation of people into something else.

While the government and industry have impacted the land and removed our resources without our consent, we've been left with small postage stamp sized reserves with few resources, tools and no governmental powers to change this situation. We are left to lobby, ask, argue and plead for scant dollars that can't address the most pressing needs of our families and community as a whole.

Is there any wonder why are people are angry? Is there any wonder why so many of our people have turned to alcohol, drugs and gambling as a way to take their minds off of this reality? Some within our communities have become violent, lashing out at others in the community and in their own families.

Due to this cycle of despair, we try to find solutions and answers of how we got to this place? In searching for answers, we (and I have been guilty of this in my past) is to look closest to us and blame those closet to us – "it's because of that person", or "that family" or that "group of people" who are the problem. In terms of politics, the easy answer is, "all we have to do, is get rid of them and we'll start solving our difficulties".

As we have found out time and again, just changing a given chief or band council doesn't solve the problem. One sided ideas and solutions like, "economic development", "environmental protection" or "recognizing our aboriginal title" also don't provide an easy way of out of current shared challenge. In the last election, people voted for me to be the leader of the community for a time. What I want to say is that I recognize the efforts of former chiefs and leaders for their vision and efforts. I also acknowledge the long line of elders, leaders, families, family members who have also made efforts to help our community survive, recover and succeed in this modern world.

I alone don't have solutions. This council alone doesn't have the solutions. Nor will the next Chief and Council. We face a multi- dimensional challenge that can only be tackled with a range of cultural, economic, legal and environmental tools. But, like others we do have ideas, thoughts and potential solutions that are worth hearing.

What I do want to say to you today, is that my ears are open and my mind is open to the goals, ideas, values and solutions that others want to bring forward and talk about.

In our community and nation, we may not agree on what the most important strategy is, action to be taken or the best road to take. But I will remember and carry this knowledge wherever I go today and in the future – I know that for our nation to be strong and independent again, we do need each other and to be able to listen to each other, work together and find solutions based on compromise based on those values that make us who we are. I think we all share those values and goals - peace, respect and shared prosperity to take care of their families and hope in a better future for all.
If we need to get tough, let's bind together and get tough on the challenges before us, and be good, thoughtful and supportive to those closest to us.

Steve – September 11, 2017

Chiefs, and Leadership Community Search for Natasha Montgomery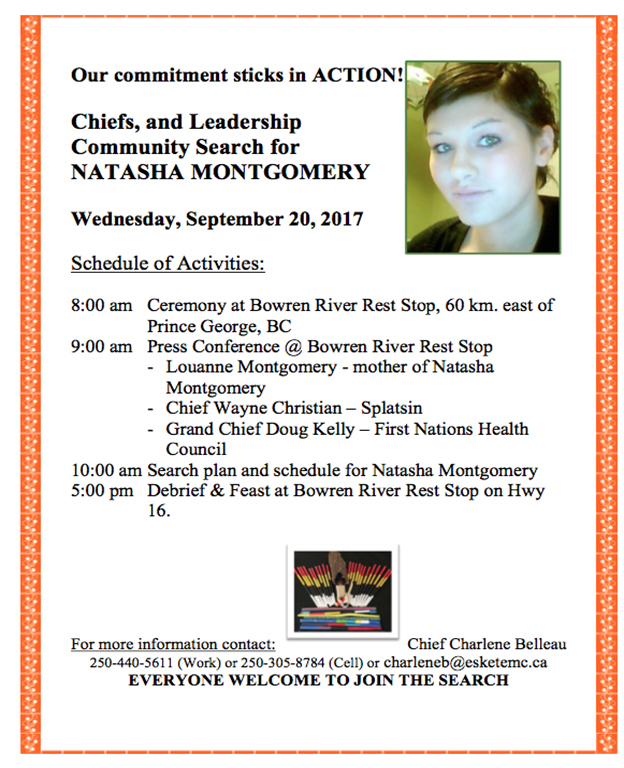 The WPCIB sends the strongest wishes and prayers to the family of Natasha Montgomery and will be sending Chief Steve Tresierra to attend the chiefs and leaders ceremony and search.
British Columbia – Indigenous Relations Optimism
Posted 7 September 2017 by
NetNewsLedger
in Anishinaabe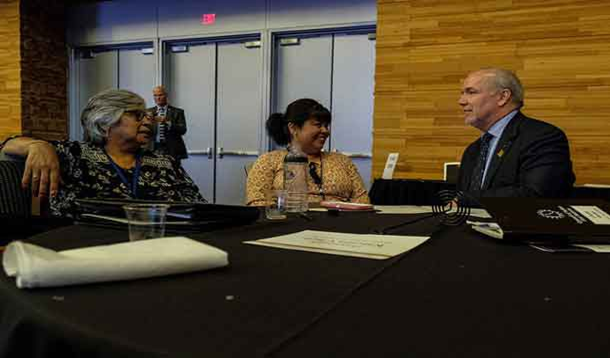 Indigenous Groups and the Province of British Columbia are optimistic

VANCOUVER – The B.C. Cabinet and First Nations Leaders' Gathering began today with optimism about the new government and a new partnership.

They delivered a unified commitment to a government-to-government relationship built upon the recognition of Indigenous title and rights. Premier John Horgan, joined by Grand Chief Edward John, Kukpi7 Judy Wilson, A/Regional Chief Maureen Chapman and Minister of Indigenous Relations and Reconciliation Scott Fraser opened the two-day event with a joint news conference at the Vancouver Convention Centre.

"We are at a pivotal moment in our province. We can see a path to meaningful reconciliation and a true government-to-government relationship," said Premier Horgan. "We're ready to do the hard work, together, to build healthy communities with Indigenous peoples, and to create jobs, economic stability and shared prosperity."

The Premier highlighted the government's strong cross-government commitments to work in partnership with First Nations and Indigenous peoples to adopt the United Nations Declaration on the Rights of Indigenous Peoples (UNDRIP), the Truth and Reconciliation Commission Calls to Action and the Tsilhqot'in Supreme Court decision.

"Our government has made reconciliation a cross-government priority, and we are working collaboratively and respectfully with First Nations to deliver a better future for everyone," said Fraser. "This year's Cabinet and First Nations Leaders' Gathering is where we begin the important conversations about how we forge the path towards reconciliation, with the Tsilhqot'in Supreme Court decision, the UN Declaration and the Truth and Reconciliation Commission Calls to Action as our guide."

"We are situated in a time of unique and unprecedented opportunity with two levels of government that are fully committed to recognizing Indigenous Peoples rightful place as self-governing nations. This gathering marks a historical moment as we break free from our colonial past and move towards true reconciliation of our Title and Rights," said Assembly of First Nations A/Regional Chief Maureen Chapman. "I am hopeful to see real action, and change within our communities that reflect these commitments. BCAFN will work in partnership with the provincial government to ensure the full expression of our Title and Rights as we support BC First Nations in exercising these foundational pieces of our Nations."

"We look forward to this week's meetings between BC First Nations Chiefs and leaders and Premier John Horgan and his Cabinet to engage in a valuable and timely discussion on key NDP commitments including the full adoption and implementation of the UN Declaration on the Rights of Indigenous Peoples, the Truth and Reconciliation Commission calls-to-action and full recognition and implementation of the Tsilhqot'in Supreme Court decision," said Grand Chief Edward John of the First Nations Summit. "This week's session will provide a clear signal to BC First Nations on the new government's willingness to work with us on a government-to-government basis to achieve reconciliation and full recognition of First Nations title, rights and treaty rights."

"The recognition of our inherent Indigenous Title and Rights, through the implementation of the UN Declaration and the enactment of the TRC Calls-to-Action are vital and welcomed NDP election promises," said Secretary-Treasurer of the Union of BC Indian Chiefs, Kukpi7 Judy Wilson. "Perseverance and persistence will be needed from this government to undo the previous government's years of intentional undercutting of Indigenous Title and Rights. Real actions are needed to bring significant and meaningful change to Indigenous Peoples, Indigenous communities, and Indigenous families."

Whispering Pines Clinton Indian Band Participating in Discussions with the New Government of British Columbia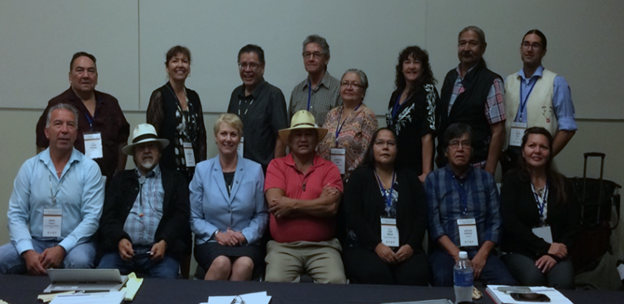 Chief Tresierra in attendance at Vancouver meeting with BC Cabinet Ministers

The Whispering Pines Clinton Indian Band (WPCIB) has opted to participate in exploratory discussions with the newly formed NDP British Columbia government. As you are aware, the current NDP government took power in the spring with support of the Green Party, that also took several seats for the very first time.

This new coalition government has stated its commitment to forge a better relationship with First Nations with a view to addressing outstanding matters of BC First Nations' aboriginal rights and title in the wake of the Tsilhqot'in Supreme Court decision, Canada's adoption of the United Nation Declaration on the Rights of Indigenous Peoples and the release of the Truth and Reconciliation Commission Calls to Action.

Chief Steve Tresierra played a prominent role in recent meetings held with BC cabinet ministers stressing the need for action on matters such as regional economic development and revenue sharing with First Nations supported by the creation of a nation-to-nation relationship. Chief Steve also briefed ministers on the specific needs and interests of the WPCIB community.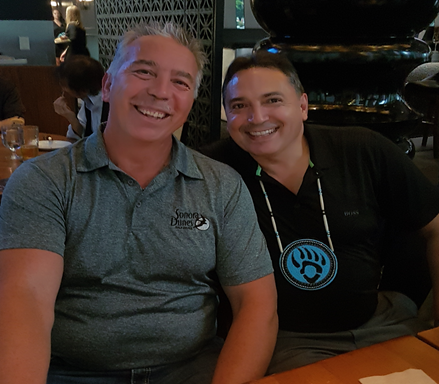 Chief Steve Tresierra and AFN National Chief, Perry Bellgarde

Discussions were also held with Assembly of First Nations (AFN) National Chief Perry Bellgarde regarding the needs and support that WPCIB and other Shuswap First Nations will need as discussions with the BC government begin to deal with more substantial issues.

The WPCIB community will be kept up to date as these important discussions progress and the WPCIB leadership will be seeking direction and advice from community as we move forward.

Kinder Morgan announces contractors for controversial Trans Mountain pipeline

by DCN News Services Sep 13, 2017

CALGARY, ALTA. — Kinder Morgan has announced six contractors it intends to work with on the Trans Mountain Pipeline Expansion Project in B.C. and Alberta.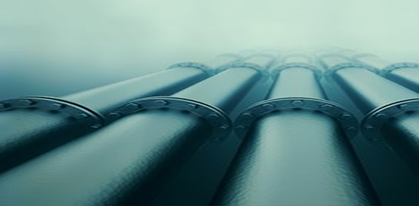 According to the company, the pipeline construction and associated terminal expansions are expected to take approximately 28 months to complete, with the work distributed among several sections along the route between Edmonton and Burnaby, B.C.

Kinder Morgan has selected or signed memorandums of understanding with Midwest Pipelines, Ledcor Sicim Limited Partnership, Sureus Murphy Joint Venture, Macro Spiecapag Joint Venture and Somervile-Aecon Energy Group for various sections. Kiewit Ledcor TMEP Partnership will tackle the Lower Mainland scope which includes the Burnaby Mountain tunnel and three terminals, Westridge Marine Terminal, Burnaby Terminal and Sumas Terminal.

In a press release the project team explained the contractors will directly hire the individuals — union, non-union and aboriginal workers — and subcontractors needed for each contract and scope of work.

In addition to paying special attention to including the aboriginal community in the work, special focus will also be paid to B.C. workers, said the statement.

As part of its negotiated commitment with the B.C. government, Trans Mountain has committed to a "British Columbians first" policy for hiring and contracting work within B.C.

"Getting the construction contractors on board represents a significant milestone for Trans Mountain and demonstrates our commitment to delivering the project in a timely, cost-effective manner," said Ian Anderson, president of Kinder Morgan Canada Limited, in the release.

"We're pleased with the calibre and experience of the contractors. Each contractor was chosen for its expertise in delivering quality work and the individual needs and complexities of each portion of the project."

Kinder Morgan anticipates that the $7.4 billion expansion project will generate $46.7 billion in government revenues and 802,000 person years of employment, the equivalent of 37,000 jobs each year, over more than 20 years.

The expansion project would parallel the 1,150-kilometre route of the existing Trans Mountain pipeline, which was built in 1953 and is the only West Coast link for Western Canadian oil. Pipeline capacity will increase from 300,000 to 890,000 barrels of oil per day.

The project will also add approximately 980 kilometres of new pipeline and reactivate 193 kilometres of existing pipeline.

But while the project seems to be moving forward, it isn't without its critics. In August, the Province of British Columbia hired legal counsel to begin challenging the project and the Federal Court of Appeal is allowing British Columbia to be an intervener in a legal fight against the expansion.

According to Kinder Morgan, Trans Mountain continues to proceed with the project planning, permitting, engagement and design required to meet National Energy Board and B.C. government conditions as well as necessary local permitting. Construction activity is expected to begin in September, with the pipeline expected to be in operation at the end of 2019.

Sep 13, 2017

Okanagan Indian Band Job Posting
Shuswap Nation Tribal Council Press Release