Dear Band Members,

We are very happy to introduce you to the 22nd weekly newsletter of Whispering Pines/Clinton Indian Band!

With this newsletter, we aim to keep all our Band members informed about the latest happenings, events and news within the community. We are distributing this newsletter by email, so please encourage everyone to get their email address into wendy@wpcip.com, so they can be added to the list.

Weekly Updates - July 3, 2017
Secwepemc Child and Family Services Family Fun Day

We have just taken delivery of a new 2017 Dodge 1 ton diesel crew cab that will be used for band's on-reserve operations and maintenance. We have also just picked up 2 ¾ tons crew cabs to be used in our Natural Resources and Archaeology portfolios.

Community Needs Assessment Survey

Remember when we sent out the Community Needs Assessment Survey? Come to the Band Office for BREAKFAST on FRIDAY, JULY 07th to discuss results. Mark your calendars - Everyone Welcome - Details to follow.


West Fraser has delivered the logs for the Pear Lake Cabin.


Band Members can fish starting July 03rd at 6:00 p.m.

The road to the fishing rock has been groomed with a D6 cat with band member Jerry LeBourdais guiding the operator through culturally sensitive areas.

You all know how steep and unforgiving the Fraser canyon is, so be careful and take your time. Use the road at your own risk and always let others know when you do go down there, just in case we need to send help if you don't check in with anyone. Best of luck fishing to all of you.

The window closure is intended to be in place during those times and areas where the sockeye are present and as such differ as you move through the watershed. Please bear in mind that the end date of the closure may change if in-season information indicates that the sockeye are returning substantially later than thought based on pre-season information. According to the chart it is July 31st at 6:00 p.m. If this changes, we will advise immediately.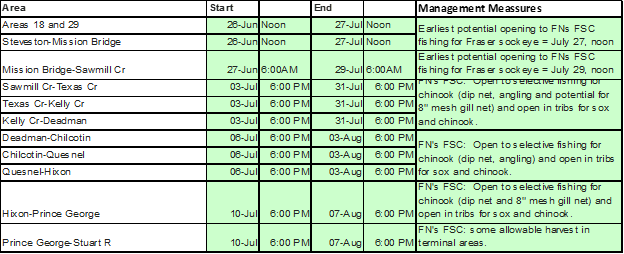 To view a copy of the June Elders Voice, click
here
.
Kinder Morgan Job Opportunities
New Job Postings:
Electrical Engineer/Technologist – Vancouver Wharves (#15344)
Civil Engineer/Technologist (term role) – Vancouver Wharves (#15345)
Senior Project Engineer, TMEP (term role) – Calgary (#15306)
Senior I.T. Customer Support Analyst, TMEP (term role) – Calgary (#15381)
Project Manager, Pipeline, TMEP (term role) – Calgary (#15295)
Project Controls Analyst, TMEP (term role) – Calgary (#15304)
Project Accountant, TMEP (term role) – Calgary (#15356)
Maintenance Superintendent – Vancouver Wharves (#15328)
As an equal opportunity employer, Kinder Morgan Canada actively encourages applications from traditionally underrepresented groups, including women, Aboriginal Peoples, members of visible minorities and persons with disabilities.

If you know a potential candidate for these opportunities, please encourage them to apply online through our website.

Please visit the Canadian HR intranet page for more information.

To find these or other Opportunities:
Search by:
Position Number, or
Location (sites in Alberta: AB-; British Columbia: BC-; Saskatchewan: SK-)
Click Search (bottom right of page).
Click on Title.
Click Apply Now
Note: Please apply on-line. You will receive a notification that your submission was successful.


It is with great sadness to announce that Former Chief Andy Chelsea passed away yesterday, Tuesday, June 27th, at 5:00 pm. Sincere and heartfelt condolences to Andy Chelsea's family and all that knew him.

Chief and Council Activities

In addition to the regular management of individual portfolios, last week Chief and Council:
Chief and Council attended the National Aboriginal Business Opportunities Conference, where a number of key potential business relationships were struck.
Construction and work opportunities are nearing for the Trans Mountain Pipeline. Chief and Council have pre-qualified over 15 partners for work on the portions of the line in the northern portion of our territory. Our band now has capacities to subcontract hundreds of disciplines required to build the pipeline. Chief and Council have developed these partnerships and capacities to ensure that our band receives it rightful benefit as a result of the construction in our territory.