Dear Band Members,

We are very happy to introduce you to the 20th weekly newsletter of Whispering Pines/Clinton Indian Band!

With this newsletter, we aim to keep all our Band members informed about the latest happenings, events and news within the community. We are distributing this newsletter by email, so please encourage everyone to get their email address into wendy@wpcip.com, so they can be added to the list.

Weekly Updates - June 19, 2017
In keeping with their promise to give elders the highest priority, Whispering Pines Clinton Indian Band Chief and Council are pleased to announce the arrival of the new wheelchair capable elders van. The new 2017 Ram Promaster 2500 has seating capacity for 7 passengers, including two wheelchair positions can be booked out when needed by the Elders.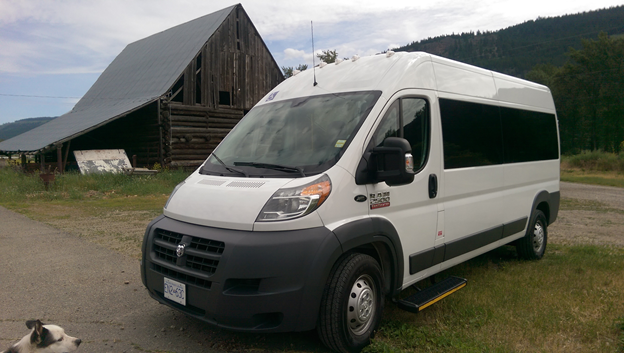 Visit the website
here
.
Elders Gatherings are a wonderful time for people to visit
and exchange memories and knowledge, to create new friendships and to renew old ones. These Gatherings provide a chance to gain perspective on how other First Nations live.
The Basic purpose of the Gathering is the need for Elders throughout the province to have inter-social and community links that bind them together as a Nation. It allows them to intermingle with like-minded, like-aged individuals and their families, to reveal common grounds that strengthen those links.
It will offer the opportunity to interface with youth
, which helps to mitigate the generation gap, and allows the younger generations to demonstrate respect, regard, and honour for their Elders.
Our Elders possess all the wisdom of the ages
- knowledge and experiences that the younger generations need to guide them through life. It is very important that this event continues and that our Elders' legacy is passed on to each generation that follows. With the world we live in becoming increasingly modern by the minute, we need to provide the balance that comes from remembering the past through our Elders lives.
Technical Peer Review of Proposed Ajax Mine – Final Report
The report is available
here
.
Expression of Interest – Catering Service
3rd annual ICI Electrical Engineering Operator Training Workshop

Below are some highlights, and all details are available on our website.

2017 Operator Training Workshop
September 26 & 27
Kamloops, BC
Accreditation: 1.2 CEUs (EOCP)

# Two full days of relevant, interesting sessions
# Industry Tradeshow
Over 25 Exhibitors – ClearTech, Urban Systems, Delta Irrigation, Mequipco, Engineered Pump Systems, and many more!
Parking Lot Demonstrations
Equipment Demos throughout show
Health and Safety Corner
# Instrumentation Hands-on Sessions
ClearTech Industries: PTV Process Turbidimeters
Spartan Controls: Yaskawa VFD demo stations
Mettler Toledo: pH Sensors, iSense and Transmitters
More to be announced
# All new content
# Great Prizes
# Food served throughout event
# Tour of the City of Kamloops Water Treatment Plant

For full details, and to register, visit: www.icieng.com If you have any questions, would like direct invoicing, or would like more details – please call me at 778-696-2090.

Food Recall Warning - Nature's Path brand Coconut & Cashew Butter Crunchy Granola recalled due to Listeria monocytogenes
| | |
| --- | --- |
| Recall date: | June 14, 2017 |
| Reason for recall: | Microbiological - Listeria |
| Hazard classification: | Class 1 |
| Company / Firm: | Nature's Path Foods Inc. |
| Distribution: | Alberta, British Columbia, Manitoba, Saskatchewan |
| Extent of the distribution: | Retail |
Recall Details
Ottawa, June 14, 2017 - Nature's Path Foods Inc. is recalling Nature's Path brand Coconut & Cashew Butter Crunchy Granola from the marketplace due to possible Listeria monocytogenes contamination. Consumers should not consume the recalled product described below.
The following product has been sold from Costco warehouse locations in Alberta, British Columbia, Manitoba and Saskatchewan.
Recalled Products
| Brand Name | Common Name | Size | Code(s) on Product | UPC |
| --- | --- | --- | --- | --- |
| Nature's Path | Coconut & Cashew Butter Crunchy Granola | 720 g | Best Before Date: 2018 MR 02 | 58449172192 |
What You Should Do
If you think you became sick from consuming a recalled product, call your doctor.
Check to see if you have recalled products in your home. Recalled products should be thrown out or returned to the store where they were purchased.
Food contaminated with Listeria monocytogenes may not look or smell spoiled but can still make you sick. Symptoms can include vomiting, nausea, persistent fever, muscle aches, severe headache and neck stiffness. Pregnant women, the elderly and people with weakened immune systems are, particularly at risk. Although infected pregnant women may experience only mild, flu-like symptoms, the infection can lead to premature delivery, infection of the newborn or even stillbirth. In severe cases of illness, people may die.
Background
This recall was triggered by a recall in another country. The Canadian Food Inspection Agency (CFIA) is conducting a food safety investigation, which may lead to the recall of other products. If other high-risk products are recalled, the CFIA will notify the public through updated Food Recall Warnings.
The CFIA is verifying that industry is removing recalled product from the marketplace.
More Information
Nature's Path Foods Inc.: 1-866-880-7284 (Monday through Friday 8:00 am to 4:30 pm EST);
ConsumerServices@naturespath.com
For more information, consumers and industry can contact the CFIA by filling out the
online feedback form
.
Kinder Morgan Operations Job Opportunities
New Job Postings:
Systems Development Analyst (term role) – Calgary (#15276)
Control Centre Operator – Edmonton (#15317)
Chief Quality Assurance, Lead, TMEP (term role) – Calgary (#15198)
Contract Specialist, TMEP (term role) – Calgary (#14910)
Project Controls Specialist, Facilities, TMEP (term role) – Calgary (#15294)
As an equal opportunity employer, Kinder Morgan Canada actively encourages applications from traditionally underrepresented groups, including women, Aboriginal Peoples, members of visible minorities and persons with disabilities.

If you know a potential candidate for these opportunities, please encourage them to apply online through our website.

Please visit the Canadian HR intranet page for more information.

To find these or other Opportunities:
Search by:
Position Number, or
Location (sites in Alberta: AB-; British Columbia: BC-; Saskatchewan: SK-)
Click Search (bottom right of page).
Click on Title.
Click Apply Now
Note: Please apply on-line. You will receive a notification that your submission was successful.

Request for Proposals BC Assembly of First Nations Carving Project

Statement of Purpose

The main objective of this project is to facilitate a carving project where a BC First Nation master carver will carve a walking staff for the BC Assembly of First Nation (BCAFN). The final product of this project is to have a carved walking staff that can be used during BCAFN gatherings and events. The goal of the project is to create awareness and pride, and provide the organization with a symbolic cultural piece that represents the First Nations in BC.

Background Information

In early 2017, the BCAFN identified a need for a stronger cultural piece of artwork that would symbolize the strength and resilience of BC First Nations as well as the organization itself. The carved staff would reflect the BCAFN overarching goals and mandate as well as ensuring that culture is a priority. The BCAFN is a provincial-territorial organization whose membership is made up of 203 First Nations in British Columbia. The BCAFN is one of the ten regional organizations affiliated with the National Assembly of First Nations whose members include all 603 First Nations across Canada. The Regional Chief of the BC Region also serves as a member of the Executive of the National Assembly of First Nations. The mandate of BCAFN is to:
Advance the rights and interests of First Nations people in British Columbia;
Restore and enhance the relationship among First Nations people in British Columbia, the Crown, and people of Canada;
Develop and promote policies and resources for the benefit of First Nations people in British Columbia including but not limited to governance, lands and resources, economic, social, education, health and cultural matters; and
Work in coalition with other organizations that advance the rights and interests of indigenous peoples.
Confidentiality and Conflict of Interest

This RFP and all related materials are to be treated in confidence. Any proposal received will be evaluated to ensure there is no apparent or actual conflict of interest.

Scope of Work
Consultation with A/Regional Chief, BCAFN Board and staff.
Utilization of Ceremonial Materials donated for the walking staff.
Work plan submitted for carving including timeline.
Overview of project including vision, guiding principles and articulation of the manner of expression through the act of carving. Please provide details as to planning and execution of carving
Find suitable wood and conduct necessary ceremonies if required.
Ensure logistics are in place (carving location, tools, safety considerations).
Work with BCAFN staff to communication project progress.
Carve the staff.
Document progress – regular reports, photos to staff and Board.
Outcome and Performance Standards

The walking staff should be carved in a style that is consistent with BC First Nations artwork.

Deliverables
A completed walking staff.
Term of Contract

July 10, 2017 – September 30, 2017

Payments, Incentives, and Penalties

Payment schedule will be based on:
50% July 10, 2017 – Upon execution of the contract
50% September 30, 2017 – Upon completion
Invoices with tax information clearly identified will be required for each payment.

Contractual Terms and Conditions

The successful candidate will be considered a Master Carver among First Nations people and communities in BC. He/she will have a working knowledge of BC First Nations and a strong understanding of BC First Nations artistry, history, successes, and challenges. This knowledge may be based in a specific First Nation or Nations. They will have an understanding of working through major creative projects at and have knowledge of the BCAFN. They will possess skills in their art form and have exceptional experience in this regard. The final product will belong to the BCAFN who will also be responsible for its upkeep and preservation. Proposals should be prepared with the following in mind:
An outline of anticipated end product (sketches, descriptions, photographs are all acceptable)
Include experience working with other BC First Nations or First Nations organizations.
Awards and honours for working on similar projects and examples of completed projects.
Knowledge of the BC Assembly of First Nations.
Total costs to produce, including all incidentals, travel and contingency.
Professional references.
Evaluation and Award Process

Proposals will be evaluated based with the following criteria:
60% demonstrated successful experience on similar projects and talent (awards and special honours for similar projects are an asset)
20% for outline of anticipated end product
10% demonstrated professional experience in other artistic endeavors
10 % for sample work
Contacts
Approvals for execution of contract, updates and approval of final products will be through BCAFN Board of Directors.
Please send proposals to Maureen Buchan, Senior Policy Advisor at
Maureen.buchan@bcafn.ca
by 4:00 pm, June 30, 2017.
Assembly of First Nations National Chief Perry Bellegarde and Prime Minister Trudeau Sign Agreement to Ensure Progress on First Nations Priorities

(Ottawa, ON) – Assembly of First Nations (AFN) National Chief Perry Bellegarde signed a Memorandum of Understanding with Prime Minister Justin Trudeau committing to regular, ongoing engagement between First Nations and the Government of Canada to ensure progress and momentum on First Nations priorities.

"This commitment to meet at least three times a year with one of those meetings being chaired by the Prime Minister will help ensure that the government's priorities are consistent with First Nations priorities," said AFN National Chief Bellegarde. "First Nations will set direction for these meetings and the AFN will ensure we are making progress on an agenda as determined by First Nations. This is about action and results for First Nations, which will benefit all Canadians."

The "Assembly of First Nations – Canada Memorandum of Understanding on Joint Priorities" was signed today by National Chief Bellegarde and Prime Minister Trudeau on unceded Algonquin Territory in Ottawa. These meetings will be used to mark progress on priorities and to identify key issues and solutions to barriers facing First Nations in advancing their rights and objectives. The priorities under the MOU will be reviewed on an annual basis.

During National Chief Bellegarde's term, for the first time ever a sitting Prime Minister addressed the Chiefs-in-Assembly. This has now happened on two separate occasions. AFN Assemblies and AFN Executive Meetings regularly feature involvement from senior Cabinet ministers and officials.

"First Nations need to be engaging on a regular basis with the key people making federal laws and policies in order to affect and implement proper changes that respect inherent Indigenous and Treaty rights," said National Chief Bellegarde.

The MOU can be viewed on the AFN website at www.afn.ca

Job Opening BUSINESS & ECONOMIC DEVELOPMENT ADVISOR

Position Summary:

The First Nations Fisheries Council of British Columbia (FNFC) is looking for a new team member with a background in business and economic development to join our team. This position will work with First Nations across BC with a focus on fisheries related economic performance initiatives, including local Commercial Fishing Enterprises (CFEs), and the First Nations Fisheries Legacy Fund (FNFLF).

Working as part of a team, you will provide a range of business support to the FNFC including collaboration with the PICFI Business Development Team (BDT), liaising with CFEs, including providing guidance on strategic planning, business planning, governance, project management, and fisheries business operations and supporting the development of the First Nations Fisheries Legacy Fund Society (FNFLFS). In addition to working directly with the CFEs, and the FNFLF Board, you will also contribute to broader organizational initiatives to support the FNFC mandate, including conducting research, preparing reports, engaging with partners, and providing advocacy for CFEs.

The successful candidate will have experience in building and maintaining strong relationships with First Nations organizations by taking a positive, constructive approach that is focused on capacity building, and the approach of building upon strengths.

Primary Responsibilities:

Supporting capacity development of the FNFC economic portfolio by reporting to the FNFC Executive Director on performance of the program by identifying and documenting First Nations perspectives and advice on related policy issues, and supporting operational metrics of the CFE initiative. This will be accomplished by collaborating with the BDT members as they provide business and administrative support to CFEs by developing strong relationships and acting as business advisors and advocates.

The primary responsibility will be to work collaboratively with the BDT members, who will work with CFEs to:
Engage in ongoing strategy and planning activities to help the CFE devise and evaluate business and operational goals and work toward carrying out an action plan. Key annual deliverables for each CFE include a business plan and a training plan, and the BDT is expected to provide support and guidance on their preparation.
Assess training and education needs and help CFEs access appropriate training based on their training plan.
Create formalized CFE management practices and tools, including providing guidance on the development of policies, procedures and plans.
Provide operational support by offering advice, problem solving, troubleshooting, coaching, and holding strategic sessions to work through issues.
Supporting the FNFLFS Board's strategic initiatives. The FNFLFS Board is comprised of representatives from the following First Nations : Katzie, Kwantlen, Kwiketlem, Musqueam, Tsawwasen and Tsleil-Waututh. The fund's strategic initiatives are identified in the following areas:

Governance and Management
Planning and Project Development
Research and Monitoring
Fund Development.
Additional duties may include:
Engagement with CFEs on an ongoing basis to check in on progress towards relevant reporting and application requirements.
Keeping up to date with best practices and sharing/engaging with CFEs on best practices as appropriate.
Providing ongoing reporting on CFE progress toward goals. Participate in weekly BDT team meetings to discuss progress and issues.
Contributing to internal projects as required.Acting as a 'connector', linking CFEs to other CFEs, industry, non-governmental funders, etc. as appropriate.
Education and Experience

The requirements for this position would typically be acquired through a degree in business, economics, community development, natural resources/fisheries or similar, plus five years related experience working in an advisory role with indigenous communities, and/or other related sectors in the areas of:
Management, governance and administration;
Business planning, project management, and economic development;
Fisheries and natural resources.
In addition, the ideal candidate will exhibit the following personal suitability characteristics:
Self-directing and self-motivated, with flexibility and adaptability competencies, and able to work towards short and long term goals;
Experience with MS Office, particularly an intermediate working knowledge of MS Excel;
Experience preparing and/or evaluating business plans and business cases, including preparing detailed financial projections;
Experience producing succinct and effective reports and presentations;
Experience working with multiple stakeholders including fisheries and environmental advocacy groups, industry groups, and government (including First Nation governments);
Strong communications skills – writing, proposal writing experience, public speaking/facilitation, and active listening are critical to this role;
Experience working with Indigenous Peoples at a community and/or political level, particularly in the areas of economic development and natural resources/fisheries;
Understanding and familiarity with the fisheries industry, including knowledge of fisheries operations and financial management in BC is a significant asset.
Additional Expectations:
Willingness to travel and work outside of regular office hours as required. Travel requirements may exceed 50% at certain times of the year. Travel to remote locations throughout BC may be required, generally by car, ferry, or small aircraft. The candidate must hold a valid driver's license.
The successful candidate will be responsible for ensuring that strict confidentiality of all information obtained within and about each CFE.
Preference may be given to qualified Indigenous candidates.
To apply, for this opportunity please send your resume and a brief covering letter outlining your qualifications by JUNE 23, 2017, - to Ino Banesiu at the First Nations Fisheries Council of BC at
ino@fnfisheriescouncil.ca
.
About PICFI
Initiated in 2010, the Pacific Integrated Commercial Fishing Initiative (PICFI) is a federal program designed to support the long-term economic viability of Pacific commercial fisheries and the sustainability of fisheries resources through advancing First Nations involvement in commercial fisheries and supporting the establishment of Commercial Fishing Enterprises (CFEs). There are 25 CFEs operating across BC, comprised of 96 First Nations.
Job Posting - Bookkeeper/Project Administrator

Simpcw Resources LLP is receiving applications for a full time Bookkeeper/Project

Administrator Reporting to the Finance Manager, the Bookkeeper/Project Administrator will be a key member of the team and perform a variety of administrative tasks.

You should be able to support our Senior Managers and Field Crew Foreman to ensure our day–to–day field operations run smoothly. You must have strong verbal and written communication skills, as well as excellent computer skills. You will be working in a fast-paced environment where team work and flexibility is a must. Self-motivation and attention to detail is essential.

The Bookkeeper/Project Administrator duties will include:
Bookkeeping for major projects in Sage software
Data entry of daily labour and cost information in project database in preparation for A/R invoicing.
Compiling documentation for accounts receivable
Following company procedures in processing accounts payable
Preparation of project reports for senior management
Liaison with customers, suppliers and subcontractors
Support for Senior field supervisors and field staff with daily tasks (eg. Travel arrangements)
Requirements:

Minimum 3 years bookkeeping experience in a business environment
In-depth understanding of office procedures and daily operations
Strong skills in Microsoft Office; Word, Excel, and database entry
Solid verbal and written communication skills, organizational and time-management skills.
Minimum high school diploma
Preference is given to relevant post-secondary education
Salary: To be negotiated depending on experience Application Deadline: Friday June 30, 2017. Only those selected for interviews will be contacted. Preference will be given to qualified applicants of Aboriginal ancestry as per Canada's Human Rights Act and legislative surrounding Employment Equity.

Please send resume and references to:

Bookkeeper/Project Administrator
Attention: Carla Fennell
Simpcw Resources LLP
P.O. Box 1287, Barriere, BC V0E1E0
Email: carla.fennell@simpcw.com

Aboriginal RCMP Pre-Cadet Training Program
Chief and Council Activities

In addition to the regular management of individual portfolios, last week Chief and Council:
Attended SSN Cultural Gathering at Jacko Lake, standing together as a group. Connecting and honoring the vision of our Elders standing together, re-affirming and marking this land through ceremony. This positive experience offered opportunity to share and celebrate our heritage with Elders, Chiefs, Councils, Secwepemc families and communities.
Our new handicap van was delivered to the community! This van can be booked out when needed by the Elders. It has the capacity to accommodate 2 wheelchairs, 7 other passengers and the driver.
We are preparing for the Annual Elders Gathering in Campbell River. The Gathering takes place from July 11 – 13. We leave on July 10 and return on July 14, 2017. If there are any Elders wishing to attend, we can help with the travel (our new van will be utilized for this) and accommodations.
Chief and Council attended Privacy training and will be implementing a WPCIB Privacy Policy.
Attended Q'wemtsin Health Society strategic planning with all communities. Communication is very positive moving forward. constructive, favorable, enthusiastic, supporting, productive, worthwhile, beneficial, promising, encouraging.