Dear Band Members,

We are very happy to introduce you to the 11th weekly newsletter of Whispering Pines/Clinton Indian Band!

With this newsletter, we aim to keep all our Band members informed about the latest happenings, events and news within the community. We are distributing this newsletter by email, so please encourage everyone to get their email address into wendy@wpcip.com, so they can be added to the list.

Weekly Updates - April 17, 2017
Band Economic Development Update
The upcoming Kinder Morgan Trans Mountain Pipeline, and other activities in our area, are opening up opportunities for our band to participate in the construction. Chief and Council have been hard at work developing strategic partnerships with world-class companies so that we can benefit from all of this activity. These partnerships will:
Provide revenue to the band
Provide training to band members
Provide jobs for band members
Provide direct community and cultural support
While we continue to develop additional capacities, our current list of ventures includes:
Security Services
Industrial Paramedic Services
Mulching
HydroVac, Water & Steam
Welding, Fabrication & Construction
Heavy Duty Equipment Rentals
Bridges and Pilings
Crane Services and Gravel
Crew Bussing
Petroleum & Lubricants
Vehicle Leasing & Fleet Management
Workforce Accommodation (Camp)
To see a more in-depth presentation of our Economic Development activity please click here.

The attached Information Bulletin was released last week. Category 3 fires will be prohibited throughout the Cariboo Fire Centre's jurisdiction as of noon on Thursday, April 13, 2017.
To new the bulletin click
here
.

The WPCIB Post-Secondary Student Assistance application deadline is now due May 15 from May 30. This is to accommodate the change from Indigenous and Northern Affairs Canada (INAC) to apply for additional post-secondary funding deadline of May 29. We apply every year for these additional funds as our initial post-secondary allocation from INAC never accommodates our education funding requests.

Mini University for Indigenous Students
Mini University for Indigenous Students taking place July 10th to 14th at the University of Victoria.
The Mini U Summer Camp is available to students in grades 8-12, we offer a variety of academic, cultural and social events for the students to take part in. There is a $50 fee for students that are selected for the camp, but other than that, accommodation, food and all other activities are free for the students. We will be happy to pick up students at the ferry terminal, airport or bus depot.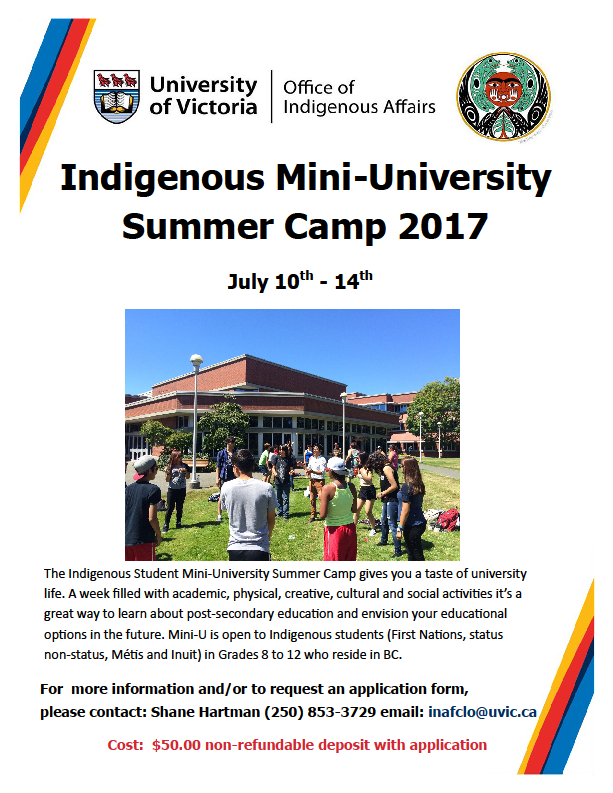 You can download the application by clicking here.
BCCFA 2016 Indicators Report Released
To view the report, click here.
Okanagan Nation Alliance Jobs

The motocross tracks are in operation for the season. There will be practices on at least Thursdays and weekends, and events several times throughout the year.

They will be on the tracks this Easter weekend. We have posted preliminary list of events for the season, and will post on website and newsletter any other events as they are finalized.

The new contractors know that there is to be no riding on the dyke, or on the trails. This is announced several times throughout the events, and the gatekeepers for practice days promote that as well. They will be erecting signs in that regard.

Motorcycles will only be driven between 12:00 noon and 9:00 p.m.

All Band members get free admission to every event.

Band members wishing to set up a table and sell anything are welcome. Please advise the Band Manager and she will inform the contractors. Band members wishing to work during the motocross events have to sign in. This process is being developed. In the meantime, if you are interested in working for the events, please advise the Band Manager.

New Job Postings
Electrical Technician – Kamloops (#14690)
Environmental, Health and Safety (EHS) Coordinator – Vancouver Wharves (#14864)
Health and Safety Specialist, TMEP (term role) – Calgary (#14927)
Environmental Technologist – Vancouver Wharves (#13568)
Document Controller, TMEP (term role) – Calgary (#14959)
Logistics Analyst – Calgary (#14804)
Regional SQE Coordinator – Terminals – Calgary (#14960)
As an equal opportunity employer, Kinder Morgan Canada actively encourages applications from traditionally underrepresented groups, including women, Aboriginal Peoples, members of visible minorities and persons with disabilities.

If you know a potential candidate for these opportunities, please encourage them to apply online through our website here.

Please visit the Canadian HR intranet page for more information.

To find these or other Opportunities:

Search by:
Position Number, or
Location (sites in Alberta: AB-; British Columbia: BC-; Saskatchewan: SK-)
lick Search (bottom right of page).
Click on Title.
Click Apply Now
Note: Please apply on-line. You will receive a notification that your submission was successful.

Strength Leadership Program
It is that wonderful time of year again Kamloops ladies. Combining Our Strength Leadership Program is now open for registration.
Feel free to share with your friends, colleagues, aunties, sisters, mothers and all women. This program is a FREE program for all who wish to participate.
Do not miss out on this great opportunity to further develop your leadership! Please see the poster for full details. Below are the links to begin the registration process.
Online Application:
Here
or
Printable Application: Here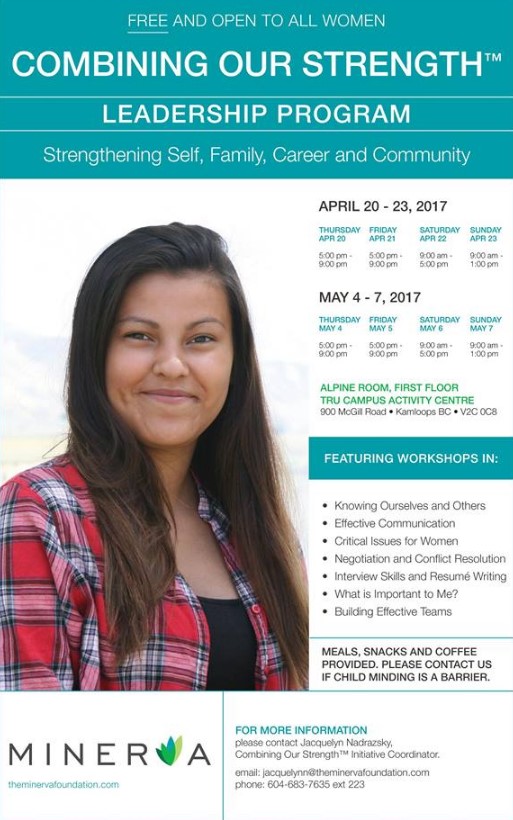 Attention Archaeology Technicians

Band Members interested in working in Cultural Work involving Archaeology can please sign up with Wendy. You need to have your Resource Inventory Service Certificate (RISC) to be eligible. If you are interested and don't have your certificate, please contact Wendy and register but make note that you do not have your certificate.

Wendy will collect the names so we can access our up-coming field season's needs. We will then contact you.