Dear family and friends,
Remember me? I'm that guy that announced he was leaving home to cycle around the world and then promptly disappeared, never to be heard from again…until now!
So, what have I been up to?
Well you know, I've been pretty busy turning my legs around in circles. In my spare time I've been, you know, turning my legs around in more circles. And when I've gotten totally sick of doing that, I've been, you know… Via these circles, my two scrawny legs have pushed and pulled my laden bicycle across 6,249 km of this world. Despite being a straight line distance between Perth and Hong Kong, I still find myself in Western Australia. Why? Because I have been enjoying my time meandering my way through some pretty cool parts of the state!
Where have I been so far?
The adventure began about 100 km west of
Kalgoorlie
. Heading south until I hit the coast at
Esperance
, I followed mainly off-road tracks to Albany, wherefrom I rode the entirety of the
Munda Biddi Trail
to its Mundaring terminus. This was my 'practice ride' and I spent several weeks in Perth organising my personal affairs and finalising my bike setup before embarking northwards, my first major stop being the
Ningaloo Coast
. The arid interior beckoned so I headed over to
Karijini
before battling the empty stretch to
Derby
.
What are my most memorable moments to date?
Whilst this grand adventure is still in its infancy, I have already racked up countless wonderful memories. I would love to be able to tell them all to you but I'm sure neither of us have time for that. For now at least, I have recounted a few below, interspersed with a collection of still images taken from a series of videos I am in the process of making.
Most exhilarating moment

I didn't really know exactly where to look so I just kept swinging my head back forth, staring as hard as I could into the deep blue depths of the Indian Ocean. It appeared out of nowhere like an apparition, floating magically just below the surface. As it came alongside me I started kicking and managed to keep level with it as it cruised along in search of its tiny prey. So big yet so majestic, it was a Whale Shark, a specimen of the largest fish species alive on this earth. To swim with one of these creatures is to feel reduced to an insignificant speck in a wild and exciting world.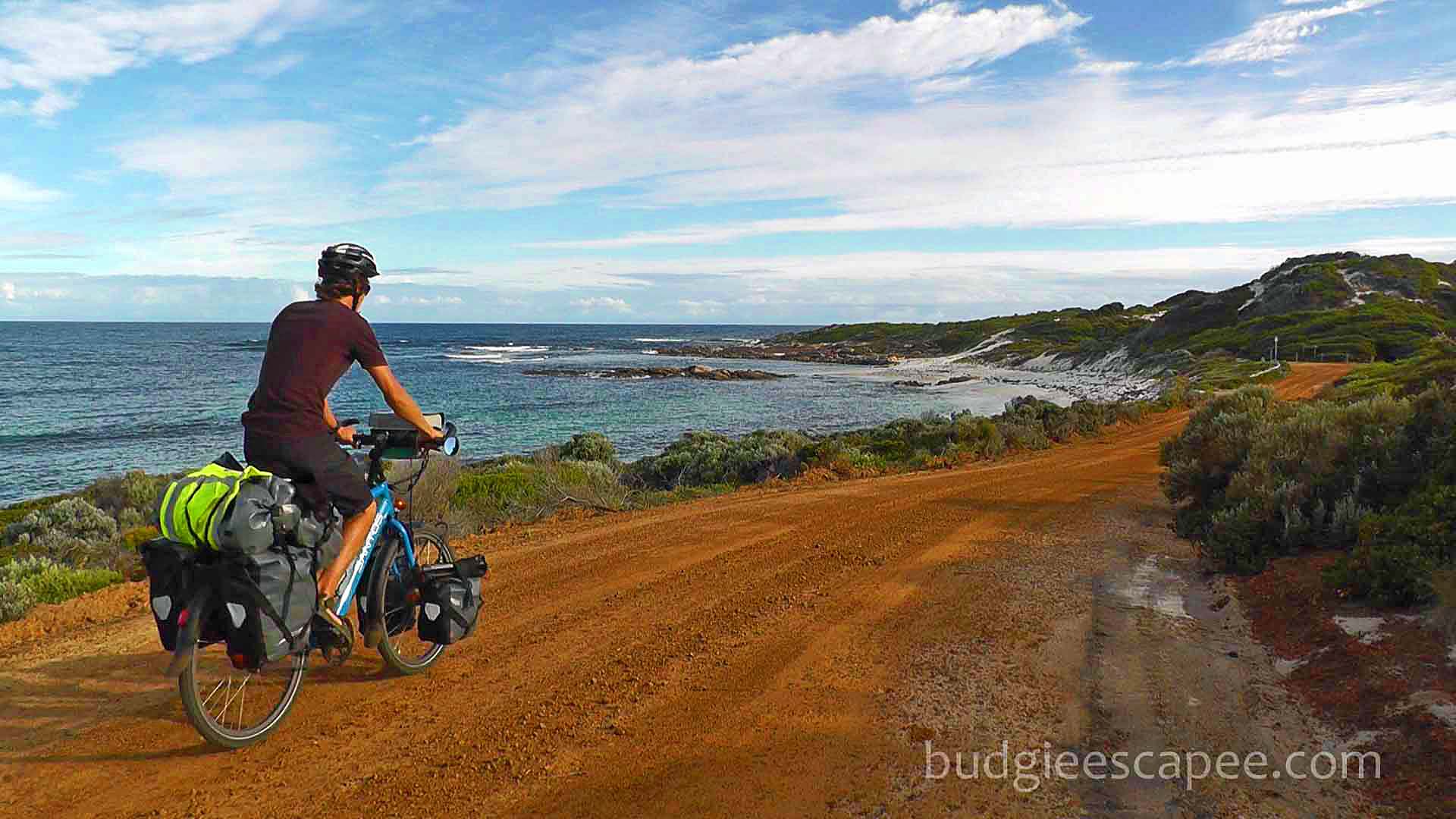 Mason Bay
Most profound moment
This was the moment I finally understood why I am doing this. I have previously struggled to come up with an explanation that adequately describes my motivation. In an effort to convey something that at least sounds good, I produced this wordy statement: "To embark on an epic adventure into the great unknown so that I may be confronted with a diversity of experiences that challenge me mentally, physically and spiritually and ultimately give me the tools with which I can continue to construct a happy, successful life". This might sound grand and romantic, but this statement speaks more to the
effects
of the adventure rather than its
cause
and it fails capture the underlying reason why I am putting myself through this. A couple of weeks ago I hit upon what I now believe is the answer, deciding it had eluded me insofar because it is quite simple. So, why am I doing this? When it comes right down to it, I am doing this because the vision
of riding a bicycle all the way around the planet naively entered my head and I knew that I would forever regret it if I didn't give it a go. This adventure is simply me giving it a go.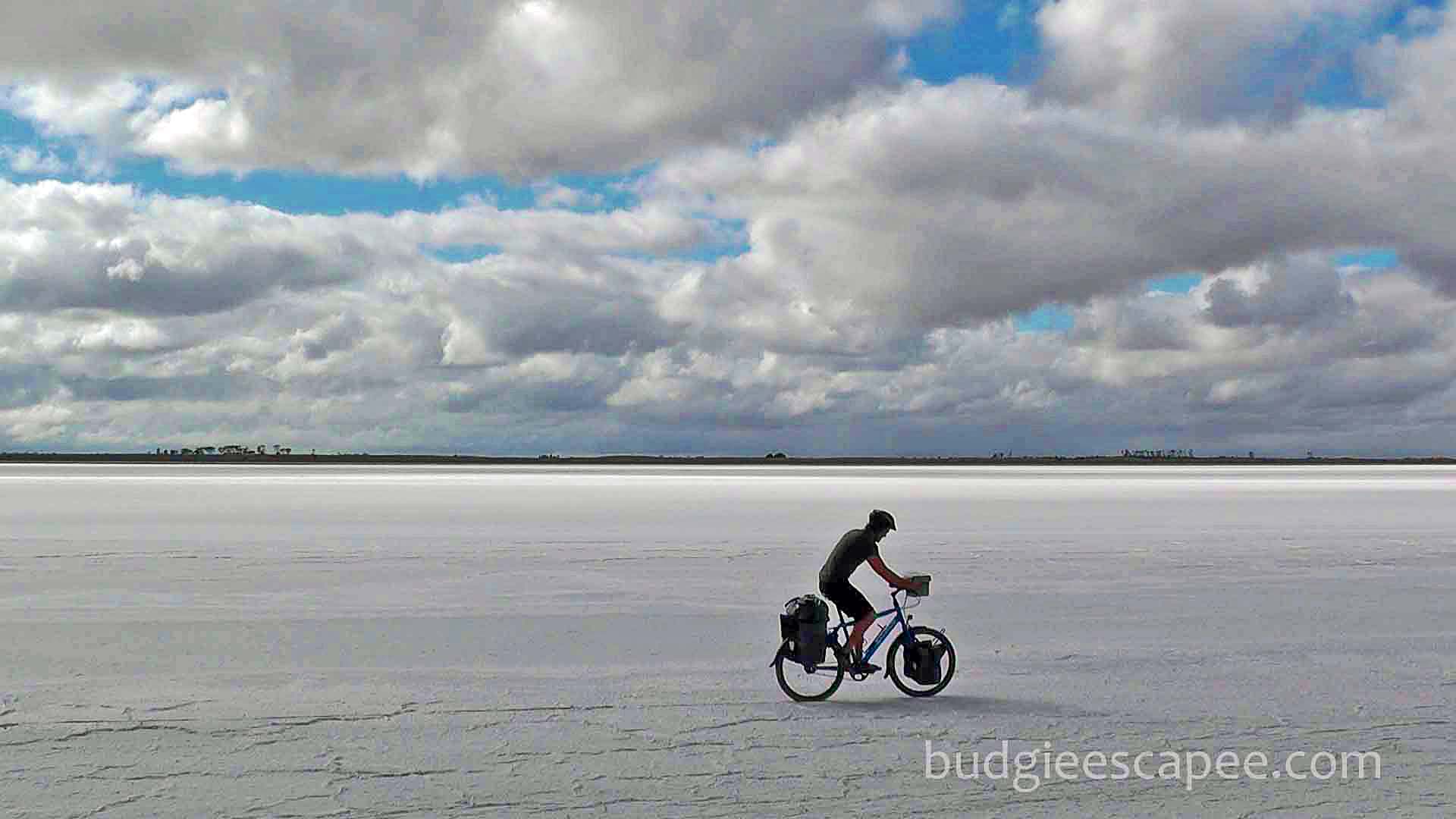 Lake Lefroy
Hardest moment
While in many challenging moments I have thought, 'I really wish people could understand how incredibly hard this is', putting my finger on a single moment that was the hardest is impossible - feelings of intense desperation don't seem so difficult in hindsight as they quickly fade once the particular challenging moment is in the past. To come up with something to write about here, my mind has taken me to my most recent hard moment, and that is the overall ride between Port Hedland and Derby: 778 km, no towns in between, intensifying heat, strong headwinds, hot drinking water, unchanging landscape… It took me 7.5 consecutive days (an average of 104 km each day). I felt broken on day 5 but just had to keep going or else I would have run out of food and water.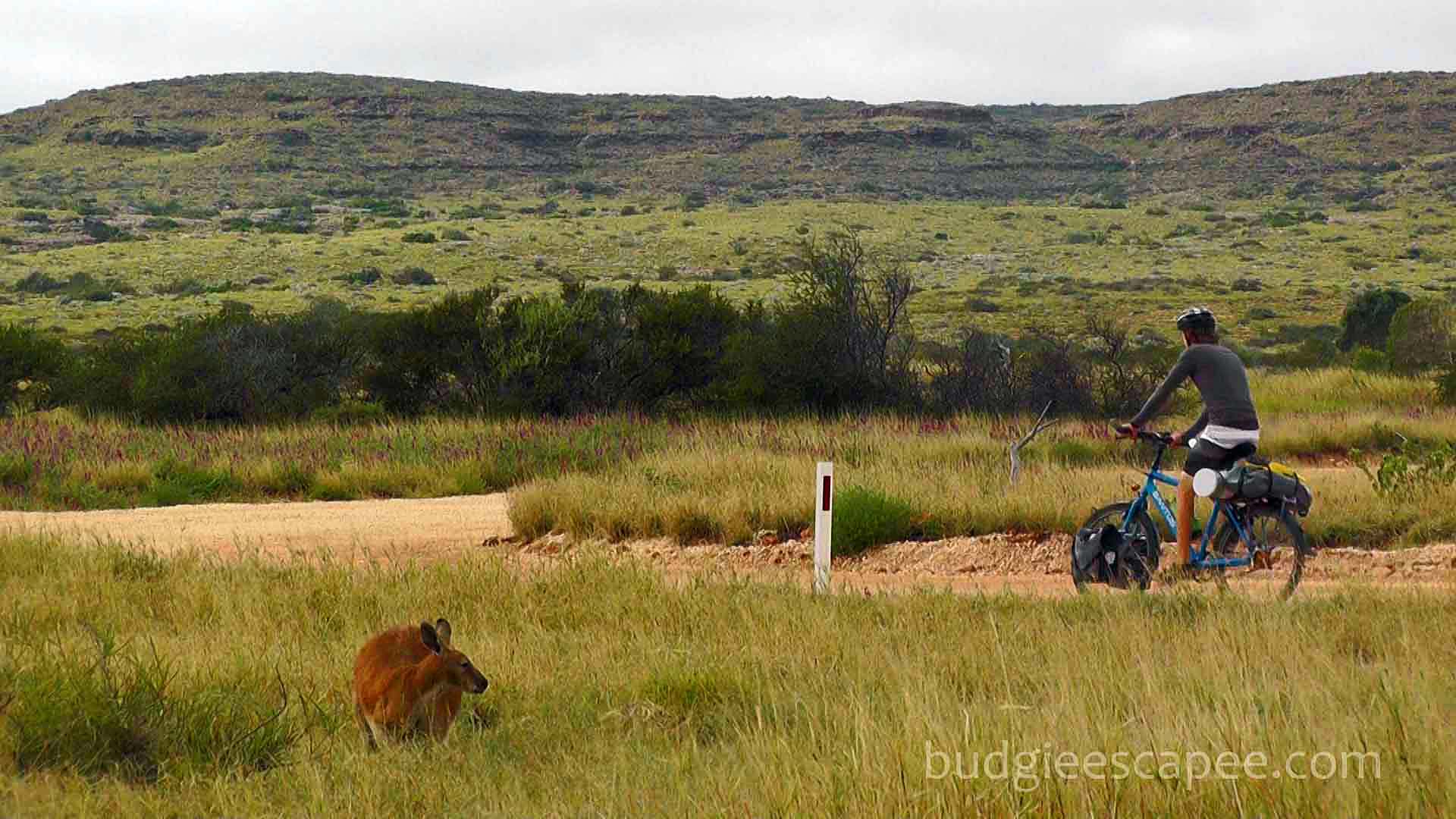 Ningaloo Coast
Most frustrating moment
While riding to Derby I had one clear image in my mind keeping me going: on my fifth day I was going to turn down a track leading to the northern end of Eighty Mile Beach, where I was going to park my bike and stroll straight into water. Days of dust, dirt and grime would soak away as the cool water relieved my muscle soreness and revived me from my great exhaustion. Just as I emerge from the water a carload of hot Swedish backpackers would turn up to spend the night camping on the beach…ahem…anyway…I was excited to finally reach the turnoff to the 9 km track leading down to the water. Half an hour later I hadn't even made it 1 km down the track. The sand was too deep to get a laden bike through. I announced my acceptance of defeat with a string of expletives that would shock anyone that knows me. All I could do was turn back to the heat and drudgery of more riding. Coming a close second is coming across multiple fallen trees across the Munda Biddi Trail on wet days when I was at the end of my tether with exhaustion. These moments required me to unpack everything off my bike, carry them piecemeal over the tree and repack the bike on the other side.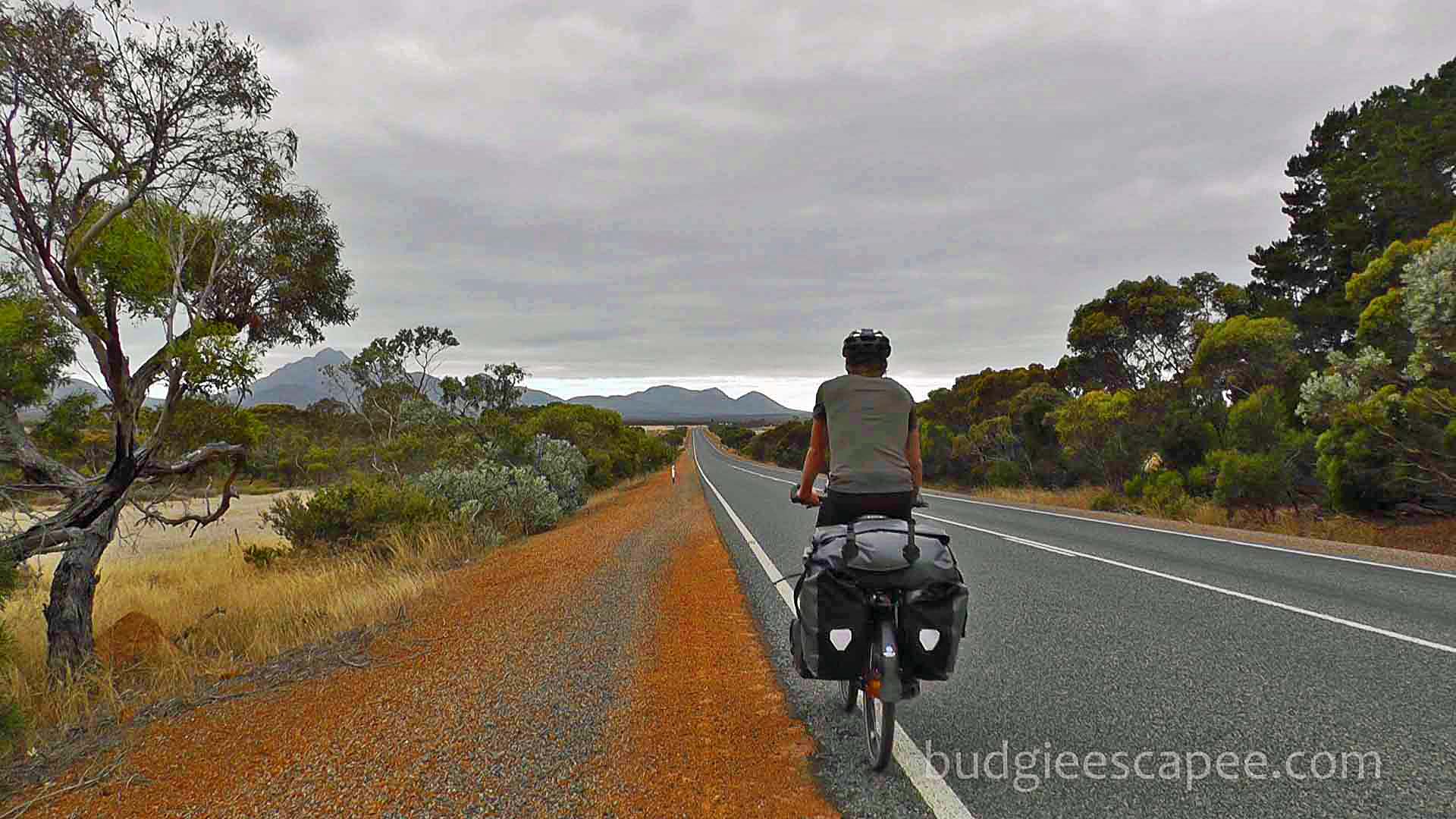 Stirling Ranges
Most embarrassing moment
If you spend consecutive days camping out in the bush where facilities to maintain personal hygiene are lacking, you might find your face getting a bit dirty over time, but because you don't have a decent mirror to look at you won't really notice this. Nor will you notice if you have a humungous dried boogie hanging out your nose, or an accompanying raging red pimple on your chin. At these times it is important to remember that while you might not notice these things, the people behind the counter at the roadhouse certainly will. Safe to say I now assess what I look like before making public appearances. Coming a close second is face-planting into the concrete of a service station car park when I forgot my feet were clipped in to my newly purchased clip-in pedals.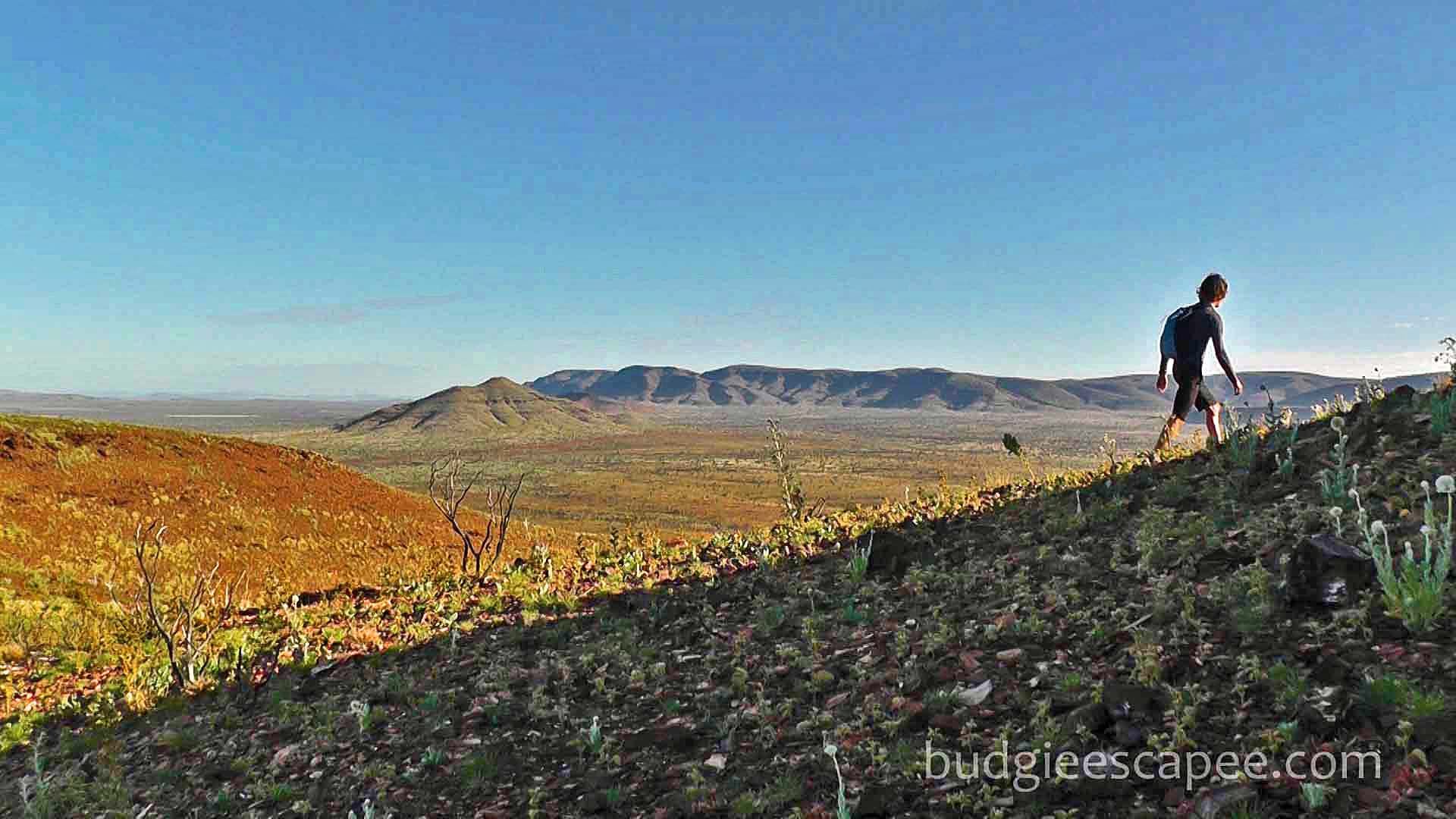 Mt Bruce
Scariest moment
While finding a mirror often provides a frightful experience, I haven't really had too much of which to be scared. There was a moment the other day though. With the sun down and sky darkening, I was just about to crawl into my tent when a bloodcurdling scream from several metres away drew my eyes to an approaching monster, complete with two heads and eight legs. The beast speedily rolled towards me. Just before it bowled me over, it let out one last chilling scream before exploding into two. One half flew into the scrub and disappeared. The other half hung around for a moment licking its wounds before spotting me and similarly taking off in the bush. Bloody feral fighting cats! Coming a close second is the moment I narrowly missed riding over a Tiger Snake hidden on the Munda Biddi Trail. As I careered past, it S-bended its neck ready to strike my unprotected ankles but I luckily got past it without further incident.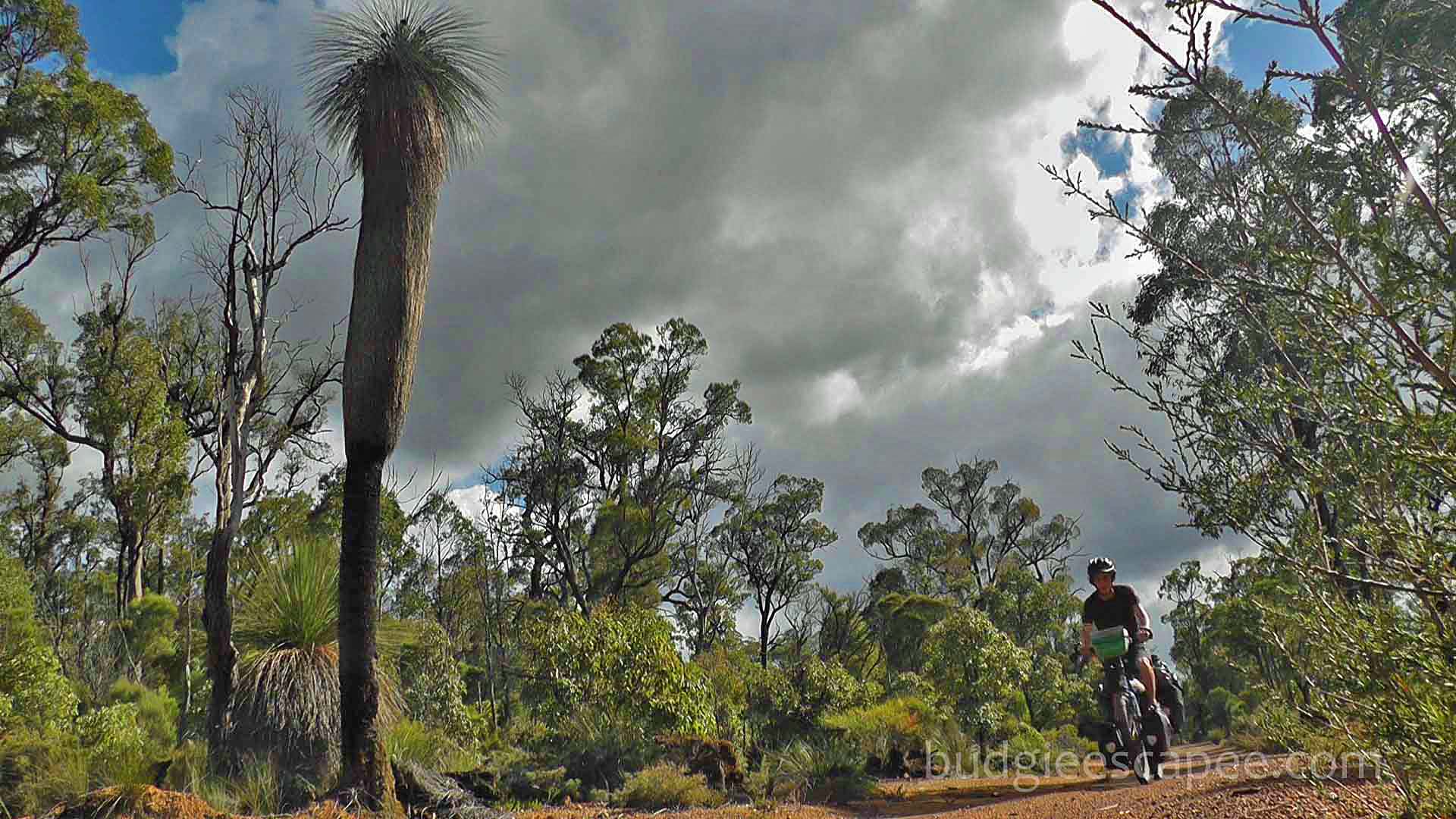 Munda Biddi
Most dangerous moment
This is not so much a single moment, but a never-ending experience: inconsiderate drivers. Surprisingly, trucks are not much of a worry at all. I hear them coming, they give me as much room as the road allows when passing, and I get off the road when the road is narrow or there is traffic coming the other way. It is the jittery old grey nomads that I have to worry about. They don't seem to recognise just how wide their oversize caravans are and they seem too frightened of moving right over the other side of the road when overtaking, even when the road is clear for miles ahead. I want to punch them in the face when I am resting somewhere and they come over and tell me how dangerous it must be with all the trucks on the road. Perhaps worse than the grey nomads are those people that are just plain idiots: individuals approaching from behind who couldn't possibly take their foot off the pedal for just a moment so that oncoming traffic can safely pass before they overtake, instead preferring to squeeze themselves between you and oncoming traffic at 110kph.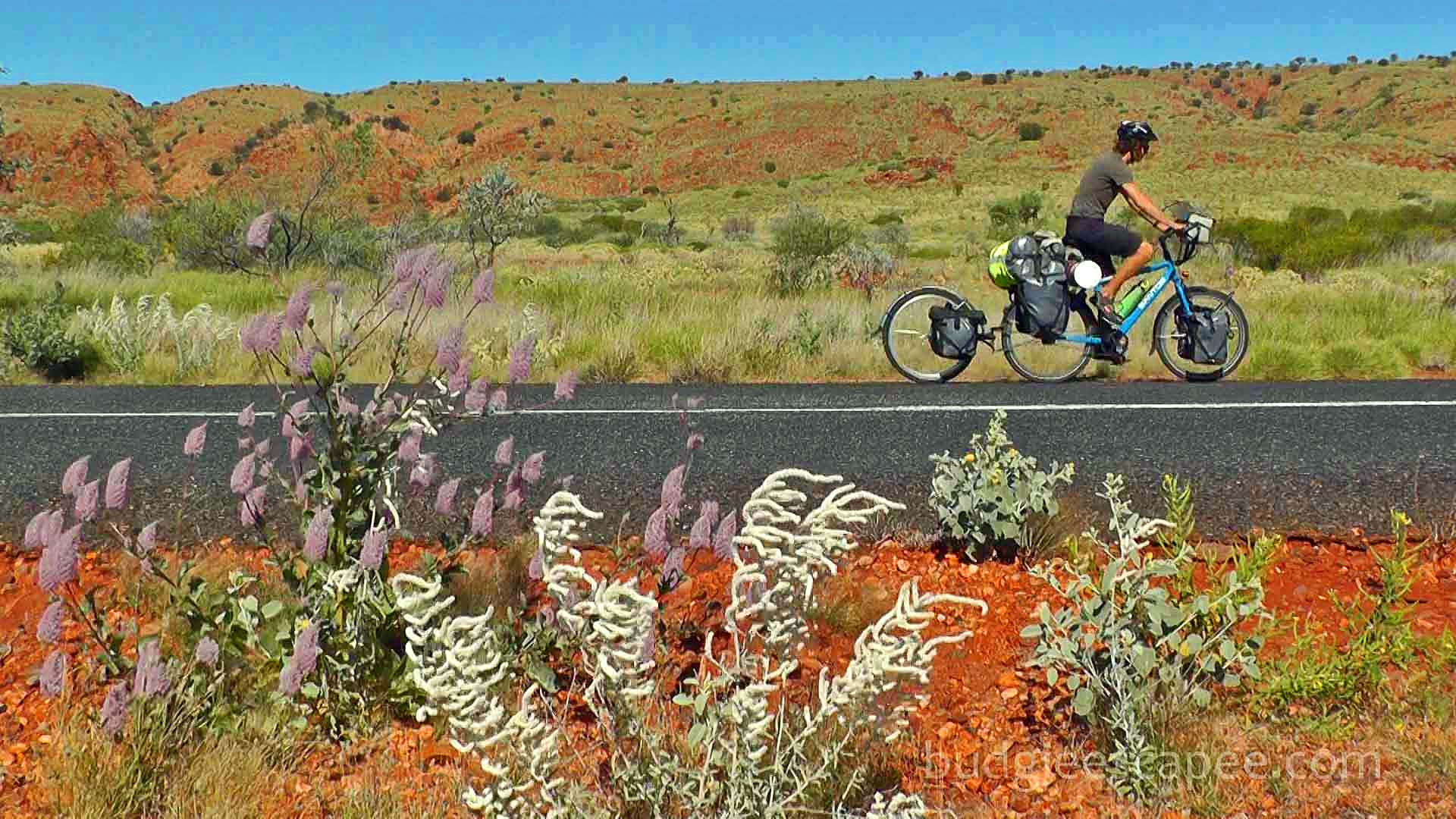 Pilbara
Most fun moment
My friend Dan joined me for a day on the Munda Biddi Trail that turned out to be the wettest day I have had on the bike. We found ourselves being pounded by successive torrential downpours that turned parts of the track turned into streams and others into deep ponds. We got sodden, we got muddy and we had the best time ever! There is something exhilarating about crossing that threshold where on one side you are thinking, 'Wow I'm getting so wet...this is the worst day ever' to the other side where you completely surrender with an accepting laugh and think, 'Wow there is absolutely no way I could be any wetter…this is actually kind of fun'. And so I had a very enjoyable day enduring extreme weather with a good mate, ending with a beer in front of Jarrahdale pub's comforting fireplace.
What's next?
It is only just starting to sink in that this journey truly is an epic, once-in-a-lifetime adventure that I will find great joy and comfort in reliving in my head when my body is no longer up to such a challenge. I see my greatest achievement thus far as making it to Derby with my enthusiasm, commitment and determination not only intact, but stronger than it was when I began this adventure. Bring it on Planet Earth!
Next up for me is the Gibb River Road and what will be a 700+ km ride through the remote Kimberley wilderness. I have heard many horror stories of late: intense heat; dust, dust and maybe a bit more dust; torturous corrugations; bikes vibrated to pieces and abandoned. It is sure to be the biggest challenge I have faced so far. I can't wait!
Till next time
If you have made it all the way down here, then I thank you for your interest. Till next time, stay safe and never stop dreaming.
ÂSubscribe / Unsubscribe / Share with a friend
If you are yet to sign up and don't want to miss out on future newsletters, please be sure to subscribe.
If you want to share this issue, click here and either pass it on via email (fill in the form) or via social media (buttons top right).
If you no longer wish to receive these newsletters, feel free to unsubscribe.
THE END
Copyright © Budgie Escapee Productions. All rights reserved.