Hello, we are highlighting October ADHD Awareness Month by writing to our local Press & Media with our demand for an ADHD Act. If you see the news story in your local newspaper, or hear it on radio, please let us know.

We have also become the first UK Support group to join Michelle Beckett's call for an All-Party Parliamentary group on ADHD. Watch her 3 minute speech at the
Labour Party Conference
and Follow ADHD ACTION on
Twitter
and on
Facebook
Here are local events for the first week of October ADHD Awareness Month ...

3 October – CAMHS future ADHD & Autism diagnosis chat 1.30pm to 3pm MeToo&Co, The CrossWay Centre, Twickenham, TW1 2PD To book e-mail: info@metooandco.org.uk

3 & 6 October + other dates: Meet the Educational Psychologists
Achieving for Children's Educational Psychology Service wants to improve its partnership working with parents and carers. EP's are holding a series of focus groups with SEND Family Voices where they will listen to what you (parents and carers) have to tell them about your experiences of their service
Tuesday 3rd October – 7pm to 9pm at York House, Richmond Rd, TW1 3AA
Friday 6th October – 10.30am to 12noon at MeToo&Co, The CrossWay Centre, Twickenham, TW1 2PD (creche available. Contact Fiona: info@metooandco.org.uk )
4 Oct: ADHD Richmond Talk – Dr Scott will answer your questions about the condition + Cllr Chappell will discuss Children's ADHD Services ...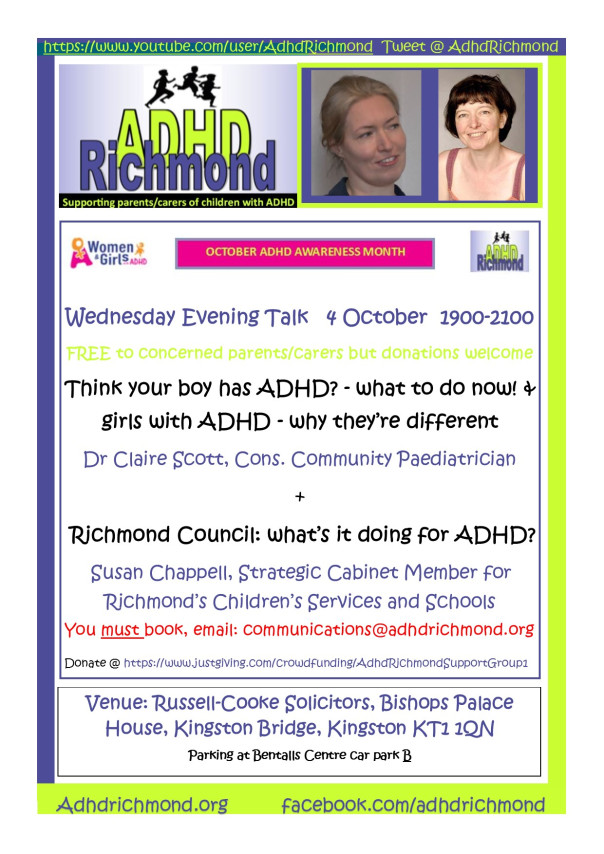 5 Oct: ADHD Richmond post-diagnosis session (free) 10am at Russell Cooke Solicitors, 2a Riverside, Kingston Bridge, Kingston …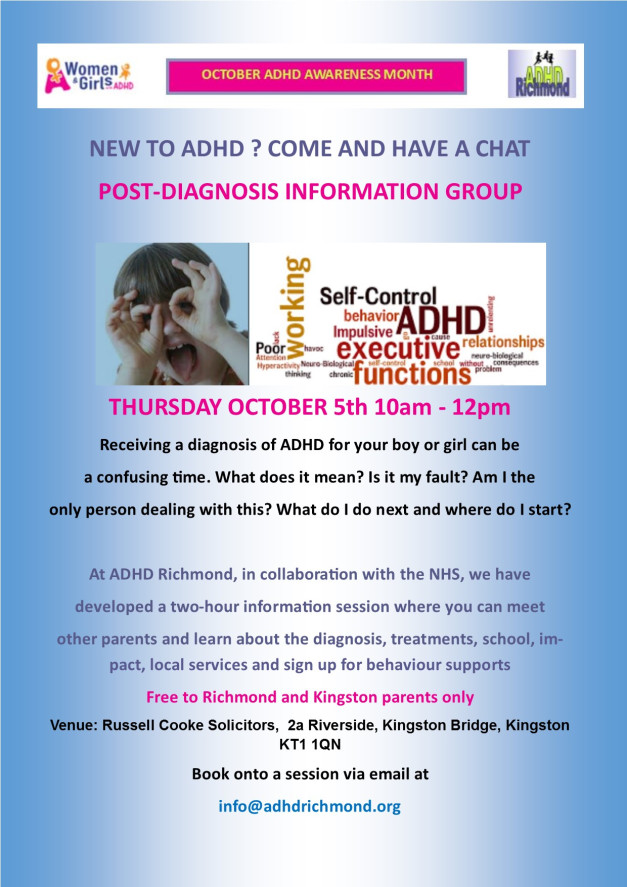 7 Oct: ADHD Richmond Play/Meet Up. 10-12 Marble Hill Park Adventure Playground …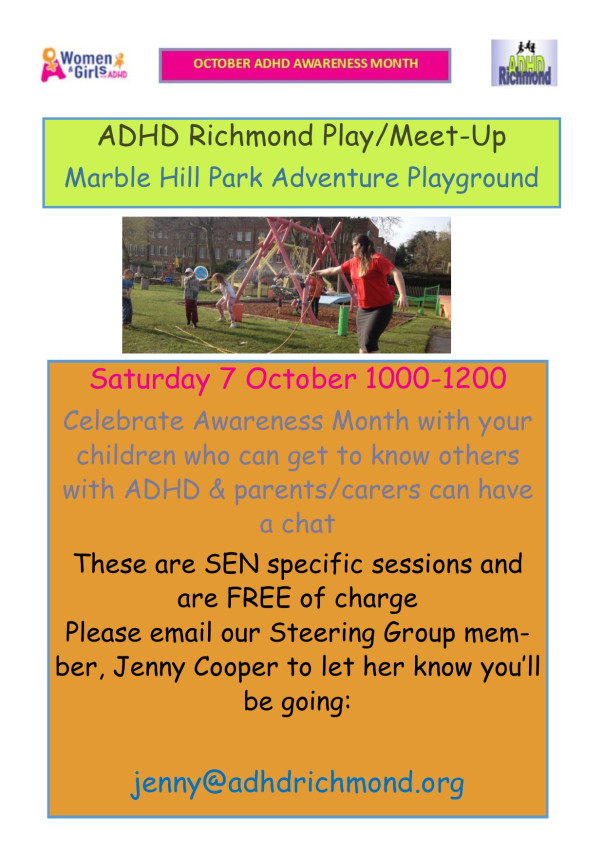 We look forward to celebrating ADHD Awareness Month with you at one of the above events. Come along for a chat, get advice and be supported.