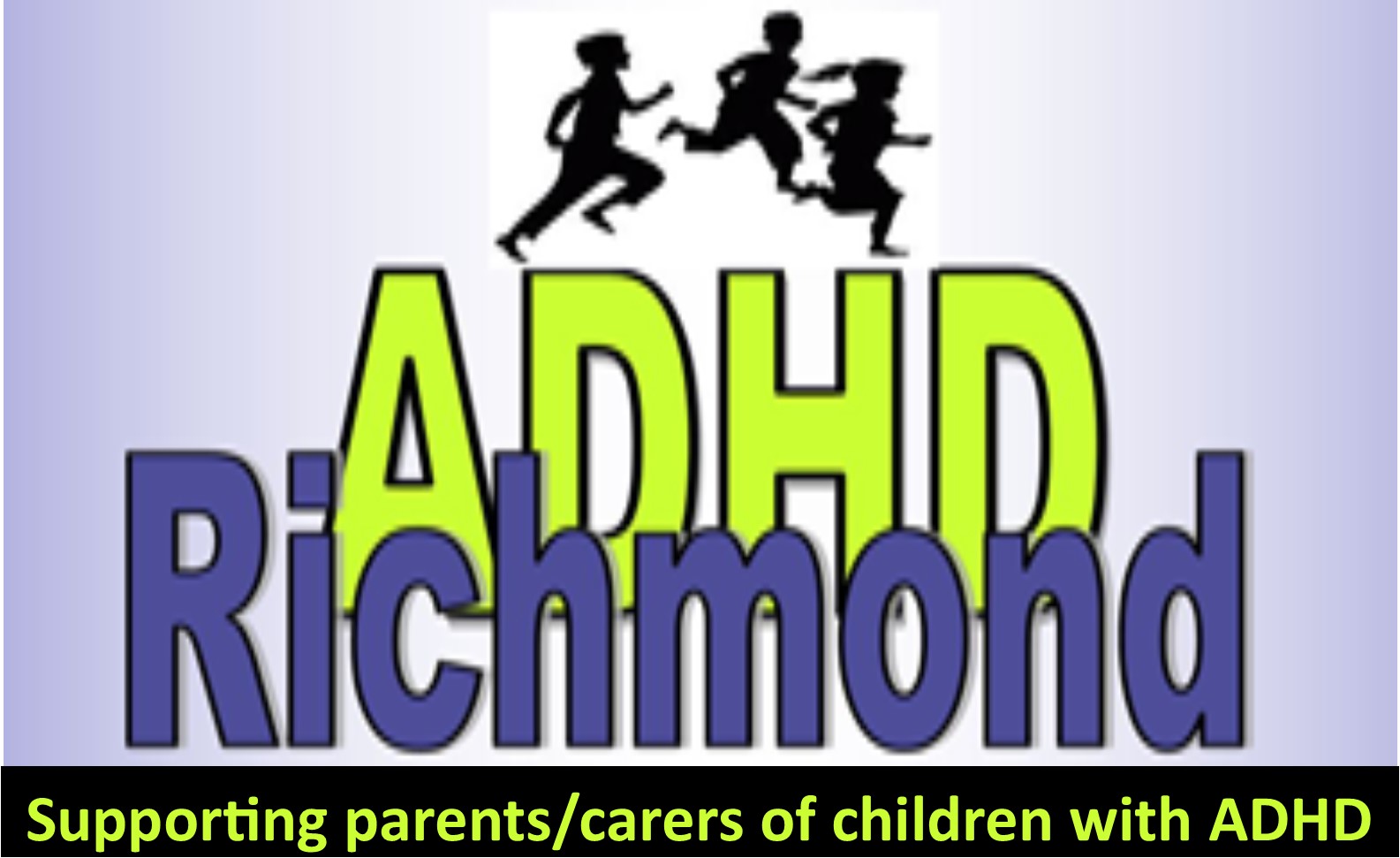 Hello and welcome to our May newsletter.
We are pleased to tell you that ADHD Richmond has been awarded a contract, by Kingston Clinical Commissioning Group, to provide, to
Kingston
parents of children with ADHD, post-diagnosis information sessions. These are already open to
Richmond
families as well...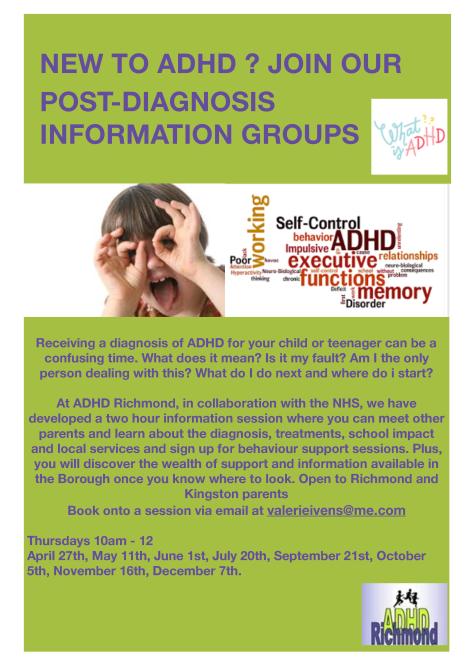 April 27 starts: Our ADHD advisor, Val Ivens, runs these sessions for parents/carers in Richmond and Kingston. Book your FREE place via info@adhdrichmond.org
Anyone wishing to donate should visit our JustGiving page
*******************************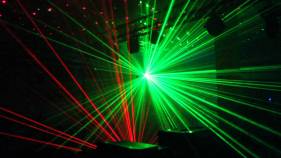 April 30: Calling all teenagers with #ADHD or #SEN – Disco April 30. Richmond Mencap run these monthly sessions: their friendly Club includes a live DJ, karaoke, Wii games, card/board games, art and craft table, nail bar and chill out zone. Price of £5 per person includes a fresh stone baked pizza and drink. Anyone with mild/moderate learning disabilities and social communication difficulties.
This is a respite activity for parents, carers and keyworkers to 'Drop and Go'.
To book this activity, please contact Richmond Mencap direct. Tel: 020 8744 1923
*******************************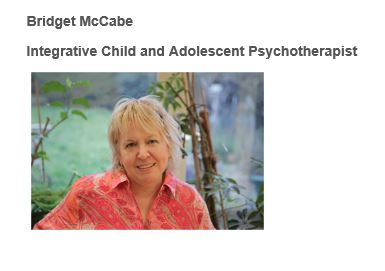 Wed 3rd May start: ADHD Richmond offers FREE workshop to TWO parents/carers. We are subsidising these sessions. You MUST sign up for ALL the sessions.
Our experience as parents with children with additional needs can prompt difficult feelings. It's easy to feel isolated and worn down. Children can present behaviour that challenges our confidence in our own competence!
Families helping Families is a new project that offers reflective and analytical tools to parents. In a group facilitated by a qualified therapist, parents work together to generate insight into what behaviour means, resourcing each other with new ideas and strategies. Families benefit from new tools, a new perspective on what they are experiencing and a shared sense of community.
Facilitator: Bridget McCabe MA, MBACP, Integrative Child and Adolescent Psychotherapist trained with Terapia/University of Middlesex. She has worked with individual children in primary and secondary schools and has worked in the Safe Team (Borough of Ealing) as a family worker helping 13-19 year-old young people and their families. Prior to her life as a therapist, Bridget was a nurse and later a holistic health practitioner. Bridget has three children, one of whom has special needs.
The Families Helping Families Program will run weekly for seven sessions Starting Date:

Wed 3
rd
May
End Date:

Wed 21
st
June
Time: 9:45 – 12:15pm
Venue: Mina Hogan Room, St Mary's Parish Hall, Langham Road, Teddington, Middx TW11 9HF
Cost: Free
Email us NOW: info@adhdrichmond.org
*******************************

May 4 starts: Tell your teachers/practitioners etc … about this ADHD training programme for Richmond and Kingston
*******************************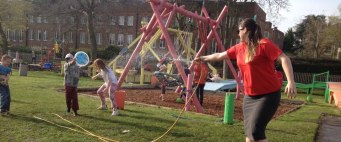 May 6: ADHD Richmond Play/Meet-Up . Our next monthly Saturday morning session from 10am. Meet others with ADHD at the adventure playground in Marble Hill Park. This is a SEN specific session and is FREE of charge.
Please email our new Steering Group member, Jenny Cooper: jennypcoop@hotmail.co.uk to let her know you'll be going
*******************************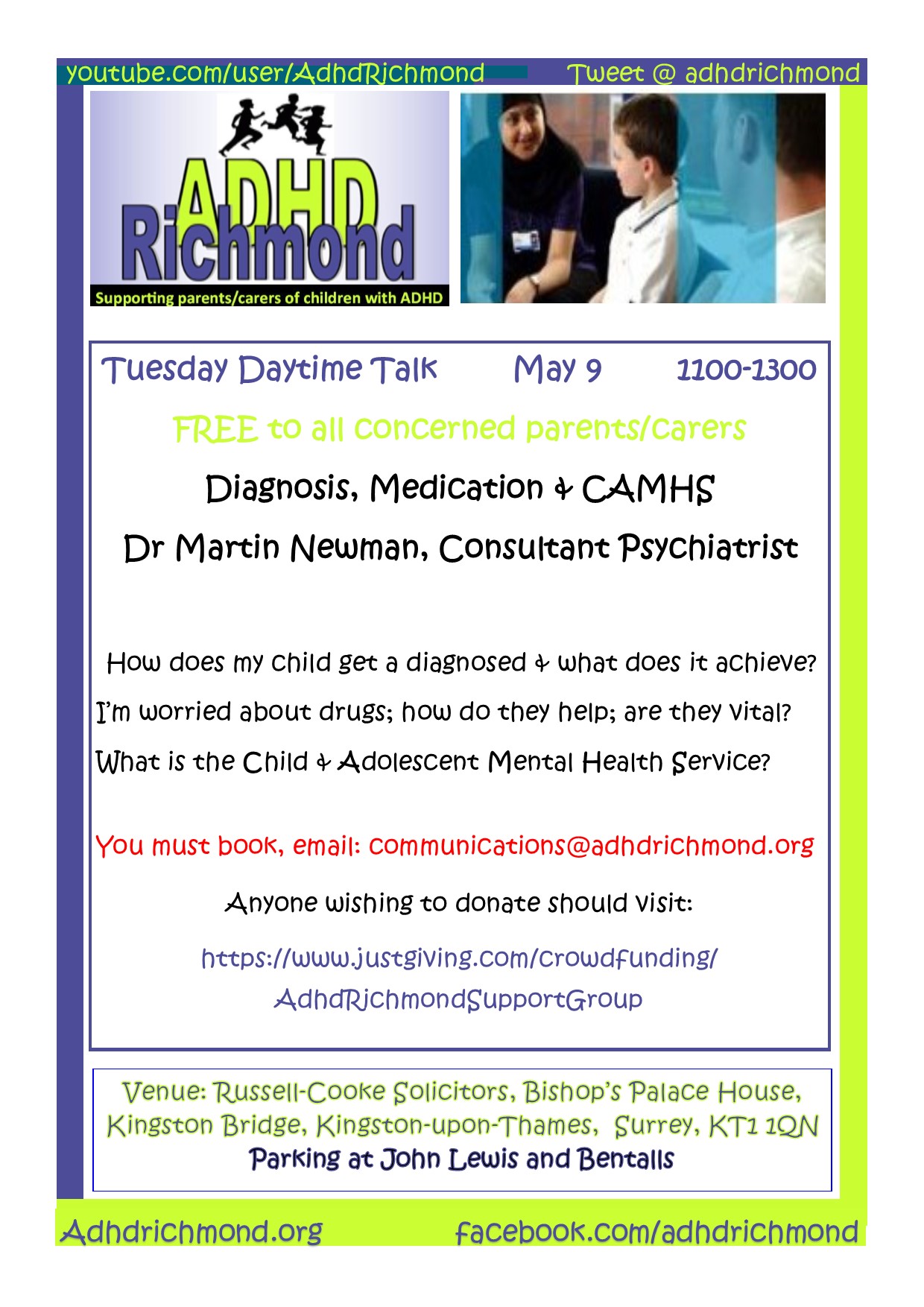 May 9: ADHD Richmond
is delighted to have secured the time of Dr Newman, the clinical lead for Richmond CAMHS. He is also an Hon. Senior Lecturer in Child and Adolescent Psychiatry at St George's, University of London. He has written and published on a number of subjects, including risk assessments in child-care. He also has a special interest in psychological trauma.
Book now by email: communications@adhdrichmond.org Any
donations
are welcome
*******************************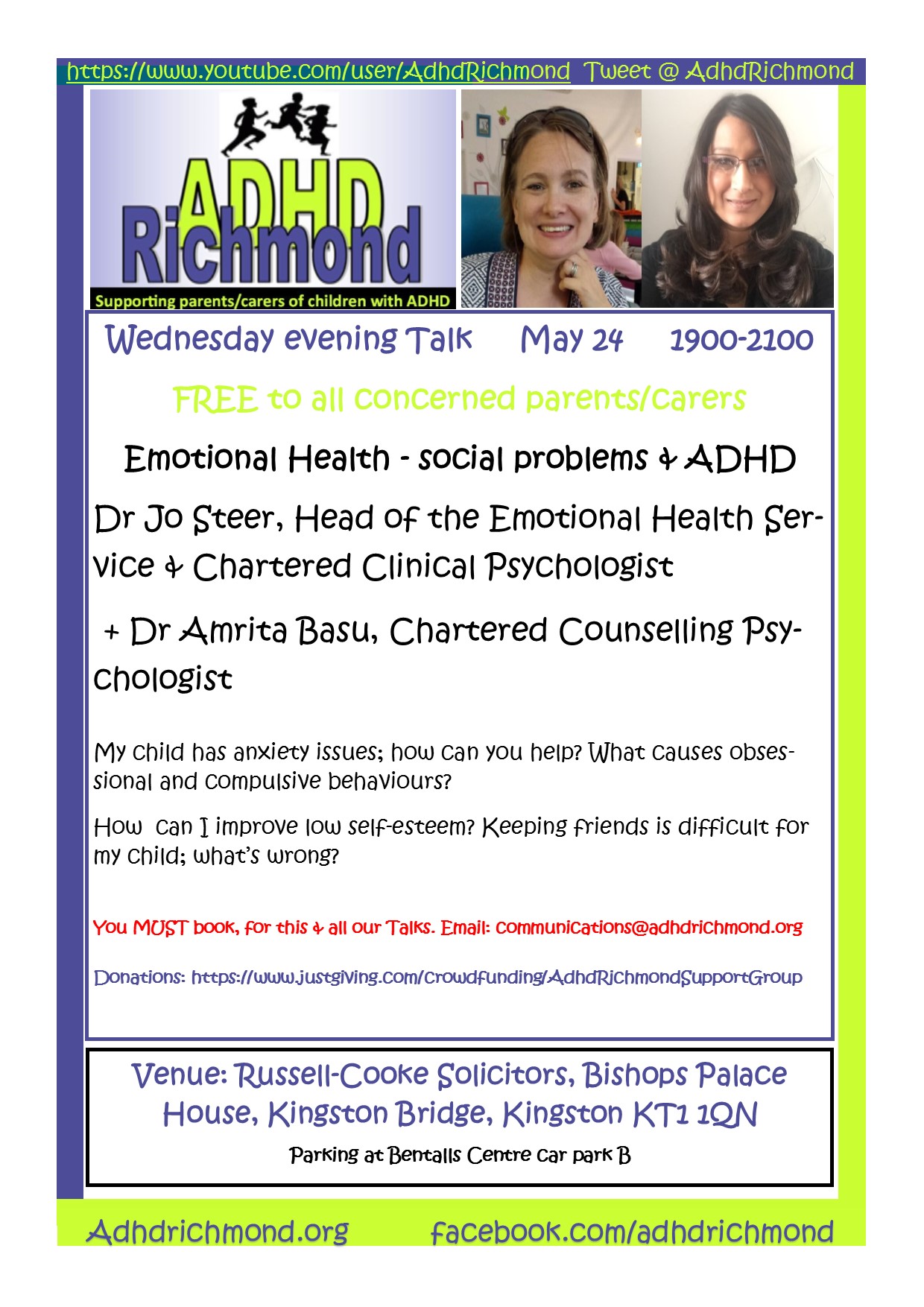 May 24: ADHD Richmond
welcomes back Dr Steer. She trains our teachers, practitioners, social work teams etc ... to understand ADHD. Whatever comorbidities your child has, come and meet her & discuss. Her colleague, Dr Basu, has many years experience working in the field of child and adolecent mental health. In addition to her direct work with families she also provides consultations to schools.
Book now by email: communications@adhdrichmond.org Any
donations
are welcome
*******************************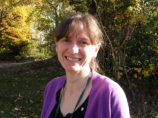 Here are the Richmond ADHD & OT Website Slides from our Talk on Occupational Therapy by Samantha Platt and Sandra Newbery for your perusal
*******************************
We look forward to introducing you to five new members of our Steering Committee at our Talks. Visit our website About tab to see who they are.
All the best for May from the ADHD Richmond team