Words of Support for Attawapiskat
From all of the Reconciliation Canada team, we offer our thoughts and hearts to the youth and families in Attawapiskat going through the fear and pain of suicide and suicide attempts.
There is no greater reason for reconciliation. The crisis in Attawapiskat is a crisis for all Canadians. This is a moment where it is clear that a new relationship among Indigenous peoples, all Canadians and all levels of government is critical for the health of communities throughout Canada.
We must take this moment to reflect on of our own role in this new relationship. We must engage in deep, meaningful dialogue with one another to understand our diverse and shared histories, and learn how we can affect reconciliation within our own spheres of influence. Only then can we move forward in a way that ensures that each individual is celebrated and able to achieve their optimum potential.
"To all the youth in Attawapiskat, know that you are loved. Love yourselves. You have value. You have worth. It starts with you. Live with hope. Find the time. The answers will come. You matter deeply."– Chief Dr. Robert Joseph
Reconciliation Canada will be at the 25th Fingerling Festival hosted by the Port Moody Ecological Society. Stop by and speak with us about your questions about reconciliation and offering details about our current programs and initiatives and upcoming activities.
Location: Noons Creek Hatchery, Port Moody, BC
Date: Saturday, May 7, 2016
Click here to learn more.
This outreach engagement is made possible through the generous support of Teck Resources.
Vote for Chief Joseph in the Canadian Living Me to We Awards!
We are incredibly excited to announce that Chief Dr. Robert Joseph has been nominated for the Canadian Living Me to We Award for Social Action! The Canadian Living Me to We Awards aim to honour change-makers who inspire you by their positive contributions to their communities and the world.
The Social Action Award recognizes an individual who has addressed the root causes of social, environmental, economic or political issues and, in doing so, has made Canada a better place.
Click here to vote now!
Reconciliation Canada at Association of Vancouver Island and Coastal Communities 2016 Annual Convention
On April 8th, Chief Dr. Robert Joseph delivered the keynote address at the Annual General Meeting and Convention for the Association of Vancouver Island and Coastal Communities.
Chief Joseph spoke to delegates about his experiences growing up in the Indian Residential School system and his work thereafter on furthering the reconciliation movement in Canada.
Learn more about the the Association of Vancouver Island and Coastal Communities here.
Read about Chief Joseph at AVICC in the Nanaimo News Bulletin. Click here.
Welcoming New Members of the Reconciliation Canada Team!
We are exited to welcome two new members to the Reconciliation Canada team.
Chris Wong joins the Reconciliation Canada team as Financial Controller. He comes to Reconciliation Canada with more than two decades of extensive experience in charitable not-for-profit organizations. With his unwavering belief in creating miracles in the workplace, Chris, in his previous roles as Financial Controller and Director of Finance, contributed and achieved ERP system upgrade and enhancement, automated financial reports generation and distribution, building a strong, empowered and cohesive Finance team.
To Chris, reconciliation means "acknowledging the truth and collectively working together to restore balance on the relationship between Indigenous people and all Canadians through reconciliation dialogues, inclusion of histories and cultures of Indigenous people in our school curriculum and other initiatives."
Maria Malmgren joins us as Administration Manager and Engagement Lead. Maria comes to the team with an extensive background in non-profit and municipal administration, event and project coordination and professional coaching of internal and external clients. Maria holds a business and psychology degree, a professional coaching certification, a diploma in financial management and a certificate in municipal administration. She is happiest when she gets to coach, create and coordinate the next level of excellence in people, projects, events and processes and is looking forward to being a strong contributor to the talented Reconciliation Canada team.
Chief Joseph Speaks at Premiere of Wawahte Documentary
Reconciliation Canada is proud to have been part of the premiere of Wawahte, a documentary based on the book by Bob Wells, at the Kingston Canadian Film Festival on March 5. The documentary tells the stories of three residential school survivors from the perspective of the survivors themselves.
Chief Joseph delivered a speech at the premiere, alongside Ontario Regional Chief Isadore Day, Kingston Mayor Bryan Paterson and MP Mark Gerretsen. Reconciliation Canada is proud to have been part of this incredible event.
Watch Chief Joseph's speech at the premier of Wawahte here.
Find out more about Wawahte here.
In the Media: Cormorant Island Entrepreneur Support Program Bringing Resources to the Island
Senior Advisor Margaret Dickson on the Economic Reconciliation initiative on Cormorant Island.
Listen here.
The Economic Reconciliation on Cormorant Island is made possible through the generous support of Indigenous and Northern Affairs Canada, Vancity, Suncor Energy Foundation and The J. W. McConnell Foundation.
Job Alert! We're looking an experienced fundraising professional to join the Reconciliation Canada team as Director of Partnerships!
Click here to read the position description and to find out more!

Help us move forward with our 2016 initiatives
Reconciliation Canada has many national initiatives planned for 2016. Help us move our initiatives forward by making a donation.

Our 2016 initiatives include:
Public Awareness and Outreach

Reconciliation Dialogue Workshops

Reconciliation Leadership Learning Experience

Economic Reconciliation



Reconciliation Canada - A New Way Forward Society is a registered charity: #82140 3599 RR0001
Haisla Nation and Reconciliation Canada Co-Host Our Shared History: An Evening of Haisla Nation History and Dialogue
Chief Dr. Robert Joseph speaks at Our Shared History. Photo Credit: Haisla Nation
On March 29, Reconciliation Canada and Haisla Nation co-hosted the event Our Shared History: An Evening of Haisla Nation History and Dialogue in Kitimat, BC.
The evening gathering featured a presentation from Chief Councillor Ellis Ross, a shared meal and a facilitated dialogue by Reconciliation Canada. The dialogue provided an opportunity for attendees to learn about each other's backgrounds and begin to think about how reconciliation can take shape. Recognizing that reconciliation is a process and not just a one-time event, the evening gathering aimed to create a strong foundation for future steps towards reconciliation.
An informational booklet, The Meaning of Reconciliation - Haisla Nation History, was produced to accompany the event. The booklet provides an overview of the shared history of Haisla Nation and Canadian society, framed with the goal of beginning the dialogue necessary for reconciliation.
Reconciliation Canada is honoured to have had this opportunity to collaborate with Haisla Nation. We raise our hands to the many people who joined us for the evening gathering, and to the wonderful individuals who made this event possible. We are truly grateful.
Click here to read the informational booklet.
Chief Councillor Ellis Ross speaks at Our Shared History. Photo Credit: Haisla Nation
We gratefully acknowledge the generous support of the Province of British Columbia through the Ministry of Aboriginal Relations and Reconciliation, and the North Growth Foundation.
Chief Joseph delivers talk at TEDxEastVan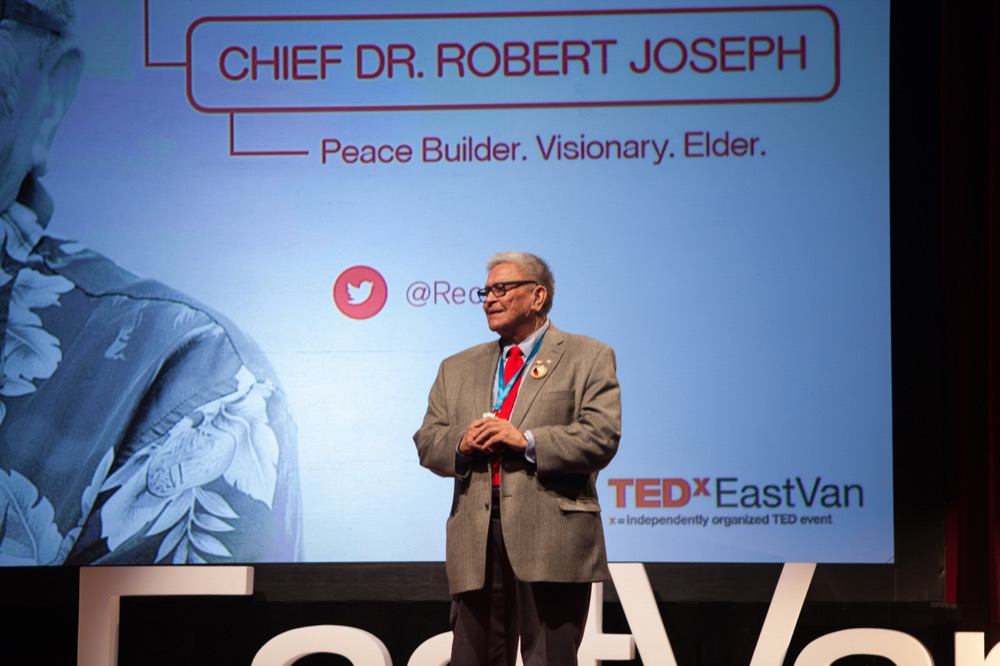 Photo Credit: Angelo Cikes
On Saturday, April 23rd, Chief Joseph delivered a talk at TEDxEastVan, a day-long event showcasing celebrated thinkers and visionaries connected to the Vancouver community.
TEDxEastVan brought together creators, catalysts, designers and thinkers to share in the TED philosophy, "Ideas Worth Spreading". This independently organized event saw over a dozen speakers take the stage to a packed audience at the York Theatre in East Vancouver.
Sharing the stage with local inventors, activists and community leaders, Chief Joseph shared his story of attending residential school in childhood, overcoming the resulting traumas and emerging as an advocate for peace and reconciliation.
We were so excited for Chief Joseph to be invited to speak at TEDxEastVan. Stay tuned for a replay of Chief Joseph's talk on our social media channels!
Find out more about TEDxEastVan here.
Reconciliation Canada at Earth Day Celebrations in Vancouver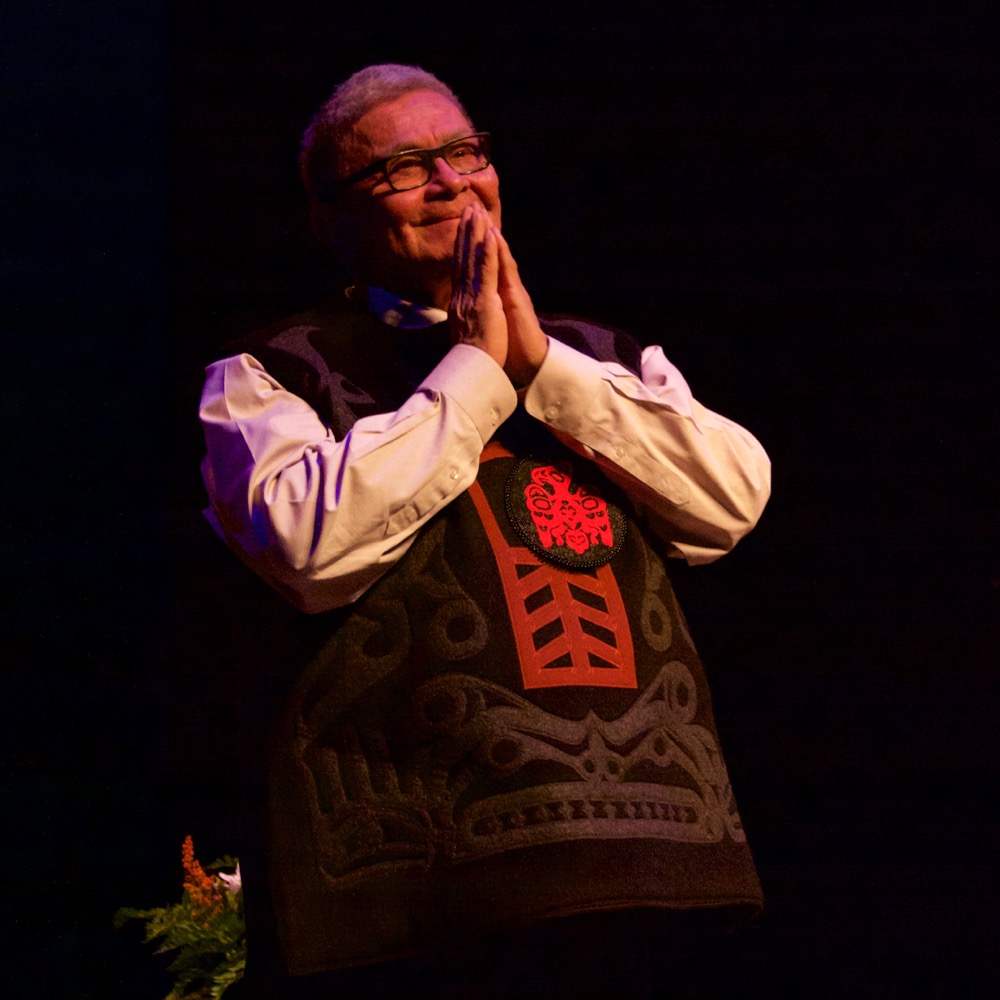 Photo Credit: Leo Yu
It was an active Earth Day for Reconciliation Canada this year! Our Outreach Team, along with Chief Joseph, attended an afternoon and evening of events at Vancouver's Queen Elizabeth Theatre to celebrate the 46th Annual Earth Day on April 22nd.
Hosted by Kwi Awt Stelmexw, a leader in the nation rebuilding efforts of the Squamish peoples, the afternoon portion of events featured dialogue circles on reconciliation strategies, Squamish language lessons and performances by Indigenous artists.
The evening event "Voices of Elders" showcased an intergenerational dialogue on reconciliation through speeches, music and dance. In a Q&A session with comedian Ryan McMahon, Chief Joseph detailed his journey of reconciliation and his hope of a peaceful future for all Canadians.
Reconciliation Canada was honoured to participate in these Earth Day events with Kwi Awt Stelmexw, and we look forward to engaging with them in future opportunities.
Read about Chief Joseph at TEDxEastVan and at Voice of Elders in the Georgia Straight. Click here
Shelley Joseph Speaks at Langara and Musqueam Reconciliation event
On April 1, Reconciliation Canada participated in Reconciliation: The Power of Love at a Grassroots Level. The event, hosted by Langara Aboriginal Studies Students, took place at the Musqueam Cultural Pavilion and aimed to generate student involvement in taking action on the TRC Calls to Action, as well as increase awareness of the TRC Final Report.
Shelley Joseph, Cultural and Wellness Advisor at Reconciliation Canada, spoke alongside Chief Wayne Sparrow of Musqueam Nation, Dr. Lane Trotter, President of Langara Collge and MLA Melanie Mark. Shelley Joseph reinforced the notion that reconciliation is rooted in love and encouraged participants to bring love into all parts of their lives. Following Shelley Joseph's speech, student presenters delivered powerful stories of their trauma and journeys of reconciliation.
We would like to extend our gratitude to Langara Aboriginal Studies Students and Musqueam for hosting this fantastic event.
The Language of Reconciliation
Many of us don't spend a lot of time thinking about our language disappearing, especially if we speak English. But, it does happen.
One of the enduring effects of the residential school system in Canada is that it severed the language ties connecting First Nations peoples to their culture and history. The natural passage of language from generation to generation was interrupted by the residential school system, and as a result we're left with an urgent need to protect and preserve First Nations languages all across the country, or we could lose them.
The Saskatchewan Indian Cultural Centre (SICC) works to fan the flame of First Nations languages in this province, preserving a fundamental part of the province's history and culture.
We're excited at Affinity Credit Union to provide funding to help the SICC continue on this important mission. They work with eight different languages spoken in the province: Plains Cree, Swampy Cree, Woodland Cree, Dene, Nahkawē, Dakota, Lakota and Nakota. For us, it's an honour to embark on this partnership with the SICC, and a privilege to have a role to play in preserving these languages for future generations.
On March 21, 2016, we officially celebrated this partnership with a traditional sweat attended by Affinity executives and SICC representatives, followed by a pipe ceremony and a feast at Affinity's Saskatoon head office.
One part of our agreement with the SICC involves translating the Affinity story and our co-operative values into First Nations languages, starting with Dakota and Plains Cree. By telling our story in First Nations languages, we want to show our support for the preservation of Indigenous languages and highlight the similarities between First Nations and co-operative values. This partnership with SICC is one way, that as an organization, we're developing a better understanding of the history and culture of First Nations people in Saskatchewan.
The trick to protecting a language is having people learn it, speak it, read it and write it. The SICC does this every day, and through our funding partnership and the soon-to-be-translated Affinity story, we're honoured to do our part to help in that effort!
At a National Reconciliation Gathering in Winnipeg on March 11, 2016, Affinity Credit Union made a commitment alongside Vancity Credit Union from BC and Assiniboine Credit Union from Manitoba to work toward meaningful reconciliation. This commitment grew out of a call from Canada's Truth and Reconciliation Commission for the business community in this country to participate in the reconciliation process. We consider it an important responsibility to play our part in reconciliation.
Our partnership with the SICC is made with an eye toward advancing this cause, and we invite all individuals, credit unions and organizations to join in this journey of healing and reconciliation. Co-operatively, we can build a better Canada.
Are you interested in contributing to the Reconciliation Canada blog? We welcome blog posts on a variety of topics, and are particularly interested to hear about reconciliation projects in your local community, school or organisation. We'd also love to hear from individuals who are combining personal transformation with action.
Please send us an email at reception@reconciliationcanada.ca and tell us what you'd like to talk about in your post. Please include "Reconciliation Canada Blog Submission" as your subject line. We welcome written articles, videos, photographs and artwork. We look forward to learning from you all.