Heaphy Report
This year's Heaphy expedition on the first day of the season again proved the track up to Perry is the toughest and least fun part of the track, in both directions. We were pleasantly surprised to find a good part of the rocky section from Perry westward toward Gouland had been re-surfaced, complete with substantial water table and water bars.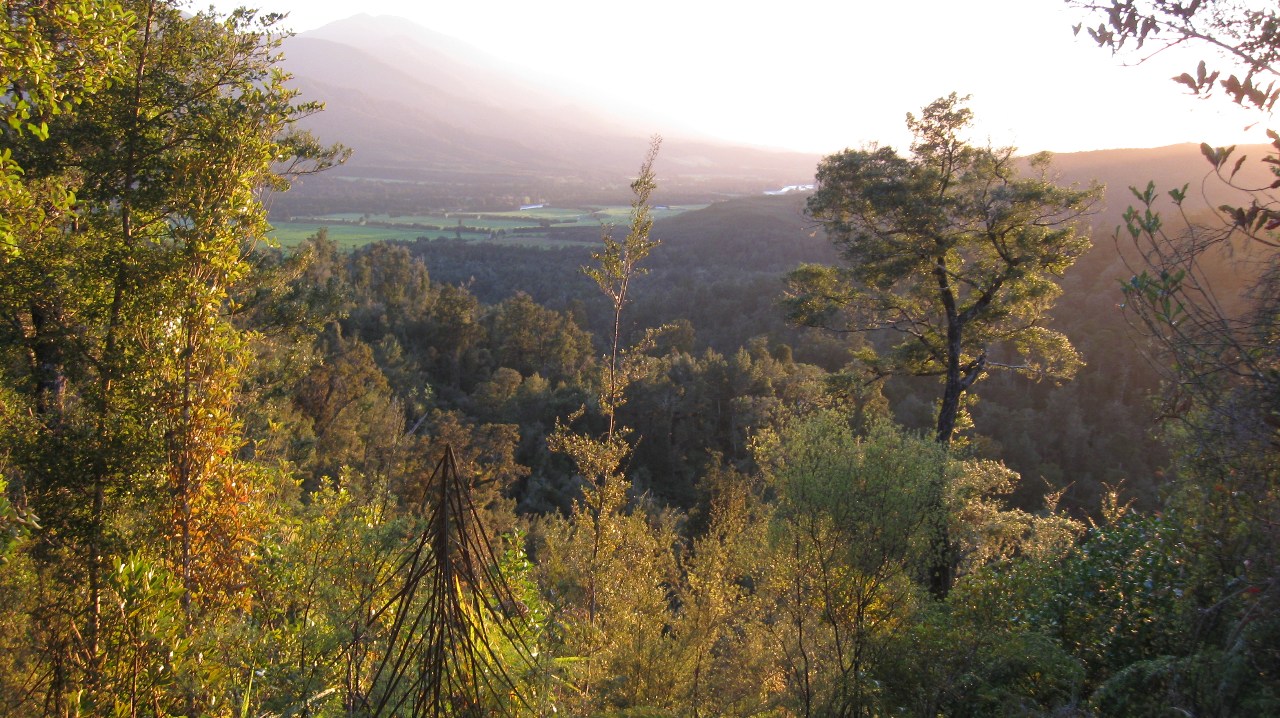 Early morning in the Aorere Valley
Beach, our American friend, turned back at Gouland Hut with the promise to return one day to complete the trip. It must have been wet earlier in the week as the creeks were up and we reluctantly opted for the two wire bridges. They are a real cow to traverse with a bike especially one with wide bars. The side netting gets caught in the pedals, the top wire is just the right height to prevent holding the bike at a sufficient angle to get over the cross straps in the tread of the bridge, and the towers at the ends cause mayhem too. At least our feet were dry.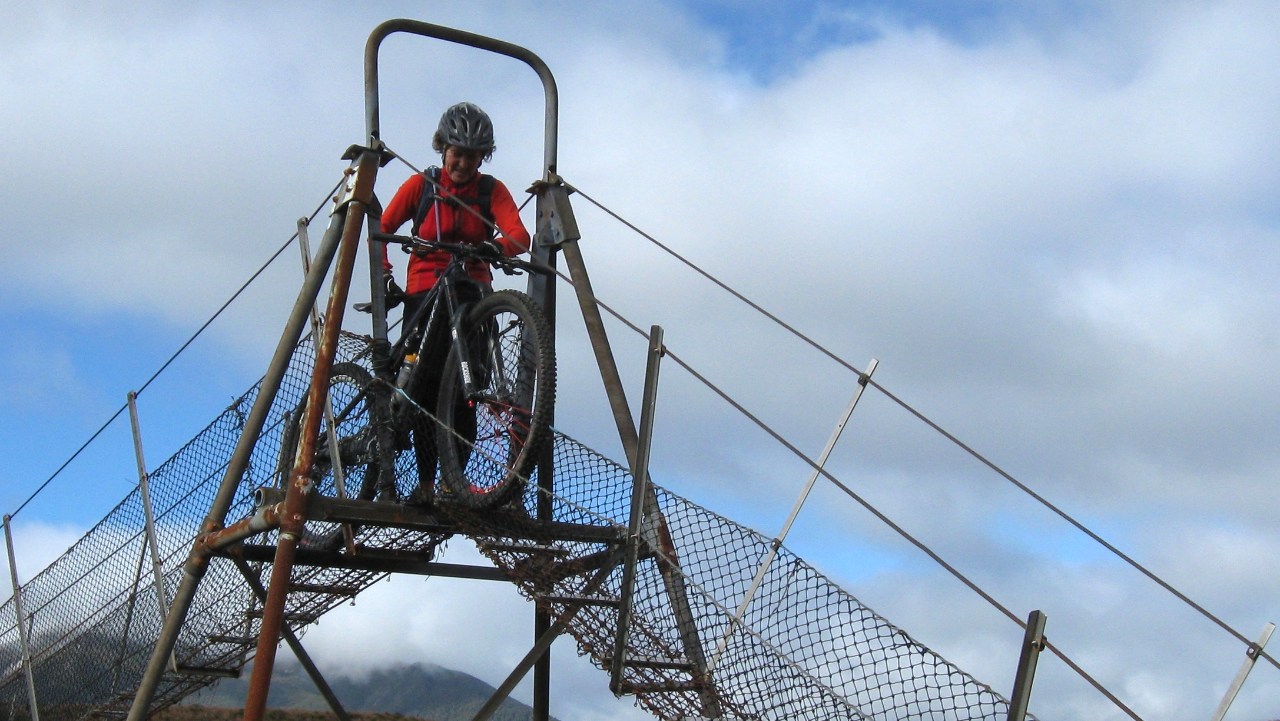 You don't want to tangle with this bridge.
Despite the favourable forecast from our friends in Norway, (www.yr.no) it clagged in as we approached Saxton and stayed coolish and damp until we approached Heaphy hut. At MacKay we were bemused by the massive new accommodation but eternally grateful for the superb bike-wash that has replaced the old hut. We were pleasantly surprised to see Petra emerge from a chopper, delivering supplies for guided trips. Earlier in the trip we had been passed by what one woman described as "a testosterone-soaked bunch" of guys who were racing thru to catch the chopper back from Kohaihai.
Much of the track has been re-gravelled or replaced with boardwalk in the wettest sections, but there is still a couple of K's below MacKay that is yet to receive the treatment. The result of all the work is less mud meaning less bike damage and a quicker journey. I reckon it is about 90 minutes less from end to end than it was 4 years ago.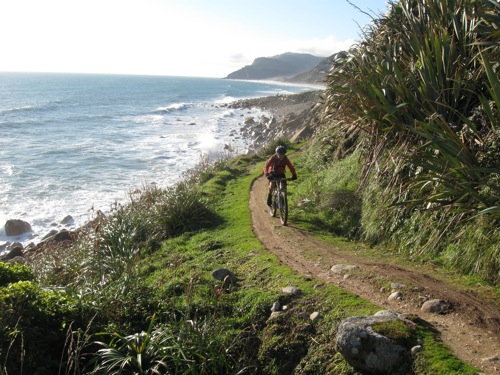 Following the Heaphy coastline

The coastal section from Heaphy to Kohaihai is for me the best part of the ride. What other track anywhere in the world could compare for wild coastline scenery and no road? The DOC guys are cutting a new section to avoid the sand trek just before Scott's Beach. It isn't complete yet so necessitates a longer beach walk than usual there.
After a day's R&R in Karamea we returned. This time the Norwegians had organised the weather properly and we were treated to clear blue skies and warm sun. This necessitated long rest periods nibbling snacks on hut verandas, but we still made it in good time for "fush and chup"s in Takaka.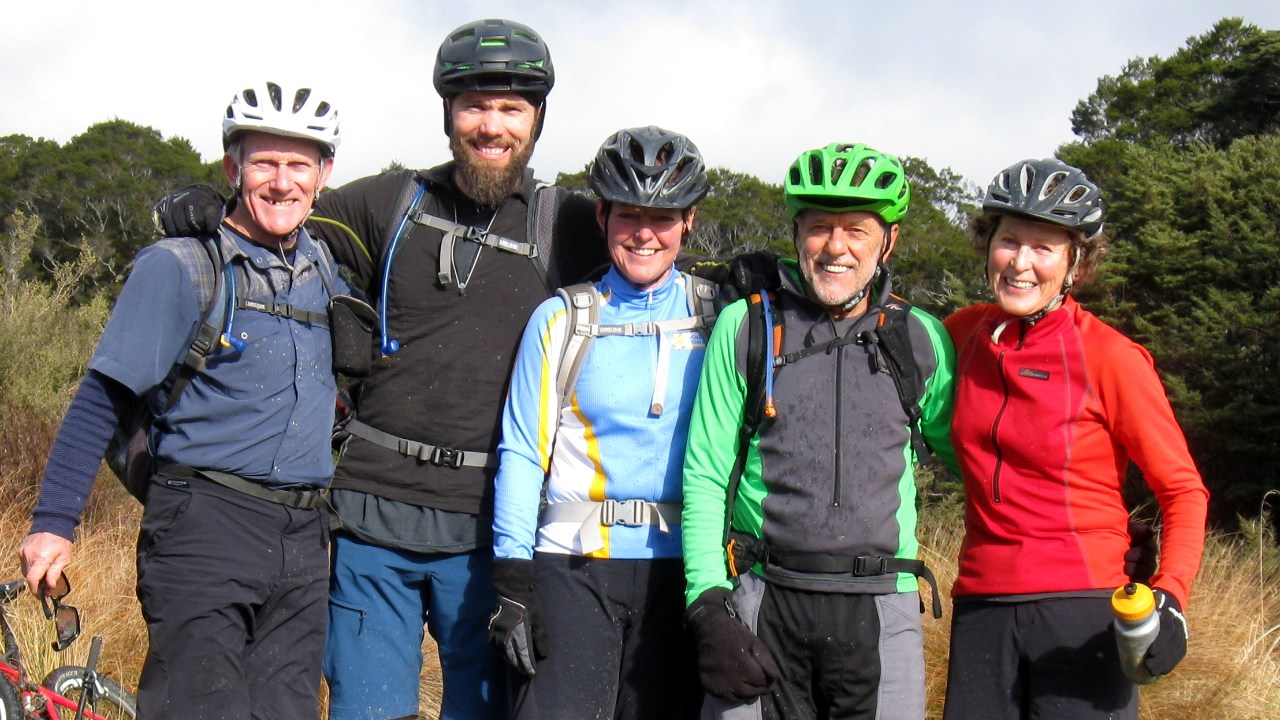 Rob, Beach, Sarah, Alan and Liz at Gouland Downs