Our work programme for the next year
And on the note of more trails, in the last 16 months the Trust has created over 30km of new purpose built mountainbike trails across the region for all to ride. They are also being used and appreciated by walkers and runners. Most of this has been achieved through the generosity of our Trustees who donate their time and machinery to keep the trails rolling out. If you haven't been for a ride in Silvan Forest or Teetotal Flat at St Arnaud lately you are missing out on some great riding.
Since the MTB Trails Trust was formed in April last year 2604 hours have been contributed by volunteers and the value of this, plus in-kind contributions of equipment by our trustees, has totalled $99,992, which equates to $3333 per km of track built. If you enjoy riding these new trails and are keen to see more built, you can help by making a donation to the Trust. and be supporting the long term development and maintenance of a world class trail network.
The Trust's work programme in the coming year will include:
Silvan Forest
Continued expansion of the trail network with up to another 40km of track to be constructed.Work at Silvan is being carried out up to five days a week by Andrew Spittal, Chris Mildon, Gary Donaldson and Rick Griffin. Andrew, Gary and Rick have all bought new diggers, so we can expect to see the dirt fly now. Hope to see a start on a climbing track up to the Kingsland Forest gate in the next week or two (not marked on the map).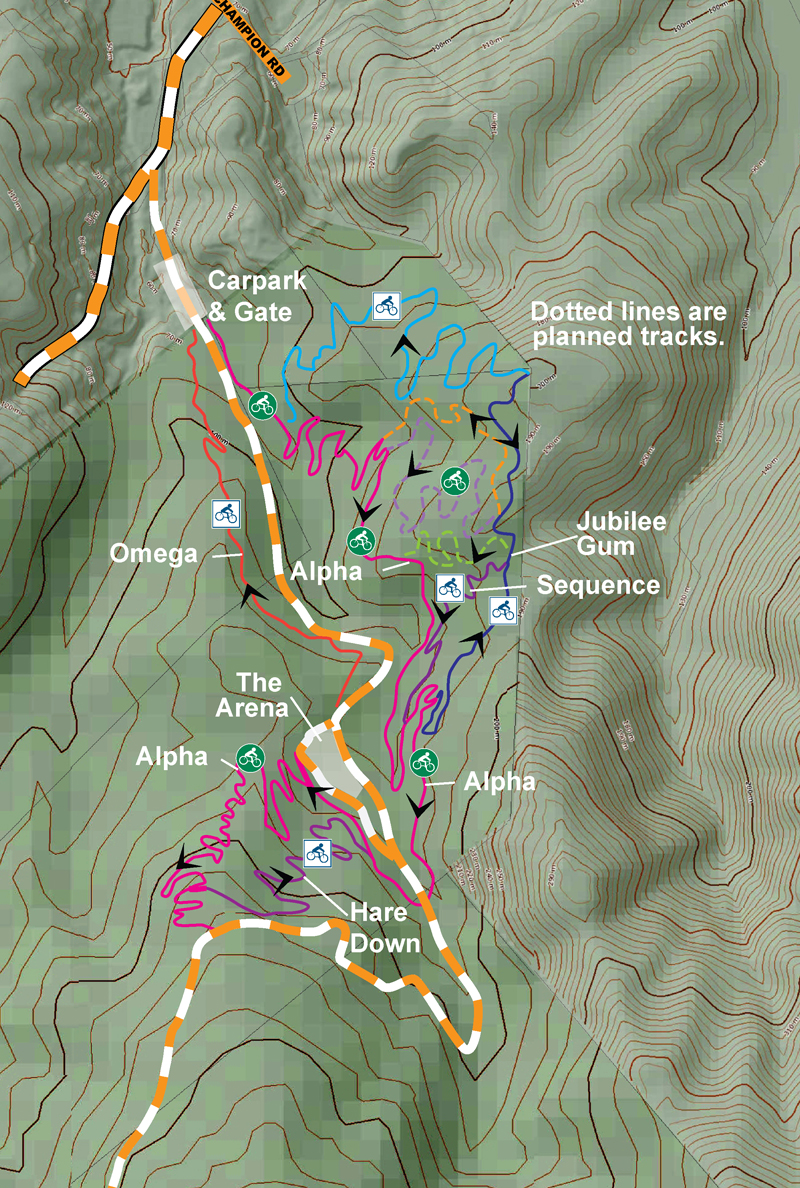 Current Silvan Forest network. The blue track top left was completed last Friday.
Dashed lines are proposed tracks.
Nelson Back Country
Obtain an easement through Lucy Creek forest block for an exit from Hacket-Starveall-Lee loop. Alan & Liz Eskrick and Bruce McCallum have been up there scoping out a route.
Survey a practical route from Waterfall Creek to Lucy Creek.
Flag route from Hacket to Starveall and Starveall into Waterfall Ck.
Obtain an EIA for the Starveall project.
Start construction of the Starveall project depending on funding.
Survey damage to Hacket Track and apply for funding to repair the track.
Survey possible route around Browning Creek slip.
St Arnaud
Maintenance work on Maitland Ridge Track rerouting a couple of steep sections
Maintenance on Kaka Track, minor drainage correction and improvement
Improvement of wet sections of Duck Down with installation of Jakmat and a culvert
Possible intermediate traverse to the west down the last steep section of Duck Down
Completion of Flying Moa Track by October 2015
Completion of Rattler Rim Track by November 2015
Survey grade and construct Wots Up DOC, an uphill track beside the Beebys' 4wd road
Survey and construct Village Link Track from St Arnaud to the skating pond
Install new signage on Teetotal tracks
Possible eastward extension of Village Link to old Black Valley Rd
Completion of a climbing track at the west end of Big Bush Track
Investigate a route west of Big Bush Track around the ridge to Summit Track
Completion of the exit from Rocky Horror linking to start of Kaka to avoid the bog
Investigate a route around the head of Duckpond Stream to access the ridge descending to the village. A lower line than previously surveyed to avoid the boggy areas is envisaged
Picton and Blenheim
Completion of the Victoria Park trail network in Picton. While Chris is managing this, Malcolm Edridge is contributing significant in-kind value to this project through free machinery.
The Trust is also supporting and assisting the Marlborough MTB Club with networking and expansion plans for the Wither Hills Farm Park – progress on this is scheduled for 2015/16.