The Gas & Welding Insider
Lincoln Electric Limited Time Offer
Save $200 on all Lincoln Electric Power MIG 210 MP Multi Process Welder options!
Power MIG 210 MP

- $999 after end-user rebate (regular price: $1,199)

Aluminum Package

- $1,199 after end-user rebate (regular price: $1,399)

TIG Package

- $1,499 after end-user rebate (regular price: $1,699)
Stop by our Johnstown location to demo the Lincoln 210MP!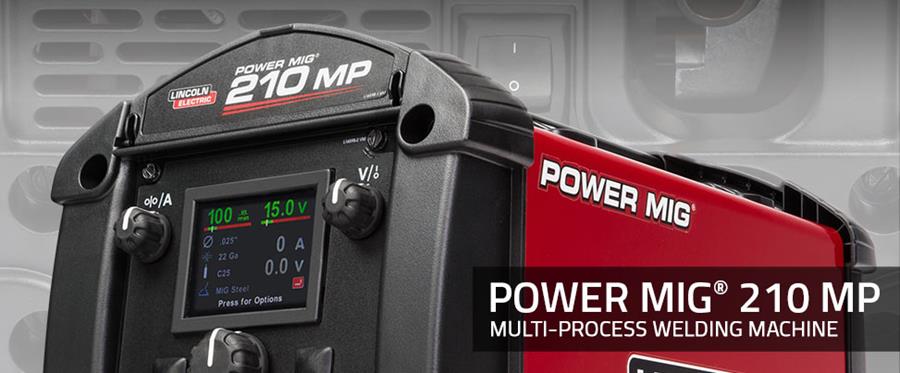 Where the Best Welders Go, and Why
Why aren't labor market forces working the way people think they should? Why is it still one of the most difficult skills for fabricators to hire? Perhaps most important, what can fabricators do to find the best welding talent?
Entry-level Glut

Dan Turner, welding professor at Yuba College in Marysville, CA relayed a typical situation that helps explain the entry-level talent glut. Small shops dominate metal fabrication. The company may have just a handful of welders, and the most experienced (and often best) may be getting ready to retire. "They have tons of experience," he said. "They know the ins and outs of every piece of welding equipment you have. Then he announces he's going to retire in a month. So managers go out and find somebody to replace him--and they can't. The best new welding talent may be able to pass a certification test, but that certification still can't replace years of experience and on-the-job training.

A Career That Matters

Fabricators point fingers at schools for not supplying enough welding graduates. Teachers point at manufacturers for not providing sufficient on-the-job training. All, however, agree that the talent pipeline is broken. Many fabricators have stepped up their in-house training programs. Yes, there's a risk that the employee may leave for another job, but what's the alternative? After all, a shop can have the fanciest laser and most intuitive press brakes, but if its welders continually leave, a fabricator will find it hard to stay competitive. The best talent wants a career path; and not all employers offer a good one.

Perception vs. Reality

Ryan Blythe previously worked as an administrator at a now shuttered technical school in Georgia. There were many reasons the school closed, but he did say the school taught many people who got into welding as a second career. He added that now is the perfect time to change an unfortunate perception about vocational, trade-based education. Parents see children dig themselves into seemingly insurmountable debt pursuing a 4 year degree that probably won't help them pay off that debt any time soon. This makes welding and other trade-based skills attractive career options. Vocational education shouldn't be a fallback, a path to pursue only if better options aren't there. In many cases, vocational education is the better option, even for the best, brightest, and most engaged students. And this, ultimately, is the kind of people fabricators are looking for.

Click here for the full article from FMA!
Torchmate
Torchmate Cutting Tables are changing the game when it comes to CNC Plasma Cutting Systems. As a authorized distributor for Lincoln Electric Cutting Systems, Dale Oxygen is your number one source for all plasma cutting table solutions. Our Torchmate offerings cover anything from a 4x4 table for job shops and schools to 6x10 solutions for manufacturing facilites.
| | |
| --- | --- |
| | Click the logo above for a video! |
| | |
| --- | --- |
| | Terry Lee Kessler is the Purchasing Manager for all three Dale Oxygen locations, and he has been with our organization for almost 30 years. His primary responsibilities are managing the 14,000 sq ft. warehouse at Dale Oxygen's headquarters, oversight of shipping and receiving requirements including RMAs, and administering efficient supply chain principals to increase company profits. Terry's organization skills, attention to detail, and dedication to Dale Oxygen are what makes him a valuable asset to our management team. Outside of the office, Terry enjoys golfing and doing yard work around his house. |
Dale Oxygen, Inc. Locations
#1 Source for Gas and Welding Supplies for Over 75 Years!
146 Horner St.
Johnstown, PA 15902
PH: 814.535.3594
FAX: 814.536.6929

1375 Wayne Ave.
Indiana, PA 15701
PH: 724.349.5391
FAX: 724.349.4510

1315 Pleasant Valley Blvd.
Altoona, PA 16602
PH: 814.942.9579
FAX: 814.942.9592